TULSA, Okla. -- The 2022 PGA Championship wraps up Sunday, and while the top of the leaderboard features a number of golfers who have never won a major -- let alone a PGA Tour event -- the immense talent competing for the Wanamaker Trophy will not be letting up down the stretch. Mito Pereira holds a three-stroke lead heading into the final round as he attempt to become the first Chilean man to win a major championship and the first debutant to win the championship since Keegan Bradley in 2011 at the Atlantic Athletic Club.
Joining Pereira in the final pairing is Matt Fitzpatrick, who will try to capture his own piece of history at Southern Hills. With a victory, not only would Fitzpatrick become the first Englishman to win a major championship since Danny Willett at the 2016 Masters but also the first from his country to win the PGA Championship in over 100 years. The two will duke it out in Tulsa, Oklahoma, with former Wake Forest teammates Will Zalatoris and Cameron Young in the group ahead of them. For the first time since at least 2000, the top four on the leaderboard heading into the final round of a major championship are without a PGA Tour victory.
With so much inexperience, Sunday is setting up to be a memorable ending to the PGA Championship. CBS Sports will update this story with scores and highlights from the PGA Championship below. Check out the live scores at the top of this story, a more detailed leaderboard and Round 4 tee times.
Watch the PGA Championship live on CBS, streaming free on CBSSports.com / CBS Sports App and on connected devices via Paramount+ and the CBS Sports App. (Paramount+ Premium login required to watch CBS simulcast. TV provider authentication may be required.)
See New Posts
Pinned
Pinned
Pinned
Pinned
How about Rory's scoring this week.
Par 3s: +6
Par 4s: -4
Par 5s: -3
Pinned
Putting will be key to PGA Championship crown
Mito Pereira is hardly the best putter in the world, but he is acting like it this week. The Chilean leads the field in strokes gained putting through three rounds. Through two, that honor went to Will Zalatoris. Neither are historically great putters but Matt Fitzpatrick is. If everyone performs to their baseline metrics on the greens, it should favor the Englishman immensely.
Pinned
Pinned
Pinned
Pinned
Pinned
This course is looking very gettable early this morning.
Jon Rahm 2 under.
Same for Harold Varner and Talor Gooch.
As the day goes on and the weather warms up (slightly), there should be a ton of scoring opportunities. There's a 63 or 64 out there for the taking today. Question is whether that comes from someone in the mix (and if Mito can maintain his consistency).
Pinned
Could be a sneaky big day for Rickie Fowler
1 under through his first two holes, Fowler is now in a tie for 23rd. He gained entry into this week's field due to eighth-place finish in last year's PGA Championship. The low 15 scorers and ties will get into next year's tournament which would be massive for someone like Fowler who is currently set to miss three of four majors this season.
Pinned
Pinned
Pinned
Pinned
Quite a stat here.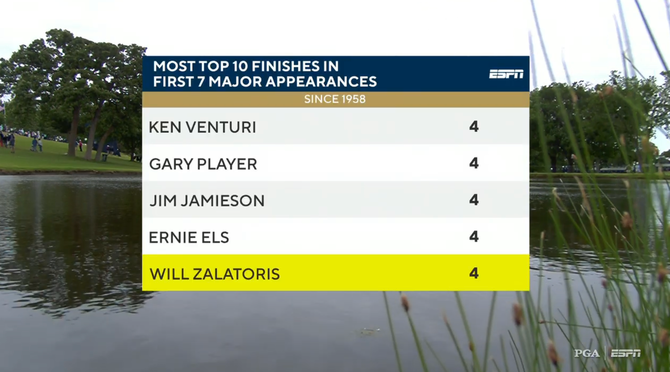 ESPN
Pinned
Closing stretch carnage on deck
Probably getting out over my skis here a bit in projecting way too far ahead for today, but man, the back nine is playing nearly two strokes above par today. Could give us some drama late in the day especially with 16 and 18 looking like it's going to be considered favorable outcomes if they par.
Pinned
Pinned
Round 4 outlook on Sunday
Southern Hills played tougher in Round 3 on Saturday than it did in Round 1 and 2, with several strokes above par the scoring average. That appears as if it won't be the case on Sunday. Scoring average thus far playing roughly a stroke easier on the front nine.
With Mito Pereira leading at 9 under by three strokes, don't be surprised if someone from the second tier of contenders makes a run at the number today. The setup and conditions feel like they could be favorable for someone to shoot 63 or 64 to jump back into the mix and make this a tournament.
Pinned
Par-4 17th will be able to be driven once again
Players will be able to go for the par-4 17th off the tee once again. Only one player in the field chose to lay up yesterday and that was leader, Mito Pereira. That hole very well could decide the championship.
Pinned
Pinned
Pinned
Pinned
Spieth looks to finish PGA Championship on high note
It was not the week many envisioned for Jordan Spieth as he was unable to ever to contend at this year's PGA Championship. Still missing the final leg of the career grand slam, the Texan is looking strong to begin his final round as he is 1 under through his opening five holes.
Pinned
Pinned
Rounds in the mid 60s are out there
Keith Mitchell has gotten to 2 under through six and Kevin Streelman is 3 under as he makes he way to the back nine. Chasers will have their ears pinned back as the conditions from yesterday have subsided and a good day of scoring has unfolded at Southern Hills.
Pinned
Pinned
Course setup will allow for fireworks
A number of tee boxes have been moved up at Southern Hills. Both par 5s will be reachable in two for players and could concede eagle opportunities. The PGA of America has made it so those in pursuit of Mito Pereira have a chance to apply some pressure on the Chilean.
Pinned
Pinned
Calm conditions could help chasing pack
It should only continue to warm up in Tulsa as temperatures are expected to touch 70 F. More pleasant than yesterday, winds are only expected to blow 15 to 20 mph. These conditions may be conducive for someone from the chasing pack to post a number.