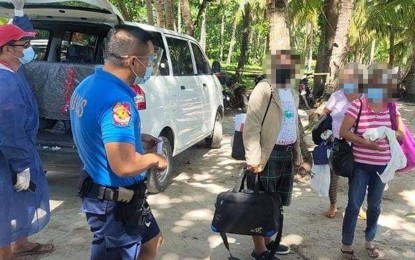 APPREHENDED. Personnel of the Malay Municipal Police Station (MPS) apprehended three tourists for entering Boracay using fake reverse transcription-polymerase chain reaction results on July 14, 2021. From June until July 14, the MPS has already apprehended 17 tourists with fake documents. (Photo courtesy of Malay MPS)
ILOILO CITY – Three tourists from Silang, Cavite were apprehended by authorities for using fake reverse transcription-polymerase chain reaction (RT-PCR) results to enter Boracay on July 14.
Those apprehended were a couple, Benjamin P. Pastrana, 64, and his 56-year-old wife Marichu; and Luisa L. Mingi, 55.
Lt. Col. Don Dicksie de Dios, chief of police of the Malay Municipal Police Station (MPS) in an interview on Thursday, said upon receiving the information from Aklan Provincial Tourist Validating Office that RT-PCR results were fake, the three tourists were immediately extracted the from their hotel, less than three hours after checking-in.
They were brought to the provincial quarantine facility in the municipality of Kalibo for swabbing.
Charges for violation of Republic Act 11332 or the Mandatory Reporting of Notifiable Diseases and Health Events of Public Health Concern Act and Article 175 of the Revised Penal Code or falsification of public documents and certificates are also being prepared against the three, De Dios said.
"At the same time the Sangguniang Bayan (SB) of Malay is declaring all tourists with fake certificates as persona non grata," he added.
The latest apprehensions brought to 17 the total number of tourists arrested for using fake documents to enter the island since June 2021.
De Dios said that hopefully, local tourists who wanted to go to Boracay for a vacation will make sure that the molecular laboratories where they will undergo the RT-PCR are accredited by the Department of Health (DOH).
"They should not attempt to fake their documents because surely they will be detected by the provincial validation team," he said.
In case the validation by the province is delayed but later on, their documents were found to be untrue, then the police extraction team will pull the tourists out from their hotel.
The tourists will also shoulder the swabbing costs. (PNA)