As a reader, I've always been drawn to first person fiction. I love that it allows such a deep dive into a character's mind while limiting my access to information, which I find crucial in building suspense. Mostly, I love that first person narration is conversational. It's as if I'm pouring myself a couple fingers of bourbon, pulling up a rocking chair alongside an old friend, and listening to their most intimate, honest recollections. Of course, an hour in, I might feel that the narrator wouldn't make much of a friend at all and that they're completely full of shit, but that's left up to me, the reader, to decide. And I like that responsibility.
Since my personal library is comprised mostly of crime fiction, here are some of my favorite narrators in the genre: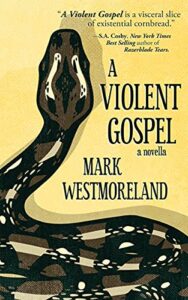 Mack Dooley, from Mark Westmoreland's A Violent Gospel
Westmoreland's Southern Noir debut is about two hellraising brothers, Marshall and Mack Dooley, who decide to heist a church's money laundering operation. The story is told through Mack Dooley's eyes, which really kicks the fun up a notch. Mack can viciously describe blowing someone's brains out one minute, and a page later, he's eloquently waxing about the tender love of a woman. This dude never hurts for figurative language, either, pulling an array of metaphors from the hardscrabble landscape that's shaped him. The good news for readers is that Mack Dooley isn't finished yet. The witty, ass-kicking, hopeless romantic returns later this year in Westmoreland's forthcoming sequel, A Mourning Song.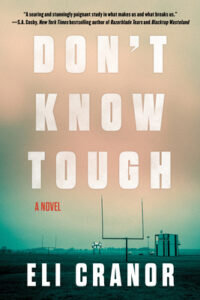 Billy Lowe, from Eli Cranor's debut Don't Know Tough
In this novel, which is touted as a dark, Southern Gothic take on Friday Night Lights, many of the chapters are narrated by Billy Lowe, a temperamental, tough-as-nails teenage running back who has faced the hardships of poverty and abuse since he was a young boy. While trying to stay focused on the field and keep out of trouble off the field, Billy's abuser is murdered, putting him at the center of an intense investigation. The story itself had me plenty engaged, but Billy's voice was the chef's kiss that really hooked me from jump street. Billy is from the Delta region of Arkansas, and the dialect that Cranor, an Arkansas native, used in writing his sections is spot on, resulting in a slow, punchy cadence that truly haunts the page.
Article continues after advertisement
Richard Dane, from Joe R. Lansdale's Cold in July
What sets this novel's narrator, Richard Dane, apart on this list is the fact that, as a standalone character, he's pretty unremarkable. Richard is just a simple family man that gets thrown into a terrible situation. And he's really damn nice. So nice, in fact, that after he shoots and kills an intruder in his home, he feels awful about it and decides to show up to the guy's funeral to pay his respects. This decision kicks up a shitstorm when the victim's supposed father shows up at the funeral as well, hellbent on revenge. From there, the plot takes some serious twists and turns, and introduces a cast of colorful characters including Jim Bob Luke, a martial-arts-loving, Cadillac-driving, private investigator. But it's Richard Dane's steady, level-headed narration amidst this violent joyride of a novel that makes it really ring true.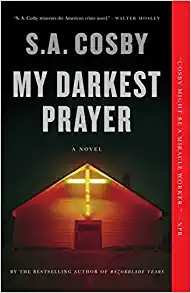 Nathan Waymaker, from S.A. Cosby's My Darkest Prayer
My Darkest Prayer was my introduction to Cosby, one of the fiercest writers in today's crime fiction scene. While his newer, massively successful novels are told in third person, his debut was an absolute master class in first person narration. The narrator, Nathan Waymaker, is a former Marine and sheriff's deputy who is working at his cousin's funeral home when a local minister is found dead. When townsfolk suspect that the investigation is going nowhere, Nathan, with his wide array of skills, is sought out to help get to the bottom of it. What I love about this narrator, aside from his wit and wisdom, is that Cosby used some of his own experiences to write Nathan Waymaker, specifically his years working in a funeral home. The authenticity this lends the narrative is something that is largely missing in fiction today, and when I'm in the first person writing trenches, this gritty novel is one I revisit often.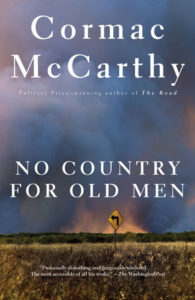 Ed Tom Bell, from Cormac McCarthy's No Country for Old Men
This renowned novel, about an illegal drug deal gone awry near the Texas-Mexico border, was originally written as a screenplay. Though it is mostly told in third person, McCarthy allows a character, Sheriff Ed Tom Bell, to narrate 13 short sections in the novel. This narration is sleepy, reflective, even meandering as Ed Tom tries to make sense of a world that has grown increasingly darker and more violent since his early days as a lawman. To be honest, I saw the movie before I read the book, and the voiceover narration by Tommy Lee Jones, who plays Ed Tom, was beautifully haunting. His dramatic monologues are second to none, and I found them just as effective on the page, slowing this novel's frantic pace at just the right times.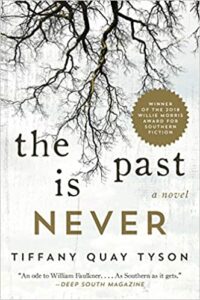 Bert, from Tiffany Quay Tyson's The Past is Never
I'm not sure there's been a nod to old school, Southern Gothic fiction in the last decade that holds a candle to this wonderful novel. When six-year-old sister Pansy vanishes while swimming in a local rock quarry, her sister, Bert, and her brother, Willet, are left reeling for answers. Tyson wisely chose Bert to serve as the chief narrator, alternating her chapters with stories of lore along the Mississippi Delta. I think a key to great first person fiction is eliciting empathy from the reader, and Bert's character does exactly that. I was drawn to how relentlessly she pursued the truth about her missing sister as well as her father, who abandoned her when she was young; all the while, I was completely clueless to both of these mysteries. The harrowing journey Bert took me on, one riddled with heartbreak and self-discovery, made me pull for her every step of the way, right to the novel's shocking ending.
Article continues after advertisement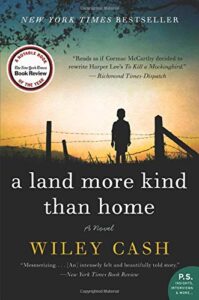 Jess Hall, from Wiley Cash's A Land More Kind than Home
I'm a real sucker for novels that straddle the line between literary fiction and crime fiction, and Wiley Cash's debut is one of my all-time favorites. This novel, about the death of a young, mute boy during a faith healing service, is told by three distinct narrators, including a sheriff, an 80-year-old woman, and the deceased boy's brother, nine-year-old Jess Hall. Jess, who's forced to grow up way too fast when he realizes how corrupt his local church is, immediately endeared me with his curious, innocent wander that's so true to boyhood. For a child to understand and express the complexities of grief that life sometimes forces upon them is beyond difficult, but Cash mastered this feat with Jess's character.
***