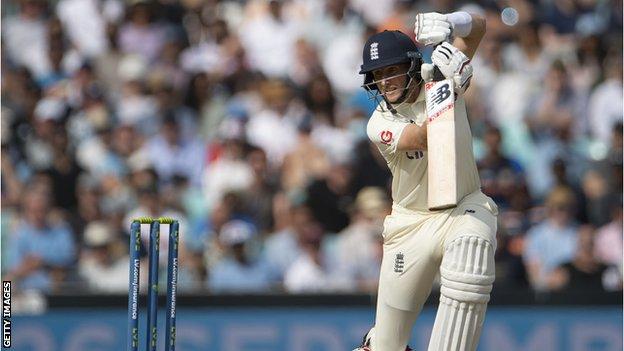 England's Ashes preparations have already been hindered after their fifth Test against India was cancelled earlier in September
Australian Prime Minister Scott Morrison says there will be "no special deals" after Boris Johnson asked for families of England cricketers to be allowed to travel for the Ashes.
The country plans to ease restrictions once 80% of adults are vaccinated.
Morrison says that figure will reach 50% this week.
UK Prime Minister Johnson discussed the issue with Morrison at a dinner in Washington.
"I would love to see the Ashes go ahead, as I shared with Boris last night," Morrison said.
"But there's no special deals there, because what we're looking to have is vaccinated people being able to travel.
"I don't see a great deal of difference in skilled workers or students who will be able to come to Australia when you reach those vaccination rates.
"Those who are coming for that purpose when it comes to their profession, which is playing cricket, I don't see the difference between that and someone who's coming as a skilled, qualified engineer or someone who's coming to be ready for study."
Johnson had said: "I raised it and he said he was going to do his best for the families. He merely undertook to come back and see if he could find a solution."
Australia v England - Ashes schedule
The England and Wales Cricket Board (ECB) is expecting details from Cricket Australia on how the series will take place - including quarantine arrangements, provisions for families and if players will have to live in a 'bubble' environment - this week.
That information will then be presented to the England players, who will make individual decisions on their participation before the Ashes squad is announced in the first week of October.
Even if Australia's travel restrictions change, some states may keep their borders shut for longer which could further complicate the tour given the five Tests take place in five different states.
While the dates for the five Tests - between 8 December and 18 January - are not thought to be at risk of being changed, venues could be altered, depending on state-to-state travel restrictions.


Who is Marvel's latest superhero?
Movies With Ali Plumb reveals all about Shang-Chi
How to eat well at university:
BBC Food has top tips for budgeting, planning and keeping things tasty