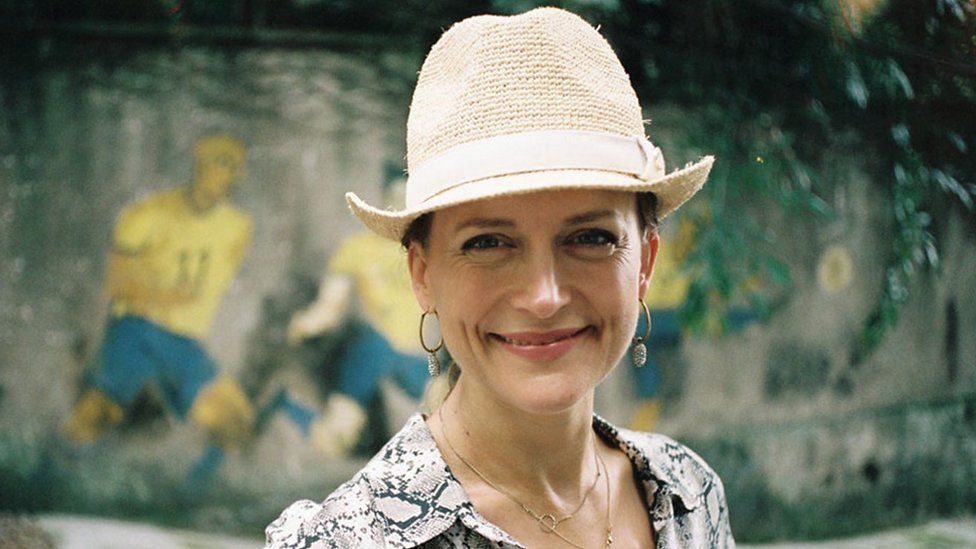 By Mark Savage
Music correspondent, BBC News
Astrud Gilberto, the Brazilian bossa nova singer best known for The Girl from Ipanema, has died aged 83.
One of Brazil's biggest stars of the 1960s and 70s, she recorded 16 albums and worked with artists ranging from Quincy Jones to George Michael.
Her version of The Girl From Ipanema sold more than five million copies and helped to popularise bossa nova.
"I'm here to bring you the sad news that my grandmother became a star today, and is next to my grandfather João Gilberto," wrote Sofia, who is also a musician.
"She was a pioneer and the best. At the age of 22, she gave voice to the English version of Girl from Ipanema and gained international fame."
Paul Ricci, a New York-based guitarist who collaborated with Gilberto, also confirmed the news on Facebook.
"I just got word from her son Marcelo that we have lost Astrud Gilberto," he wrote. "He asked for this to be posted.
"She was an important part of ALL that is Brazilian music in the world and she changed many lives with her energy. RIP from 'the chief', as she called me."
The BBC has contacted Gilberto's representatives for official confirmation.
Image source, Getty Images
Image caption,
Brazilian Bossa Nova and Samba singer Astrud Gilberto and her band performing at SOB's nightclub in New York in 1993
Born Astrud Evangelina Weinert in Bahia, she moved to Rio de Janeiro at an early age and took musical inspiration from her mother's side of the family, where "almost everyone played an instrument".
In her mid-teens, she fell in with a group of young people she described as a "musical clan", whose members included the famous singer Nara Leao and acclaimed guitarist João Gilberto, who helped create bossa nova.
Astrud and João married a few months after meeting, and it was their relationship that accidentally gave rise to her recording career.
Uncredited vocals
In 1963, she accompanied her husband to New York to help him as a studio translator while he cut an album with jazz legend Stan Getz.
When the band came to record the English lyrics for The Girl From Ipanema, they needed a vocalist - and Gilberto shyly suggested she could handle the task.
"Producer Creed Taylor said he wanted to get the song done right away and looked around the room," engineer Phil Ramone told Jazzwax in 2012.
"Astrud volunteered, saying she could sing in English. Creed said, 'Great.' Astrud wasn't a professional singer, but she was the only victim sitting there that night."
Although she had little time to prepare, Gilberto's detached but sultry vocals perfectly captured the vibe of a "tall and tan and young and lovely" girl who turns the heads of everyone she passes.
The song was an instant hit and went on to win the Grammy Award for record of the year.
Gilberto wasn't credited on the track (which was released under the name Stan Getz and João Gilberto) and she only received the standard $120 session fee for her performance.
However, it was the springboard for a successful solo career, beginning with 1965's The Astrud Gilberto Album, on which she teamed up with incomparable jazz guitarist Antonio Carlos Jobim on a suite of Brazilian standards.
Image source, Getty Images
Speaking to The Independent last year, her son Marcelo claimed that Gilberto struggled with the objectification she received from the press, and often had to fight misogyny in the music industry.
Writing on her website in the early 2000s, Gilberto recalled how several people had claimed responsibility for her success with Ipanema, with Stan Getz saying he had rescued her from being a "housewife".
"Nothing is further from the truth," she wrote. "I guess it may them look 'important' to have been the one that had the 'wisdom' to recognize talent or 'potential' in my singing… I suppose I should feel flattered by the importance that they lend to this, but I can't help but to feel annoyed at the fact that they resorted to lying!"
In the 1970s, she began writing her own songs, as showcased on albums like Astrud Gilberto Now (1972) and That Girl From Ipanema (1977).
On the latter, she achieved a lifetime ambition by recording one of her songs, Far Away, as a duet with legendary jazz trumpeter Chet Baker.
Alongside recording, she developed a second strand to her career, acting in the films The Hanged Man and Get Yourself a College Girl and recording the soundtrack for The Deadly Affair, arranged by Quincy Jones.
In the early 1980s, Gilberto formed a group that featured her son Maeclo on bass and toured the world, but she largely avoided playing in Brazil, where she felt she had not been afforded the recognition she deserved.
"Brazil turned its back on her," Marcelo told The Independent. "She achieved fame abroad at a time when this was considered treasonous by the press."
In Europe, she recorded an album of samba classics with James Last; and George Michael sought her out to duet on a version of Desafinado for charity album Red Hot + Rio in 1996.
She recorded her final album, Jungle, in 2002, after which she announced an indefinite hiatus from public performance, having previously said that being "close to the public was frightening".
The singer devoted most of her later years to campaigning against animal cruelty, but the legacy of her first recording lived on, with everyone from Frank Sinatra and Madonna to Amy Winehouse and Nat King Cole offering their own interpretations of Gilberto's performance.