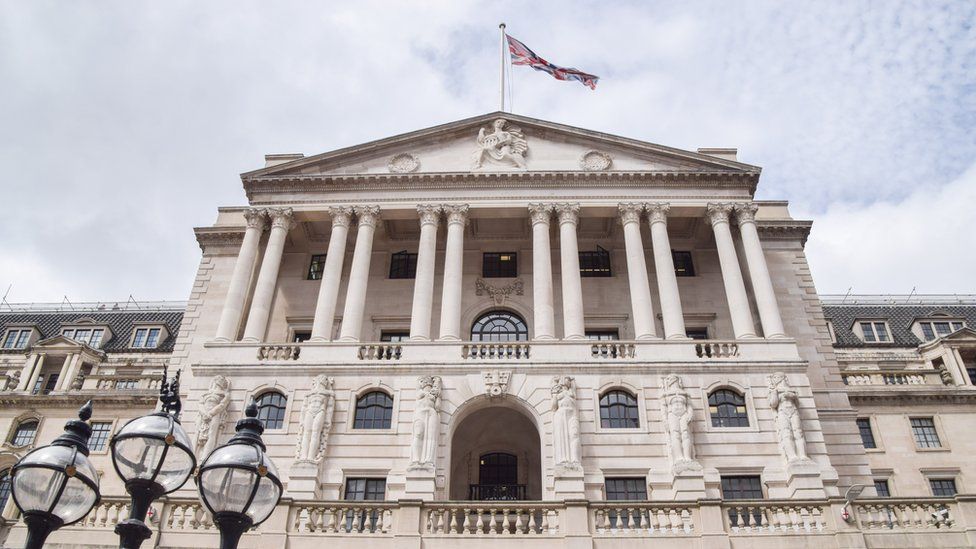 Image source, Getty Images
The Bank of England stepped in to calm markets after some types of pension funds were at risk of collapse.
It said it would buy as many government bonds as necessary after Friday's mini-budget sparked turmoil on financial markets and the pound plunged.
Investors had demanded a much higher return for investing in government bonds, causing some to halve in value.
Pension funds, which invest in bonds, were forced to start selling, sparking fears of a fresh market downturn.
The Bank said its decision to buy government bonds at an "urgent pace" was driven by concern over "a material risk to UK financial stability."
The government borrows money to fund its spending plans by selling bonds, or "gilts", to investors such as pension funds and big banks on international markets.
The bank pledged to buy around £65bn of gilts.
The pound hit a record low on Monday following the chancellor's mini-budget, which pledged £45bn of tax cuts as part of a plan to boost economic growth.
The level of government borrowing required had shocked investors which questioned the sustainability of the public finances.
UK government bond markets and stock markets, which had seen sharp falls, stabilised after the Bank's announcement and the pound also rose slightly.
The government has insisted it is standing by its plan despite growing criticism.
Treasury minister Andrew Griffith said on Wednesday that its tax cuts were the "right plans" to grow the UK economy.
He said the Bank of England had "done their job" by announcing it would buy government debt to stabilise the economy.
Labour leader Sir Keir Starmer accused the government of "losing control of the economy,"
"What the government needs to do now is recall Parliament and abandon this budget before any more damage is done," he said.
While the government says it will not reverse its tax cuts, it has promised to release further plans to boost growth and reduce public debt on 23 November.
In a statement, the Treasury said it would continue to work closely with the Bank "in support of its financial stability and inflation objectives."