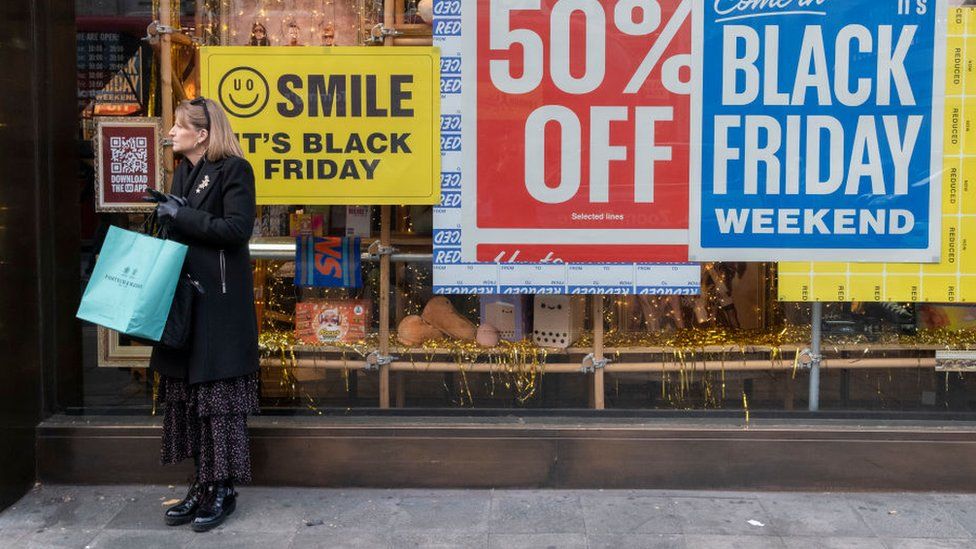 Image source, Getty Images
Black Friday sales rebounded as shoppers sought bargains, despite predictions the higher cost of living would dampen the event.
Barclaycard Payments, which processes £1 in every £3 spent on UK cards, said transactions rose 3.2% on last year.
An all-time Black Friday record was made for the number of transactions-per-second between midday and 1pm.
Currys said energy-efficient products led its sales as customers looked to save money on energy bills.
Footfall in shops was up on 2021 with no Covid rules this year, but was down compared to before the pandemic.
Experts had predicted overall sales and profits would be lower than last year, due to customers tightening their purse strings as prices rise at the fastest rate for 41 years.
However, Marc Pettican, head of Barclaycard Payments, said despite the economic challenges, sales continued to rise from lunchtime "confirming that Black Friday is still an important milestone in the retail calendar".
"This is encouraging news for retailers who will have been unsure about the outcome of today, given the rising cost-of-living," he said.
"It will have been helped along by the World Cup coinciding with Black Friday for the first time, providing a welcome boost as football fans head out to socialise and watch the match." England play the USA at 19:00 on Friday.
Meanwhile, Mark Nalder, director of payment strategy at Nationwide Building Society, said spending was "strong" with shoppers searching for bargains ahead of the festive period.
He added he expected the "peak" of sales to be higher than usual due to people searching for deals online while they were watching the England match at home.
Are you a shopper looking for Black Friday deals? Or a business owner offering discounts? Get in touch.
Black Friday has morphed from its former one-day shopping frenzy of a decade ago, to offers stretched over the week. Consumer group Which? found that many of the discounts found on Black Friday in 2021 could be found at other times of the year too.
Ed Connolly, chief commercial officer at electrical retailer Currys, said more people were paying by credit compared with last year.
Currys said it had seen sales soar for energy-efficient cooking appliances, with the company selling more than 18,000 air fryers in the past week.
The company said microwaves and heatpump tumble dryers were also in demand, with sales up significantly on last year.
"I think you can draw from that that customers are worried about their finances and more concerned perhaps about their future finances than they were this time last year," Mr Connolly told the BBC's Today programme.
Argos expecting a 'strong day'
Business correspondent Emma Simpson at Argos distribution centre
Black Friday is in full swing at Argos's vast distribution site in Kettering. It's a 24/7 operation with some 850 workers picking and packing goods for dispatch from 100 loading bays.
They reckon today will still be their busiest day of the year and demand is strong.
Despite the squeeze on household budgets, lots of big TVs and Sonos soundbars are flying off the pallets.
Argos believes 41% of shoppers are planning to use Black Friday for Christmas shopping. With the cost of living crisis shoppers are on the hunt for deals.
Footfall in shops across the UK as of midday was up 4.6% compared to last year's Black Friday, according to analysis firm Springboard.
It said shoppers were heading to large city centres rather than smaller high streets, but its figures showed that footfall across high streets, retail parks and shopping centres this year was well below Black Friday events before the pandemic, which may be a sign more people are shopping online.
Diane Wehrle, marketing and insights director at Springboard, said 2022's footfall showed while trading conditions were "challenging, Black Friday is certainly not a disaster".
"The dry and sunny weather will also help drive up activity, as will the England v USA World Cup match this evening as shoppers may well head into towns and cities and do some shopping and then watch the match from bars in town centres," she added.
Image source, Getty Images
Image caption,
Despite higher footfall, spend will be lower due to "stressed budgets"
The promising sales for retailers appears to have exceeded predictions from industry analysts, who had forecast a weaker day of trading.
Ahead of the event, retail expert Richard Lim told the BBC he expected Black Friday to be a more "muted affair" this year.
But Mr Pettican, of Barclaycard Payments, said there had been an increase in transactions in the week leading up to Black Friday compared to last year.
He suggested this could be down to the "feelgood factor in the run-up to the World Cup" giving retail and hospitality a boost.
Faye Thomson told the BBC she had been awake since 5:30am to join a queue of about 100 people outside one department store.
"I saw this one Stella McCartney bag online and I know there's only two in store so I thought I'd get here early," she said.
'Not rushing out'
Image caption,
Louise says shopping now feels like a luxury
Not everyone has been heading to the shops though.
Louise, 40, from Suffolk, said she would not be rushing out for this year's Black Friday sales.
"I use price trackers and can see that some things I want are cheaper in advance, about four to six weeks ahead of the sales, so I do my Christmas shopping around then," she said.
Louise, who has two children, said all of her household bills were going up. Now shopping feels like a luxury, when she feels like she should be saving.