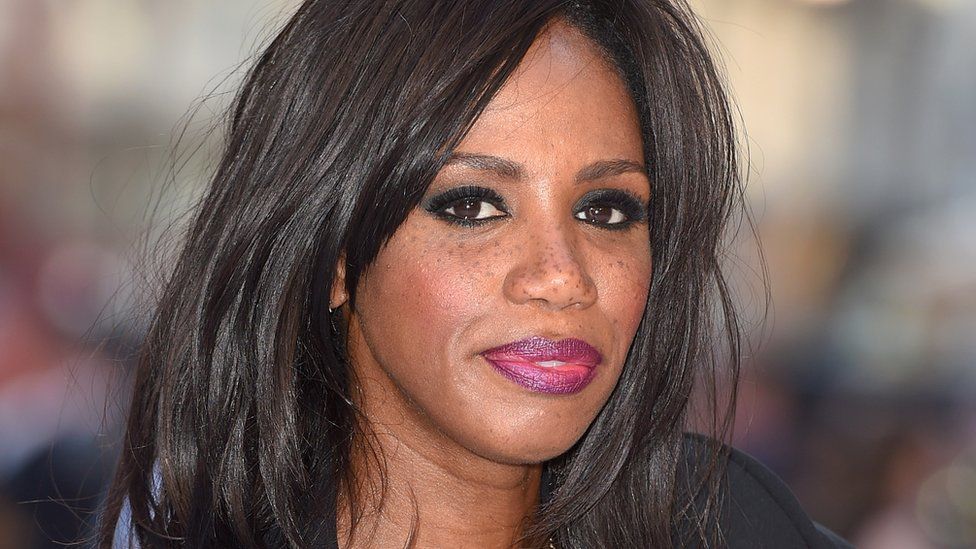 Image source, Getty Images
Image caption,
Lewis won two Brit Awards as a member of girl group All Saints
By Steven McIntosh
Entertainment reporter
Singer Shaznay Lewis has said it "does not feel right that female artists have suffered" as a result of category changes at the Brit Awards.
However, the shortlist for this year's best artist prize is all-male.
Lewis, who won two Brits as a member of All Saints, welcomed the awards body's intentions, but said: "Progressive ideas should benefit everyone."
Writing in the Radio Times, she said: "How can that be the case if we do not acknowledge female artists, who are symbols of empowerment to millions of young aspiring women?"
The singer and songwriter described the category change as a "welcome and wonderful step" for recognising talent regardless of an artist's gender.
However, she continued: "If the Brits are meant to be accolades for all, how can we persist with a category that this year has excluded half of the population, women? I'm hoping it won't be the case in 2024."
Image source, MARIO ANZUONI
Image caption,
Harry Styles, who won record of the year at Sunday's Grammys, is the favourite to win artist of the year at the Brits
Adele was the first winner of the newly-titled artist of the year category in 2022, following the release of her fourth album 30.
She said in her acceptance speech: "I understand why the name of this award has changed but I really love being a woman and being a female artist. I'm really proud of us."
This year, the best artist nominees are Fred Again, Central Cee, George Ezra, Stormzy and Harry Styles.
Female artists such as Charli XCX and Florence + The Machine missed out, although acts like Wet Leg, Nova Twins and Cat Burns are recognised in other categories.
Lewis said: "Women, predictably, have suffered as a result [of merging the categories]. It does not feel right."
She questioned why women faced being "disregarded and excluded", and asked whether it was because female artists were not seen as "equally bankable" by the music industry.
Image source, PA Media
Image caption,
Adele said she "loved being a female artist" when she accepted the first artist of the year prize last year
Brits organisers said the changes were made because "it was time to progress to judging artists solely on the quality and popularity of their work, rather than on who they are, or how they choose to identify".
They said 42% of nominations this year featured women, but that a key factor behind the best artist shortlist was "unfortunately, there were relatively few commercially successful releases by women in 2022 compared to those by men".
A statement on Monday added: "We recognise this points to wider issues around the representation of women in music that must also be addressed."
Organisers carry out an annual review of the awards, they said, adding that they would examine the artist of the year question after this year's ceremony on Saturday.
"We are wholeheartedly committed to a considered review of the categories over the immediate months following this year's event, and this will include industry consultation and discussion, in line with what we instigated over the past five years, with any conclusions and actions made ahead of the 2024 event."
Image source, Getty Images
Image caption,
All Saints at the Brit Awards '98 (Left to right: Melanie Blatt, Nicole and Natalie Appleton, Shaznay Lewis)
However, they suggested more time may be needed to assess whether women are at a disadvantage.
The statement said: "We believe that any changes made to award categories should be carefully evaluated over time. Last year Adele was voted the inaugural AOTY, and women triumphed in 10 out of the 15 categories."
All Saints won best single and best video for their hit Never Ever at the Brit Awards in 1998.
Both categories were gender neutral and saw the girl group compete against male acts such as Elton John, Blur, Radiohead, Oasis and David Bowie.
However, the existence of gendered categories that year meant there were other guaranteed female winners, with Shola Ama winning best British female solo artist and Bjork winning best international female.
Lewis said the group were hugely proud of their accomplishment, writing: "We played a major part in ensuring that the Brits was a space for women to thrive. Is that still the case?"
The two awards won by All Saints were voted for by the public - but most of the winners and nominees at the ceremony are chosen by the Brits Voting Academy, which is made up of about 1,200 members.