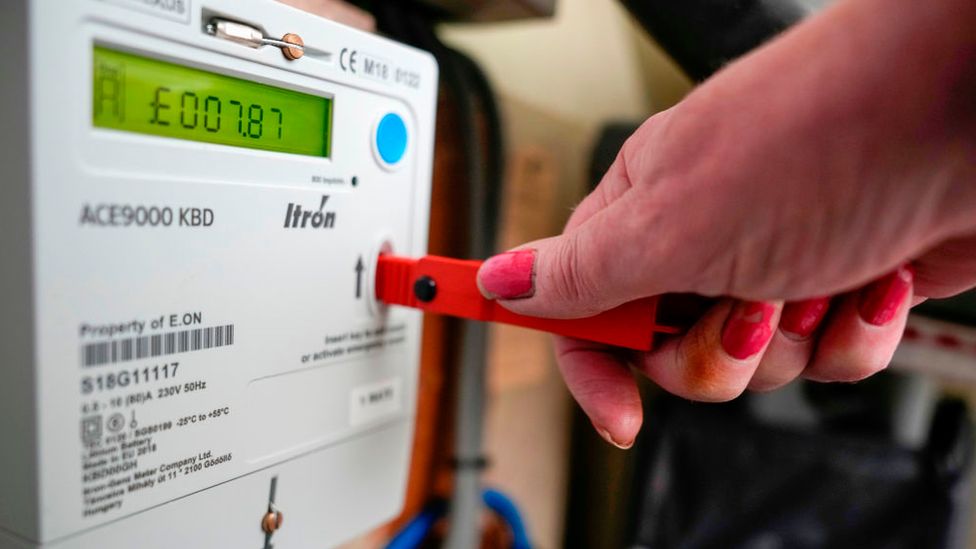 Image source, Getty Images
Three energy firms accounted for the majority of forced prepayment meter installations last year, the government has said.
British Gas, Scottish Power and Ovo Energy made up 70% of all forced installations, government data shows.
In total, more than 94,000 prepayment meters were forcibly installed in 2022.
The energy regulator, Ofgem, said earlier this month that it was extending the ban on forced installations, which had been due to expire at the end of March.
Ofgem says all forced installations will be suspended until energy companies sign up to and comply with its new code of practice.
However, there is also concern that at a time of high energy costs, people on prepayment meters will "self-disconnect" if they cannot afford to keep the meter topped up.
How can a prepayment meter be removed?
Once a prepayment meter is installed it can be very difficult to have it removed, and there is no automatic review process to see if it's still the most appropriate payment method.
Many properties have a prepayment meter or a smart meter in prepay mode because of a transfer of a previous tenant or owner, and it can be a slow and difficult process to be transferred.
Each supplier has a different procedure, they are likely to do a credit check, and may ask for a deposit of around £300 to remove the physical box.
It's often a shorter process for those happy to have a smart meter installed instead as companies may feel more confident customers will pay as the smart meter could be flipped back into prepayment mode.
Energy Security Secretary Grant Shapps said: "Today's figures give a clear and horrifying picture of just how widespread the forced installation of prepayment meters had become, with last year seeing an average of over 7,500 force-fitted a month.
"Prepayment meters are right for some people, so I do not want to ban them outright, but I do have concerns that companies have not been treating their customers fairly."
The department said Scottish Power was the "worst offender" when taking into account their customer base, having installed 24,320 meters under warrant, while Ovo installed 16,867. Both Scottish Power and Ovo have been contacted for comment.
Gillian Cooper, head of energy policy at Citizens Advice, said the government figures were "more evidence of the troubling scale of the problem". "The stress, anxiety and hardship often caused by forced prepayment meter installations cannot be overestimated."
Figures suggest that the number of forced installations has been growing sharply over the past few years. The number of warrants approved by courts in England and Wales rose to more than 367,000 last year, Ministry of Justice figures showed, up from 277,000 in 2019.
Scottish Power customer Tarique Chowdhury, 55, had a prepayment meter force-fitted in the autumn of 2020.
He said he came home to find a letter addressed to a previous tenant who was "thousands of pounds" in energy debt.
Image source, Tarique Chowdhury
Image caption,
Tarique described the break-in as "unnerving" and "scary"
"It was from an agency on behalf of Scottish Power," he said. "They said: 'We've been in your house with a warrant and changed your gas meter.'
"It's just frustrating. I know what they've done is legal, but you've been in my house and it feels like an invasion."
About four months later Scottish Power switched his prepayment meter back to a standard one.
At the time, Tarique was ill with osteomyelitis, a bone condition that made it painful to walk. It later led to the amputation of his leg below the knee.
"For four months I had to trudge back and forth to Tesco [to top up the meter]. One or two times it got really close and I thought we were going to run out of gas," Tarique said.
A Scottish Power spokesperson said it was sorry for the issues experienced by Mr Chowdhury.
"We hadn't been informed that he had taken over the tenancy and received no responses to the letters sent to the property. Once he got in touch and confirmed his tenancy, we were then able to reinstall the gas credit meter at his request."