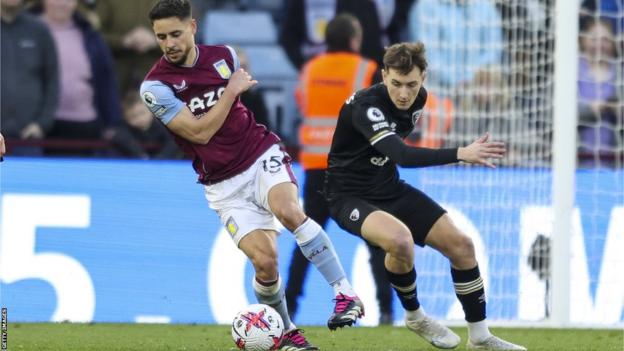 David Brooks last played for Bournemouth in September 2021
Wales winger David Brooks returned to action for the first time since his cancer treatment as as substitute for Bournemouth in their 3-0 Premier League defeat at Aston Villa.
The 25-year old came on for Adam Smith in the 79th minute at Villa Park for his first appearance in 536 days.
"What a special moment," Bournemouth wrote on social media.
Brooks was an unused Bournemouth substitute last weekend in the Cherries' 1-0 Premier League win against Liverpool after being diagnosed with cancer in October 2021.
Bournemouth boss Gary O'Neil said Brooks' return was "huge for everybody" at the club.
Bournemouth beat Liverpool as Salah misses penalty
Brooks cancer free after Hodgkin lymphoma treatment
Brooks, who has won 21 caps for Wales and featured three times at Euro 2020, last played for Bournemouth against Peterborough on 29 September 2021.
Hodgkin lymphoma is a cancer of the lymphatic system, an important part of the immune system.
At the time of his diagnosis, Brooks thanked the Wales medical team whose "swift attention" had helped detect the illness while he was on international duty.