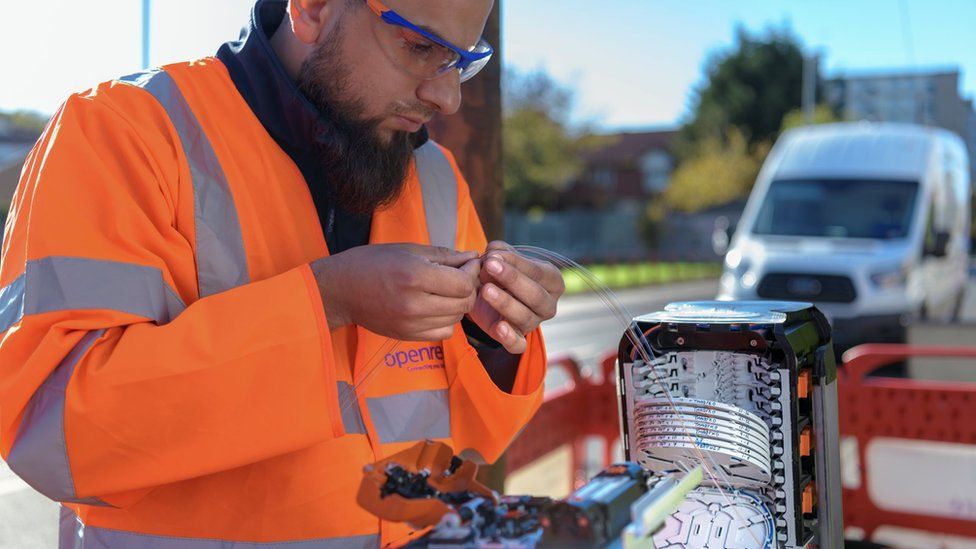 Image source, BT Group
Telecoms giant BT has agreed a pay deal with union bosses which will see workers who earn £50,000 or less get a £1,500 pay rise next year.
The agreement, which will be put to union members, could lead to the end of strike action at the company.
BT said 85% of its UK-based staff would benefit from the wage increase.
Combined with a pay rise made in April, the total increase for the lowest paid employees at BT will be more than 15% since this time last year.
Both the Communication Workers' Union (CWU) and Prospect will ballot their members and recommend backing the deal.
Dave Ward, general secretary of the CWU, the pay deal "would not have happened" without the walkouts of thousands of BT Group workers in the summer.
"The bravery these workers displayed caught the sympathy of the country, and shocked the company out of its complacency," he added.
Deputy general secretary Andy Kerr added the strikes had "moved BT into a position where they could no longer ignore the case for a consolidated pay rise".
The pay rises cover all frontline staff, and 51% of managers in the UK. It also includes Openreach workers.
The CWU said the deal would mean wage rises ranging from 6 to 16% for workers of different grades.
BT Group chief executive, Philip Jansen said the deal favoured lower-paid workers.
"Whatever our differences, our unions are vital partners. We will now build on this collaboration," he said.
Mr Jansen said the company would now work with unions to "lean into the opportunities and challenges the future will bring, specifically our transformation plans and the delivery of the £3bn cost savings" by the end of the 2025 financial year.
In the summer, thousands of workers walked out over pay in what was believed to the be the first national telecoms strike since 1987.