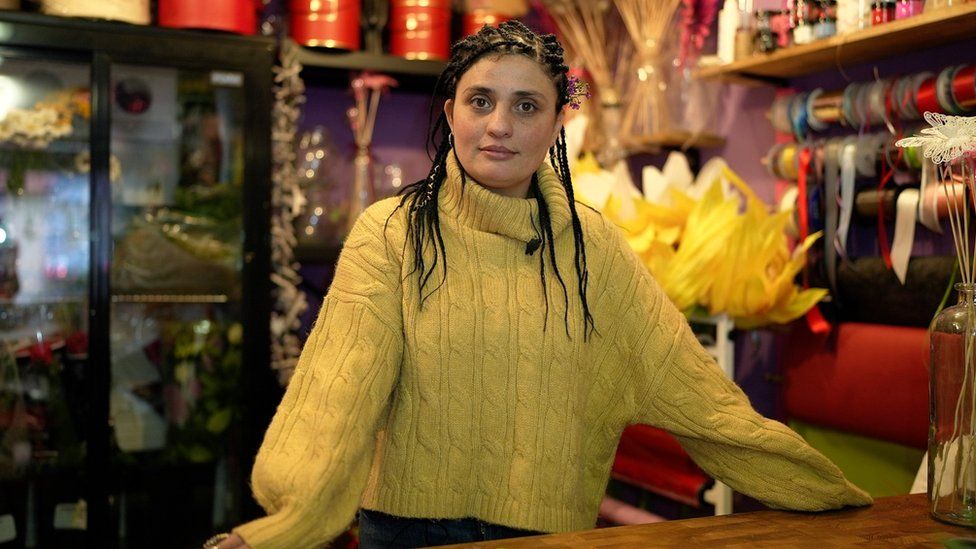 Image caption,
Florist Ramia Muhjazi wants to see more help with energy bills.
By Noor Nanji
Business reporter, BBC News
Ramia Muhjazi, who owns a florist in Slough, says her energy bills have doubled in a year to more than £3,000 annually.
"This is too much for a small business," she said. "We need it to come down, to something reasonable."
But Ms Muhjazi warned firms like hers need more support, not less.
Her plea comes one week before the Spring Budget, in which the Chancellor Jeremy Hunt will say how much of our money the government will take in taxes, and what it will spend it on.
The BBC has been visiting firms in Slough, to find out what they are hoping to hear from him.
Price pressure is the main concern, with many - like Ms Muhjazi - saying rising costs are holding them back.
The Treasury said it has provided billions of pounds of support to firms since the pandemic, and reasserted its plan to cut inflation and boost growth.
Ms Muhjazi says the cost-of-living crisis has been even worse for her business, Flower Tale, than the coronavirus pandemic.
Costs have soared, while customers are spending less on non-essential items like bouquets as they tighten their purse strings.
"The cost of everything is up," she told the BBC. Fuel, rent and wrapping paper are all costing much more than last year, she added.
The cut flowers are required to be kept cool, which means she has to run a cooler system, adding to her utility costs.
She is also hoping for the fuel duty cut to be extended, to reduce the cost of her flower deliveries.
"We are seriously struggling," she said. "I will keep my door open always, as much as I can, but seriously we need some support."
The gym: 'Spend more on training young people'
The Kayani Club Boxing Club in Slough was set up with the aim of getting young people off the streets and away from a life of crime.
For owner Amar Kayani, it's a personal mission, after his cousin was stabbed to death.
He wants Jeremy Hunt to focus on recruitment, skills, and training young people in his Budget.
Image caption,
Amar Kayani, who runs a boxing club, thinks more money should be spent on training young people.
"A lot of the kids, if they didn't have this place in Slough, they'd be on the streets fighting," he said.
"If there was an opportunity to be given some sort of funding, to start their training, then it would help them, not just in their training but in their lives."
Rising costs are another challenge. Overheads are up more than 30% in a year, driven by energy bills.
"It's really upsetting to think that because the cost of living is so high I might not be able to carry this place on," he said.
The cafe: 'Cut taxation and inflation'
At the Mleczko Bakery in Slough, coffees, cakes and doughnuts are on the menu.
But the rising price of food ingredients is a big concern for its manager, Anna Michalak.
Image caption,
Anna Michalak, Manager of Mleczko Bakery, would like VAT to be cut.
"Food prices have gone up and energy prices after the pandemic and the current situation that's happening in Ukraine," she said.
She said reducing VAT would lower prices for customers, and also reduce inflation - the rate at which prices rise - which would be a good outcome for the economy too.
Her concerns are echoed by Mark Priestley, the owner of Priestley Bakers which has four shops across the Slough area.
He had been hoping to expand this year but huge rises in his energy bills along with price hikes in wheat, cooking oil and other raw ingredients means those plans are now on hold. That means plans to employ more people have also been paused.
Image caption,
Mark Priestley, the owner of Priestley Bakers, says growth has stalled.
"I was hoping to have a total of 10 shops this year, but we can't because energy is so expensive now and we don't know what's going to happen at the end of the month", he said.
Mr Priestley urged the chancellor to help firms with energy costs and also business rates.
What could the Chancellor do?
The BBC's business editor Simon Jack says Jeremy Hunt may well offer new incentives for investment and could possibly (although seems unlikely currently) extend energy support for business at more generous levels than the cutbacks previously indicated.
But there seems no prospect yet that a rise in corporation tax from 19% to 25% will be cancelled or deferred.
Despite the economic pressures, companies have so far proved resilient and the falling cost of wholesale energy and some commodities has seen business sentiment bounce up slightly from recent low levels.
There is an international dimension to this UK budget. The US is offering hundreds of billions in subsidies to firms that locate production and supply there - the EU is expected to respond in kind.
Business groups have been keen to remind the chancellor that the hunt for new investment and growth is international.
What are other business voices saying?
SEGRO is a FTSE 100 property group specialising in warehouses, which owns and manages the Slough Trading Estate - one of the biggest in Europe.
Its Thames Valley managing director, James Craddock, said firms are facing huge challenges with prices rising so fast, but most are managing to cope.
Image caption,
James Craddock, director at SEGRO, says there is resilience despite challenges.
Mr Craddock said there are very few empty warehouses on site, and that they're also seeing some demand for new premises.
"Rising costs are a big issue, but most of our tenants are weathering the storm pretty well", he said.
Kate Nicholls, chief executive of UK Hospitality, said that if the chancellor does - as expected - extend current levels of energy bill help for households for a further three months, then the same should be done for businesses.
"Now is the wrong time to be scaling back support for businesses with their energy bills," she told the BBC.
Alex Veitch, director of policy at the British Chambers of Commerce, said firms know that the UK's finances are tight.
But he urged the chancellor to show "more faith" in their ability and talent.
"If they can see the government is prepared to back them, by acting on childcare, energy costs, green funding and investment, then the future could soon look a lot rosier and greener," he said.
A Treasury spokesperson said the Budget "will set out the next stage in our ambitious plans for growth whilst halving inflation and getting debt falling.
"We have provided hundreds of billions of pounds of support to businesses during the pandemic and since Putin's invasion of Ukraine, which comes on top of our £13.6bn business rates relief package and a £2.4bn fuel duty cut," they said.
The spokesperson added that taxes on profits would still be internationally competitive and smaller companies would pay lower rates.
Additional reporting by Oliver Smith and Beth Timmins.