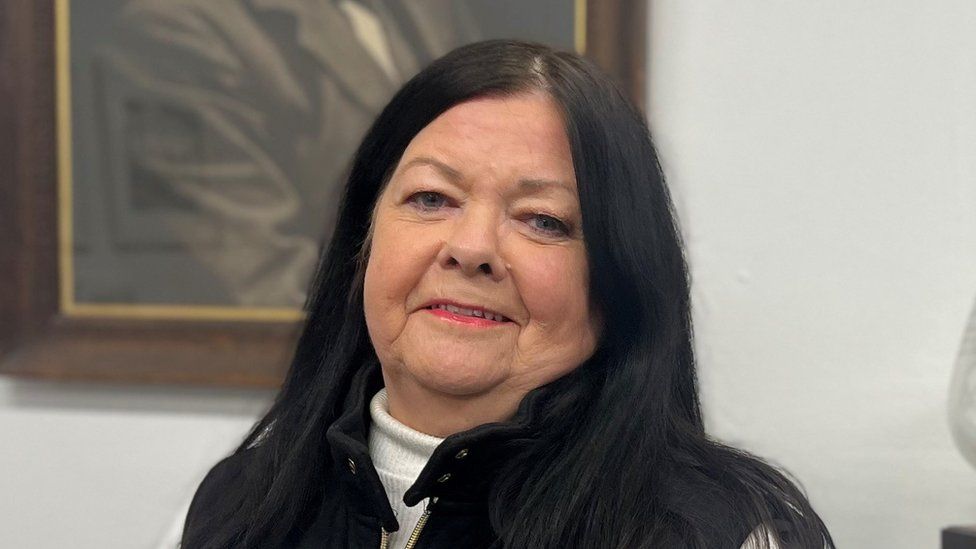 Image caption,
"I hope they'll keep the heritage going," says Susan Trepleton, who worked at the store
By Rhiannon Wilkins
BBC News
A landmark Cardiff city centre department store has closed its doors for the final time after more than 150 years. House of Fraser, which opened on St Mary Street as Howells in 1867, shut on Sunday. From incredible window displays to ghost sightings, we take a nostalgic look back.
Martin Hunt, 70, is retiring from the shop assistant job he got aged 16 at the department store.
"I started work in Howells two weeks before the first man landed on the moon and I've never left."
"When I started I was paid weekly and I'd get six pounds and 10 shillings.
"It's very sad it's closing. Department stores just aren't what they used to be."
"Although I did gain a lot of retail qualifications I was always happiest on the shop floor.
"I enjoy speaking to customers and seeing those customers coming back, that's what you want."
Over the past 53 years he worked across various departments from hardware to white goods and has fond memories of the store in its heyday.
Image caption,
"This was a very high class store so we had very well to do customers but we got to know them really well" says Martin Hunt
"People would travel from all over to come here, just to get a specific cheese from the amazing food hall for example.
"I've served generations of the same families over the years. They expected good service and at Howells that is what they got."
"Our window displays were out of this world. Some of the London stores would send their display teams to Cardiff just to see our windows."
Image source, Susan Trepleton
Image caption,
Mr Hunt said the displays were "so magnificent you felt you wanted to step into them"
Thackeray Group has acquired the Grade II-listed building and is set to spend £100m redeveloping it.
The plans include the creation of a rooftop terrace, which the company said "will suit a variety of different uses from F&B (food and beverage), office, retail or community use".
Susan Trepleton worked at House of Fraser in Cardiff for 17 years and is writing a book on the history of the store and its people, including its founder James Howell.
She said she hoped renovation work would be sympathetic to the architecture, which includes Bethany Baptist Chapel, dating from 1807, which sits inside the department store.
Image source, Susan Trepleton
Image caption,
The shop was built around the chapel as it grew and extended
She has collected people's experiences of ghosts over the years.
"They're mainly on the second floor.
"We've had experiences there when we used to use the stockrooms. The man with the top hat seems to be unhappy," she said.
"There's also the grey lady, she's believed to have been evicted from one of the houses from the front that James Howell took over... it'll be interesting to see if there are any disturbances when the builders arrive."
Image source, Getty Images
Image caption,
Christmas hampers on sale at Howells in 1982
Ms Trepleton said she will return to see how the revamp turns out, as will most of the other staff.
"It's the end of an era and what an era it's been. This was the store to go to.
"The poshest store. The biggest store in Wales."