This is turning into a season to savour for Newcastle supporters, with their team flying high in the Premier League table and booking a first trip to Wembley for 24 years, but can they maintain their bid for a top-four finish?
"Newcastle are in a great position to make the Champions League places now," BBC Sport football expert Chris Sutton said.
"They are so consistent compared to most of the teams immediately below them, and their big strength is their defence - they are so solid."
Sutton is making predictions for every top-flight game this season, against a variety of guests.
For this weekend's fixtures, he is up against DJ and Newcastle fan Schak, who played a live set at St James' Park just before the kick-off of Tuesday's Carabao Cup semi-final against Southampton.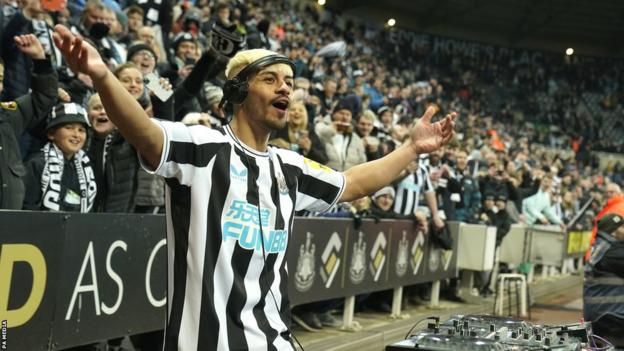 Schak's pre-match set impressed Sky commentator Ally McCoist, who said during the game that he was thinking about booking him for his next birthday party. Schak responded on Twitter by saying: "Ally mate, I'll do ya birthday party any time pal!"
"It's hard to put into words how great that was for me as a Toon fan," Schak told BBC Sport. "It was like a fairy tale.
"The whole day was amazing, starting when I came out of the players' tunnel earlier on to look around the stadium, and thought to myself 'wow, I am actually going to play here!'
"The thing that really sticks out is that, before I went on, someone from the club gave me a black-and-white scarf to wave during my set, so I was waving it... and then thousands of people in the stands started doing the same.
"It was so surreal. I have played some amazing shows in so many places, but I have never experienced anything like that. It was totally unique and I'll never forget it."
Schak's current single, Moving All Around (Jumpin'), is out now. He is back in Newcastle on 17 February when he plays at The Lofts.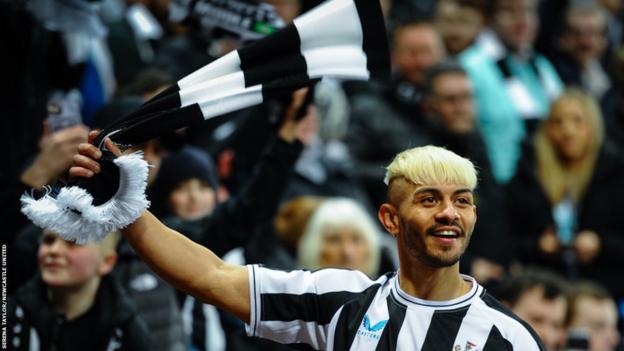 Schak, from North Shields, says "There is no place in the world like Newcastle and I'm proud to come from where I do. Our club is the heart and soul of the city and being part of it is truly an honour."
Schak now has a trip to Wembley to look forward to, when Newcastle face Manchester United in the final on 26 February.
"I can't wait," he said. "It's going to be an amazing atmosphere in London that weekend because there will be so many Toon fans around, whether they have got a ticket or not.
"Their support has always been brilliant, and it is the same at music events. Every show I do, no matter where it is in England, Scotland or Wales, the Toon support always shows up, wearing the shirt. I don't see that with any other team.
"Now we have something to get excited about on the pitch too and I am looking forward to seeing what we do next. We are building at the moment, but I do believe we can make the top four this season - although it is going to be close.
"We are still working on our squad depth but once we improve that then I think we could be a juggernaut.
"The position we are in, and how the whole city is buzzing because of it, is just brilliant. I've always thought of the club as being like a sleeping giant - but the giant has woken up now!"
Result

Sutton

Schak

FRIDAY, 3 FEB

Chelsea v Fulham

0-0

2-1

0-1

SATURDAY, 4 FEB

Everton v Arsenal

1-0

0-2

0-3

Aston Villa v Leicester

2-4

1-1

1-1

Brentford v Southampton

3-0

2-1

1-2

Brighton v Bournemouth

1-0

3-0

3-1

Man Utd v Crystal Palace

2-1

2-0

1-1

Wolves v Liverpool

3-0

0-0

2-1

Newcastle v West Ham

x-x

1-0

1-0

SUNDAY, 5 FEB

Nott'm Forest v Leeds

x-x

2-2

0-0

Tottenham v Man City

x-x

1-3

0-2
A correct result (picking a win, draw or defeat) is worth 10 points. The exact score earns 40 points.
Visit your Premier League club's page with all the latest news, analysis and fan views, and sign up for notifications
SUTTON'S PREDICTIONS
Games kick off at 15:00 GMT unless otherwise stated
FRIDAY, 3 FEBRUARY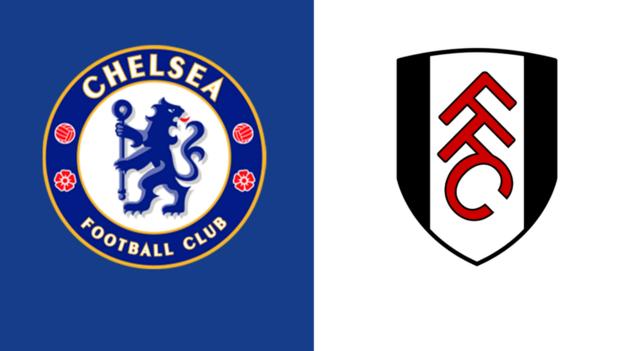 Chelsea 0-0 Fulham
These two sides met a few weeks ago, when new Chelsea signing Joao Felix was sent off on his debut and Fulham won 2-1.
This time? Well, who knows how Chelsea will line up on Friday with all their new signings - including Enzo Fernandez, the £107m man.
Jorginho started their last game, against Liverpool on 21 January, and he has now joined Arsenal. Hakim Ziyech and Conor Gallagher were also in the team at Anfield and they were linked with moves away - especially Ziyech, who thought he was on his way to Paris St-Germain. Surely he won't be involved?
There are so many questions and there is simply no way Blues boss Graham Potter can know what his best team is now. I do like the look of Mykhailo Mudryk, who is incredibly quick, but selling Jorginho is very odd, even with his contract running out in the summer.
All of this makes it very difficult to make a prediction.
Fulham have lost their last two league games, without playing that badly, and with a settled team they should definitely play the more fluid football.
But maybe this is the moment Potter's luck turns and he gets a break for the first time at Stamford Bridge. That's what I'm going with, anyway!
Sutton's prediction: 2-1
Schak's prediction: Fulham are going to win this one; they are playing really well at the moment. 0-1
SATURDAY, 4 FEBRUARY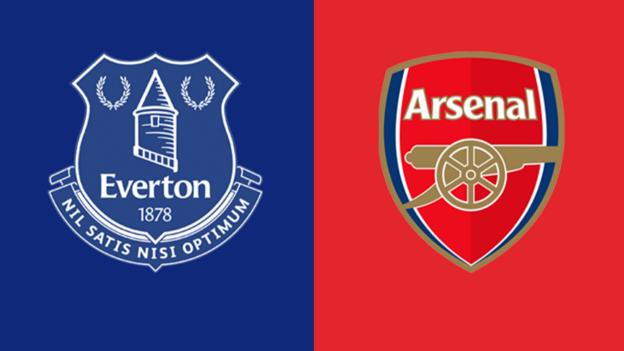 Everton 1-0 Arsenal
Arsenal rested a few players in their FA Cup tie against Manchester City and paid the price.
They still played pretty well at Etihad Stadium though and I think they have had a really good window - signing Jorginho, Cedric Trossard and Jakub Kiwior to strengthen their squad for their title push.
Everton, in contrast, did not sign anyone and it looks like their new manager Sean Dyche has got a huge job on his hands to keep them up - he's actually lost a player, with Antony Gordon moving to Newcastle.
We know the Goodison Park crowd will get behind the team and, the way that Dyche manages, he will be trying to extract every last ounce of effort out of his players.
So, the endeavour will be there, but I still don't see Everton getting a win or even managing a draw.
Arsenal are just far too good for them and, as I said on the Monday Night Club, getting the Everton job now is like being made captain of the Titanic, a couple of hours after it hit the iceberg.
Sutton's prediction: 0-2
Schak's prediction: Arsenal are going to turn them over - I think Everton are a sinking ship. 0-3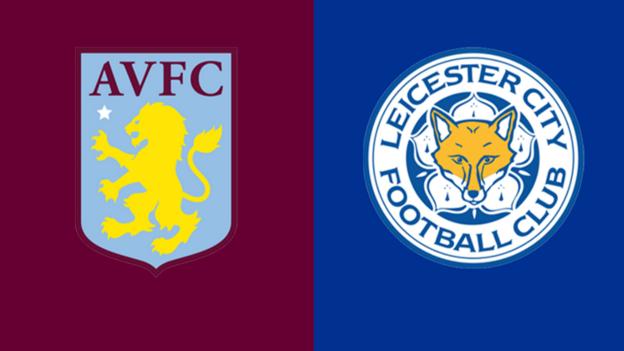 Aston Villa 2-4 Leicester
Leicester still haven't won a Premier League game since the World Cup and are getting a bit desperate, although at least their draw with Leeds stopped a run of four straight league losses.
Villa, in contrast, have won three and drawn one of their past four games and, on current form, they have to be favourites here.
But the Foxes still have some good players and James Maddison should be fit enough to start - he might just make the difference.
Sutton's prediction: 1-1
Schak's prediction: 1-1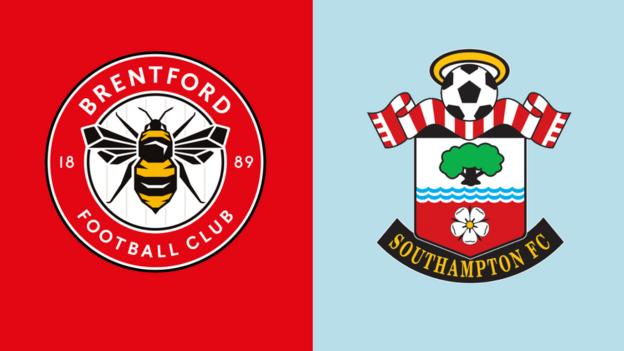 Brentford 3-0 Southampton
Southampton have improved a lot recently and gave Newcastle a decent game in the Carabao Cup in midweek, but they have now lost three out of their past four games in all competitions.
Brentford have not lost in the league since 23 October and at home they are particularly strong - I definitely fancy them to win this one, although I do think Saints will score.
Sutton's prediction: 2-1
Schak's prediction: Southampton might be a little bit miffed about losing to us in the Carabao Cup; they played pretty well against us in the second half on Tuesday. 1-2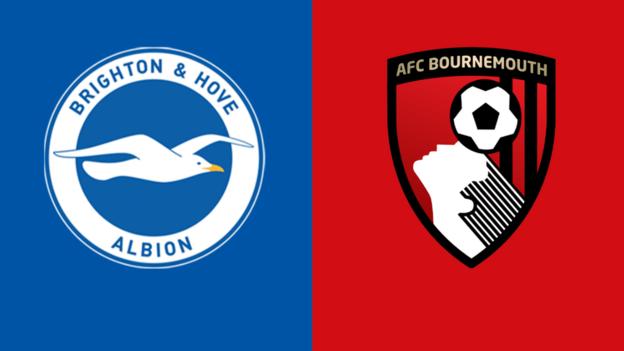 Brighton 1-0 Bournemouth
Bournemouth signed a few players in January and I already like the look of Dango Ouattara, who set up a goal in his debut for the Cherries when they drew with Nottingham Forest last time out.
It looks like they are going to have a go at staying up but whether that works out or not will depend on how quickly those new faces gel.
I don't see them getting anything here, for starters, because of how good we know Brighton are. I love watching them under Roberto de Zerbi and I can only see a Seagulls victory here.
Sutton's prediction: 3-0
Schak's prediction: Brighton are on a great run at the moment. 3-1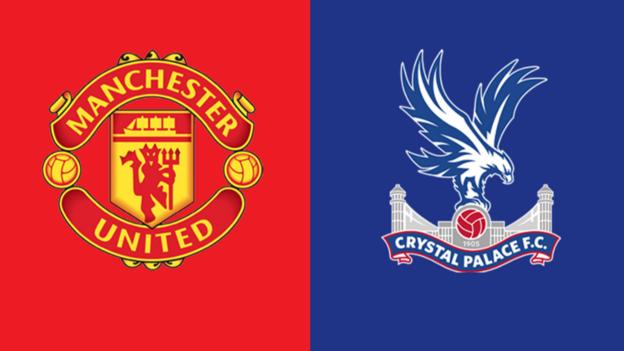 Man Utd 2-1 Crystal Palace
Crystal Palace nicked a draw right at the end of the game when these two teams met at Selhurst Park last month - it cost me some prediction points too, because I had gone for a 1-0 Manchester United win.
It's going to be harder for the Eagles this time, and not just because they go to Old Trafford, where United have won their past 12 games in all competitions.
Wilfried Zaha is injured and, although he has not been at his very best this season, he is still a big miss for Patrick Vieira's side.
Sutton's prediction: 2-0
Schak's prediction: I'd like to see Palace get something because of how close United are to us in the table. United are playing well at the moment, but all Palace need is another free-kick like the one Michael Olise scored against United a couple of weeks ago - that was just amazing - and I am going to go with a draw. I just hope I'm right! 1-1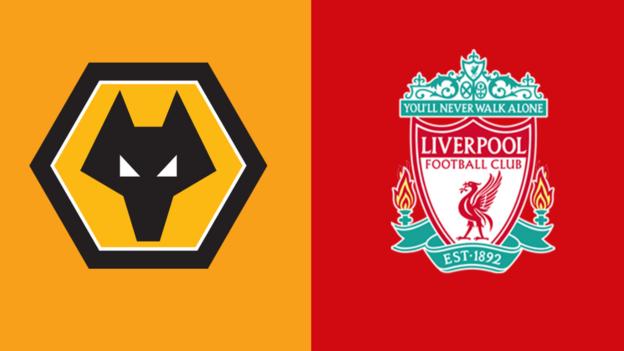 Wolves 3-0 Liverpool
I don't think Liverpool boss Jurgen Klopp can afford many more losses and the level of performance is the worry with the Reds at the moment.
Based on performance levels, what we are seeing now is a shadow of the side that were winning game after game when they were fighting for the title with Manchester City 12 months ago.
We are at the stage where, last week, I could say with an element of confidence that Brighton were not just going to beat Liverpool in the FA Cup, they would also outplay them - and cause them problems and create chances, just like they did when they beat them in the league earlier in January.
Lots of you agreed with me too - out of more than 32,000 votes, 53% of you went for a Seagulls victory.
What happens next? Well, Liverpool did beat Wolves in the FA Cup last month, but only after a replay when a VAR error saved their bacon late in the first game.
Both teams made lots of changes too, so it is hard to read too much into what happened in either game when it comes to calling this one.
It would be easy to think Liverpool's poor run will continue; I certainly don't see them bouncing back like they used to under Klopp.
They are really bad defensively - but I actually think they will be helped by Wolves' lack of creativity. I don't trust Wolves to score and that might mean Liverpool escape with a draw.
Sutton's prediction: 0-0
Schak's prediction: I'm going with an upset here. 2-1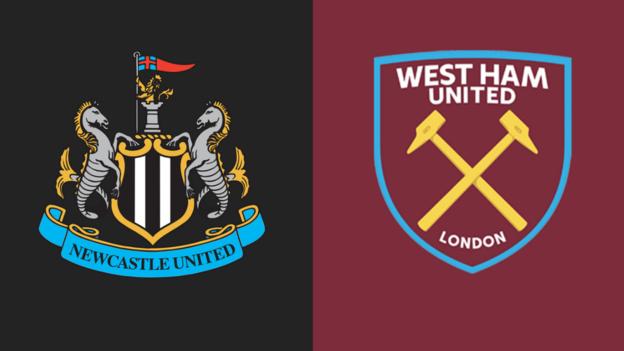 Newcastle v West Ham (17:30)
I watched West Ham at Derby in the FA Cup on Monday night - the Hammers made changes and still won but they were very average indeed.
You kind of know how they will be set up at St James' Park - to sit in, try to frustrate Newcastle and hit them on the counter-attack - while it will be front football from Eddie Howe's side.
Even without Bruno Guimaraes, who is starting his suspension for his red card against Saints in midweek, I think they will find a way through.
The fact that Newcastle are so watertight at the back really helps when games are tight. We've seen it with them a few times this season already when things aren't perfect with their performance, but they still get the job done.
Sutton's prediction: 1-0
Schak's prediction: West Ham aren't in great form but it is a blow for us that Bruno is suspended for the next three games and we might have to change our formation. Normally, I'd be thinking we could put two or three past them, but one goal will probably be enough to get us the points. 1-0
Schak on his Newcastle heroes: Eddie Howe is a brilliant manager who gets the best out of all of his players and we have such a good team now but the one who stands out the most is Bruno, and not just because of how good he is. He might be from Brazil but he is an adopted Geordie already - he is so proud to be playing for us and I love his passion, it shows how much he cares.
SUNDAY, 5 FEBRUARY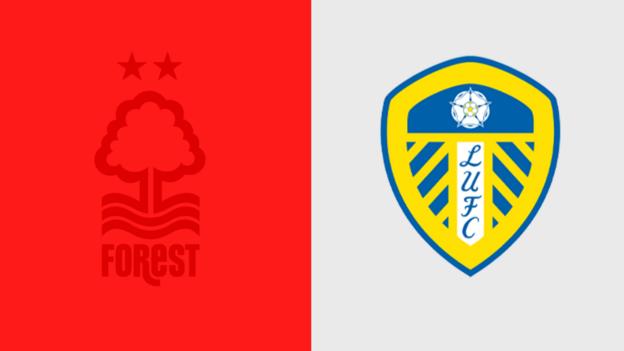 Nott'm Forest v Leeds (14:00)
Nottingham Forest just keep on signing players - even though the January transfer window is closed they have just brought in Andre Ayew, who was a free agent, for what is their 29th signing since they won promotion to the Premier League in May.
Those numbers are staggering and credit to Forest boss Steve Cooper for knitting a completely new team together, while continuing to add to it. Their results have been getting better too - yes, they are out of both cups now but they are four games unbeaten in the Premier League.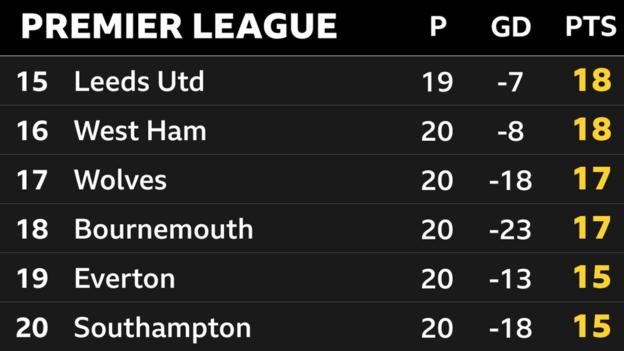 Forest are 13th, three points above Leeds
That's been enough for them to move above a Leeds side who have travelled in the opposite direction down the table but it is so close at the bottom that Jesse Marsch's side would move back above them with a win.
It's been a long time since Leeds picked up three points, however, and I don't think their wait will end this weekend. I've said it many times before, but it is too easy to get at them.
Sutton's prediction: 2-2
Schak's prediction: 0-0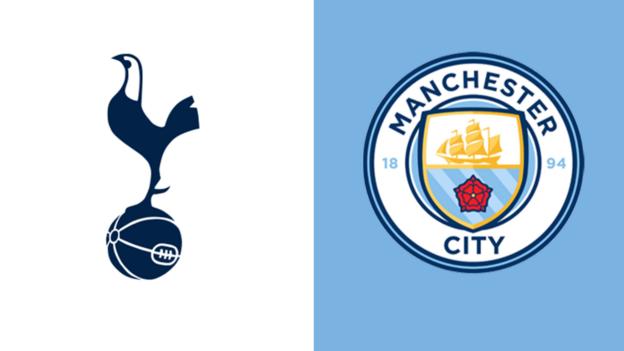 Tottenham v Man City (16:30)
I know Joao Cancelo has not been at his best this season but I still think his departure on loan to Bayern Munich is a massive loss to Manchester City.
Cancelo has been integral to City's success in the past couple of seasons but something has clearly gone on that meant Pep Guardiola was willing to let him leave and they have not replaced him either.
It's a huge call, especially with City playing catch-up to Arsenal in the title race, but it would be typical of what we have seen from them under Pep if they responded with a win here.
Spurs might still think it is a good time to play them, and it was a boost for them that Son Heung-min got back among the goals against Preston in the FA Cup last weekend.
But with boss Antonio Conte likely to be absent after surgery, I am going with another City victory to go with their comeback to beat Tottenham at Etihad Stadium last month.
Sutton's prediction: 1-3
Schak's prediction: I'd like City to win, again because of how close Spurs are behind us. 0-2
Chris Sutton and Schak were speaking to BBC Sport's Chris Bevan.
How did Sutton do in the FA Cup?
Chris correctly backed nine of the 11 teams who have already made it through to round five. He currently leads Krept from rap duo Krept & Konan, who picked eight winners.
Five of the 16 fourth-round ties are still to be decided by a replay.
If exact scores from the first games earned extra points in the FA Cup, Krept would already be the runaway winner - he managed four of those while Sutton got zero.
And how did you get on?
You have scored 10/11 so far - the only tie where you were wrong was West Brom versus Bristol City, when 52% of you backed the Baggies but the Robins won 3-0.
How is Sutton doing this season? (Based on Premier League matches)
Gaz Coombes

120

Ali Bruce-Ball, Modernlove drummer Cian McCluskey

110

Liam Fray of The Courteeners

100

Chris Sutton (average after 20 weeks)
71

Ian Broudie, GK from Bad Boy Chiller Crew, Kasabian's Serge Pizzorno, Editors bassist Russell Leetch, Aaron Moorhead, Phoenix singer Thomas Mars

70

Ross MacDonald from The 1975, Ryan Porteous

60

Justin Benson, Al Greenwood from Sports Team, Dapz on the Map, Chesney Hawkes, Maulo

50

Blake Bowman, Tom from Dry Cleaning

40

Jessica McHale, Olivia Chomczuk

30

Juice Menace, Patrick Whelan

20
Chris Sutton

1,420

Guests

1,380
How are you getting on?
1. You

105/199 (53%)

2. Chris

99/188 (50%)

3 Guests

97/188 (49%)
*Win, draw, loss prediction based on highest % of vote for each match.


Our coverage of your Premier League club is bigger and better than ever before - here's
everything you need to know
to make sure you never miss a moment