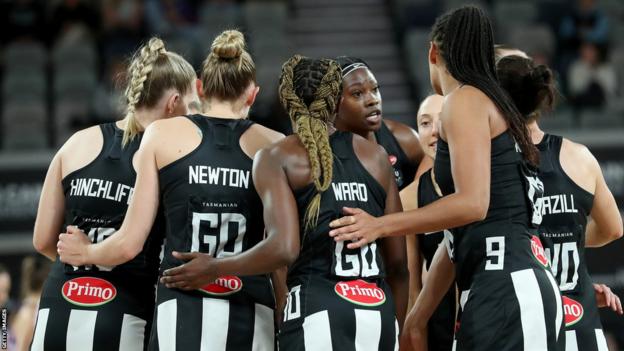 Collingwood have won two games this season and will not qualify for the play-offs
Collingwood Magpies, one of eight teams in Australia's Super Netball league, will withdraw at the end of the season.
The Melbourne club cited Netball Australia's financial plight as a major reason behind the decision.
However, Kelly Ryan, CEO of the sport's governing body Netball Australia, said Collingwood's "priorities had shifted away from netball to focus on its core business of football".
The Super Netball league is considered to be the best in the world.
Collingwood, who are captained by England defender Geva Mentor, sit seventh in the league with four matches remaining and last week the Roses veteran called on bosses of the club and league to find a solution.
But Netball Australia said it had been informed of the decision to leave on Thursday and that negotiations were underway with a number of teams to take Collingwood's place in the league.
Ryan said the decision was "very disappointing" and rejected criticisms the club had made about the competition.
The league hopes to fill the gap left by Collingwood before the window for players to join new clubs closes in July, with the team's players now left searching for new contracts.
Under the sport's broadcast deal with Fox Sports, Super Netball must have eight teams.
Collingwood, who are linked with the region's Australian Football League (AFL) team of the same name, said last week they were placing the netball programme under review.
The club's CEO, Craig Kelly, said they "could have run a better netball programme" but that the "challenges" around the "profitability" of Netball Australia meant that was no longer viable.
The announcement comes after Netball Australia announced a $300k (£159k) profit last week, following two years of multimillion-dollar losses.
But despite this, the sport remains more than $4m in debt following Hancock Prospecting's decision to withdraw their $15m sponsorship deal last year one month after it was signed following concerns within the national team around the ethics of the mining business.
There are also ongoing disputes within the league around pay and conditions for the players.

Will Wrexham get to the Premier League?
A heartwarming look back at the history of the football club now owned by two Hollywood actors
Can you put ten British monarchs into the correct order?
Test your memory with this fun challenge