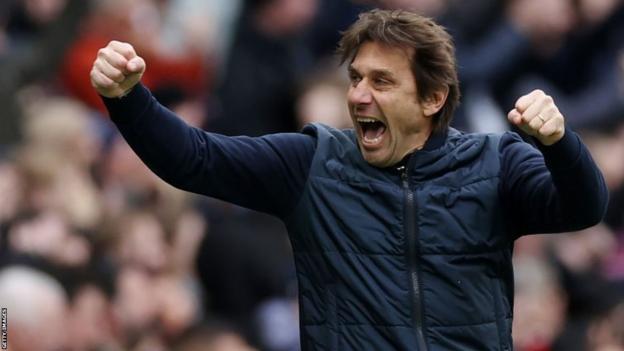 Antonio Conte said it has been "unforgettable" hearing the Tottenham supporters sing his name during his time as manager
Antonio Conte has thanked Tottenham's fans for their "support and appreciation", while also saying he welcomed those at the club who shared his passion for football.
The Italian, 53, left by mutual consent on Sunday after 16 months in charge, his exit coming following a furious post-match interview on 19 March.
On Instagram, Conte said the fans had always given him vocal support.
He wrote: "Our journey together has ended, I wish you all the best."
Conte called the Spurs players "selfish" and was stinging in his criticism of the club's culture after his side squandered a two-goal lead as they drew 3-3 at Southampton before the international break.
His former assistant Cristian Stellini will step up as head coach for the rest of the season, with former midfielder Ryan Mason his deputy.
Conte added: "Football is passion. I would like to deeply thank everyone at Spurs who appreciated and shared my passion and my intense way of living football as a coach.
"A special thought to the fans who always showed me support and appreciation, it's been unforgettable to hear them singing my name."
Tottenham are fourth in the Premier League, although having played twice more than fifth-placed Newcastle, and were knocked out of the Champions League at the last 16 stage by AC Milan and dumped out of the FA Cup by Championship side Sheffield United.
They are now searching for a fourth permanent manager in four years since Mauricio Pochettino left in 2019.
They go to Goodison Park to face relegation strugglers Everton in the top flight on Monday, 3 April at 20:00 BST.
Conte departure became formality after criticism
Who should be Conte's long-term Spurs successor?
Spurs' Emerson to undergo knee surgery
Spurs cannot be seen as a manager's 'consolation prize'
'I see selfish players' - Conte furious after what proves to be his final game with Spurs
Former Blackburn striker Chris Sutton told the Monday Night Club on BBC Radio 5 Live that the style of football would be important for Tottenham and that ex-boss Pochettino could be the manager to watch.
"I think Pochettino is a really interesting one," said Sutton. "It's interesting because I suspect a lot of Spurs fans like the idea of him returning and that whole love story beginning again, having a second opportunity.
"But I do think there are Spurs fans who might feel slightly peeved at the way he left and don't want to go back there.
"I suspect the disappointment is going to be about brand of football, as much as anything, and what the Spurs fans demand because then at least if trophies don't come, [chairman] Daniel Levy will have the out of saying 'look, I'm giving you what you want in terms of brand of football'.
"So, in terms of that 'brand of football', I think Spurs would love [former Spain manager] Luis Enrique."
Rory Smith of the New York Times questioned whether Conte was ever truly committed to the role at Spurs.
"Conte was in for the Real Madrid job around the time he went for Spurs and were reportedly thinking about a new manager and he was one of the names mentioned," Smith told the Monday Night Club.
"I think he took Spurs - partly because he loves London and partly because Spurs are attractive - but he was also thinking 'well, the one I want is not available, so I'll take [Tottenham] and that'll be fine for a bit, and then maybe the Real Madrid one will come up.
"Spurs need to now find a manager who sees them as their great opportunity and not as their consolation prize."
If you are viewing this page on the BBC News app please click here to vote.