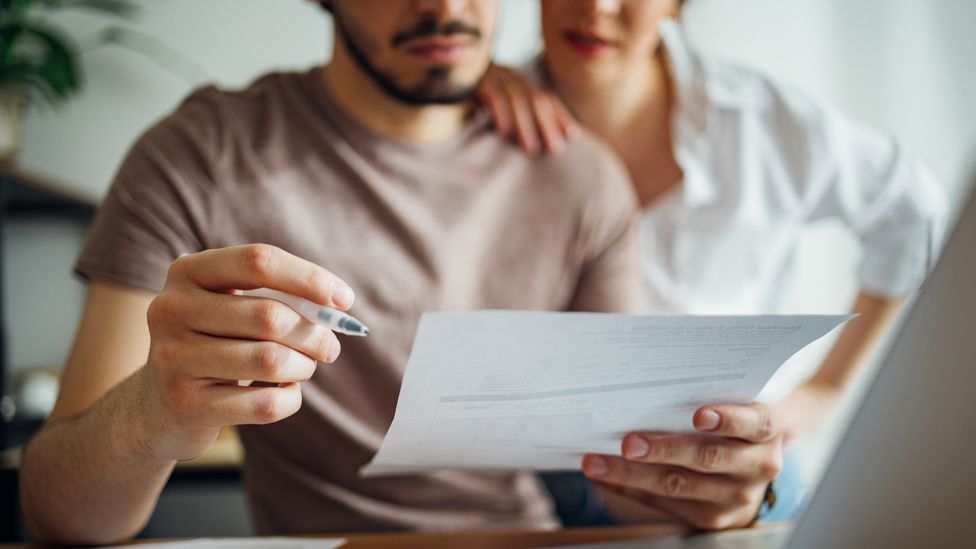 Image source, Getty Images
By Kevin Peachey
Cost of living correspondent
Rises in a host of essential bills are now taking effect, adding pressure to strained budgets - but the lowest earners are also receiving better pay.
The start of April marks the point at which council tax, water bills, and some mobile costs rise, coming just as food prices are soaring.
But the biggest cash increase in the 24-year history of the minimum wage also comes into force.
Nearly two million people will receive £10.42 an hour from now, a 92p rise.
Those on the lowest incomes have been hardest hit by the soaring cost of living, because a greater proportion of their money is eaten up by vital household costs, such as energy and groceries.
Council tax rises
The government has allowed local authorities in England to increase council tax by up to 5%, and most have opted for the biggest possible rise. That means an increase of about £100 a year for the average band D property. Last year, residents in bands A to D homes received £150 off their bill to help with the cost of living, but that was a one-off.
There are discounts for those living on their own, or in a home that has been adapted to take account of disabilities. Support grants are also available, but all need to be claimed.
Different systems operate in Wales - where the typical rise is about 5.5%, and in Scotland - where many areas see a 3% increase. The alternative domestic rating system in Northern Ireland will see households pay at least 6% more.
Energy discount is over
The winter discount for nearly all billpayers has now come to an end, with no sign of the government repeating the support. This saw a total of £400 taken off energy bills by suppliers, in six instalments of about £67 a month.
In some areas, standing charges - the fixed costs of being connected to the network - are going up.
Media caption,
Four changes to energy bills discounts and payments in one minute
This will increase some bills, even though the warmer, longer days should reduce gas and electricity usage. Bills had been scheduled for a sharper rise in April, but ministers offered a three-month extension to the Energy Price Guarantee, which caps the unit price of energy and means the typical household will pay £2,500 a year.
The next round of cost-of-living payments, worth hundreds of pounds for eight million people on low incomes and receiving benefits will be paid automatically towards the end of the month.
Mobile and broadband more expensive
The cost of most mobile and broadband contracts can go up by the Consumer Prices Index (CPI) or Retail Prices Index (RPI) measures of inflation plus nearly 4%, adding 17.3% to the price of some services.
Those increases are being imposed by a host of suppliers for customers still in contract. Not all will do so exactly on 1 April, but it will be at around this time.
The rules are controversial, and under investigation by regulators. The consumer association Which? has described the mid-contract price hikes as "completely unfair".
"Millions of broadband and mobile customers are trapped in a Catch-22 situation where they either have to accept exorbitant - and difficult to justify - mid-contract price hikes or pay costly exit fees to leave their contract early and find a better deal," said Rocio Concha, Which? director of policy and advocacy.
Anyone out of contract is free to shop around to cut the cost. Most providers allow you to check whether you are still in contract by sending a text with the word INFO to 85075. Suppliers also have cheaper, social tariffs available for the most vulnerable.
Water bills up
Your bill for water depends on the area where you live but, on average in England and Wales, it has now gone up by 7.5% - or £31 - a year. The increase, the biggest for 20 years, could be as high as £47 for some.
The average household in England and Wales will pay £448 a year, industry body Water UK has said. As with broadband, social tariffs are available, but inconsistent.
In Scotland, bills rise by an average of £19, or 5%.
Car tax and prescription charges also rising
Vehicle Excise Duty - a legal requirement for all vehicles - is rising by 10.1% for car, van and motorcycle drivers, in line with inflation. The amount due depends on when the vehicle was registered and its emissions.
An NHS prescription now costs £9.65, up by 3.2%, and the cost of prescription prepayment certificates have also now gone up.
Sarah Coles, head of personal finance at investment platform Hargreaves Lansdown, said their research suggested people had already eaten into the majority of what they had managed to set aside during the pandemic.
"It's going to be another awful April, as rising bills leave us nursing a serious blow to the wallet. Millions of people have already had their financial resilience laid low after a year of runaway prices," she said.
"The extra cost of April's changes is going to come as another miserable blow when we can least manage it."
Help with a higher minimum wage
One thing that will assist with the bills for around two million people on the lowest incomes is a pay rise. The increase, of up to 9.7%, in minimum wages varies by the age of the employee.
National Living Wage for over-23s: £10.42 an hour, up from £9.50National Minimum Wage for those aged 21-22: £10.18, up from £9.18National Minimum Wage for 18 to 20-year-olds: £7.49, up from £6.83National Minimum Wage for under-18s: £5.28, up from £4.81The Apprentice rate: £5.28, up from £4.81
A 10.1% increase in most benefits and the state pension will take effect from 10 April.
How are you coping with the rising cost of living? Share your experiences by emailing haveyoursay@bbc.co.uk.
Please include a contact number if you are willing to speak to a BBC journalist. You can also get in touch in the following ways:
If you are reading this page and can't see the form you will need to visit the mobile version of the BBC website to submit your question or comment or you can email us at HaveYourSay@bbc.co.uk. Please include your name, age and location with any submission.