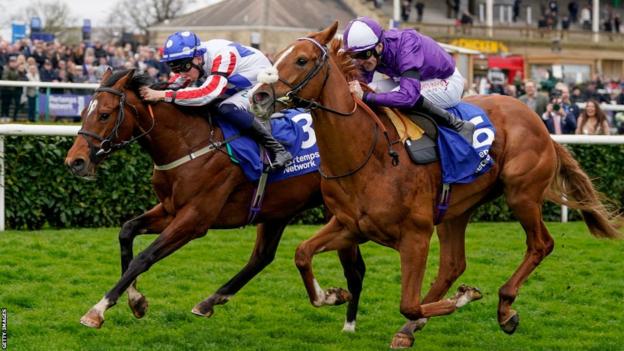 Billy Loughnane (left) has been riding since he was a toddler and gained experience on the pony racing circuit
Doddie's Impact claimed a poignant victory for teenage jockey Billy Loughnane in the opening race of the British Flat turf season.
The horse, named after Scottish rugby legend Doddie Weir, beat favourite Valadero by a neck to triumph in the Brocklesby Stakes at Doncaster.
A percentage of the prize will go to motor neurone disease (MND) charities.
Weir, who raised millions for charity, died at the age of 52 in November, six years after he was diagnosed with MND.
It is a remarkable 35th winner of 2023 for 17-year-old Loughnane, who was described by trainer Robyn Brisland as "extraordinary" following his latest victory.
The teenage jockey taking Flat racing by storm
How Billy Loughnane is lighting up horse racing
Mike Hocking, of part-owner Cross Channel Racing, confirmed 50% of the £18,039 winnings would go to the My Name's Doddie Foundation, in honour of its founder Weir.
"What a story," Hocking said. "It's all about raising money and awareness for MND to try and find a cure."
Loughnane said: "It's class. Mr Brisland had him in good shape. I'd been in during the week to have a sit on him and I thought he'd go close.
"I think he had a tough opponent today, but he knuckled down well and he wanted to win."
Trainer Brisland added: "It's an amazing story and fingers crossed they can have a lot of luck. We can starting dusting off our top hats and go to Royal Ascot now."
Check out the latest horse racing results


The dangerous rise of Andrew Tate:
Enter the world of the social media personality's multi-level marketing scheme and webcam business
Stealing it was only the beginning...:
Glittering drama based on the audacious Brink's-Mat security depot heist