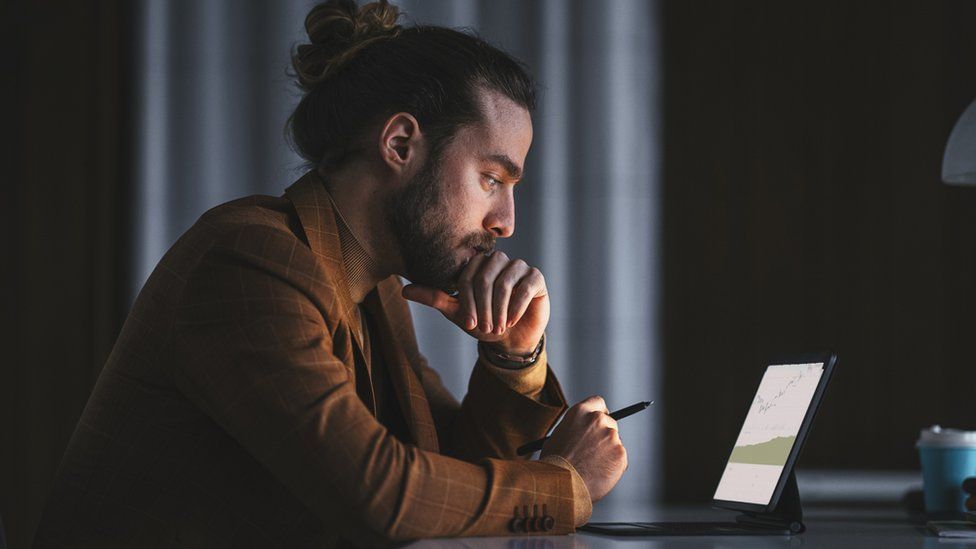 Image source, Getty Images
By Michael Race
Business reporter, BBC News
The UK's inflation rate jumped unexpectedly last month with the cost of living rising faster here than in most of the world's advanced economies.
Price rises rose by 10.4% in the year to February, in contrast to the US and the Eurozone where inflation has eased to 6% and 8.5% respectively.
Inflation is volatile and reading too much into one month's figures would be a mistake, however, the UK's inflation rate has been persistently higher on average compared to the US and other large economies in Europe over the past year.
With the cost of living continuing to eat away at household budgets - many are starting to ask: Does the UK have its own inflation problem?
We look at three factors driving up prices:
1. Food price rises
One of the main drivers of February's inflation rise was the price of food in the UK continuing to surge.
Food inflation was up 18.2% last month compared to the same time a year earlier, with salad and vegetable shortages driving the latest rises in costs for customers.
Tomatoes, peppers and cucumbers have been some of the goods in short supply largely due to extreme weather in Spain and North Africa hitting harvests. In the winter, the UK imports a lot of such produce from abroad.
The shortages have also been compounded by high energy prices in the UK leading to vegetable growers and farmers cutting down on crop yields or avoiding producing certain foods at all due to rising running costs, according to Minette Batters, president of the National Farmers Union (NFU).
She says its a "it's a very complex picture" but all of the union's surveys of growers show that businesses are contracting and the more the sector shrinks "the less there is, the rationing comes in and that just drives further food inflation".
Farmers have also argued that retailers and supermarkets are not paying a fair price for them for their produce, and the government's food tsar has said supermarkets having "fixed-price contracts" with suppliers means when food is scarce, some producers opt to sell less to the UK and more elsewhere in Europe.
2. Wholesale gas prices
Energy bills have risen globally since Russia invaded Ukraine. However, the impact felt in the UK by higher gas prices has been harder for households and businesses than their counterparts in other advanced economies.
Analysts say the UK is more exposed to rises in the prices of wholesale gas.
Jonathan Haskel, a member of the Bank of England's Monetary Policy Committee which decides on interest rates, has said previously the UK appeared to be one of the "most susceptible" countries to energy price shocks.
He cited the UK being a bigger user of gas to heat homes and keep lights on than other European countries. He also added that gas was transferred mostly via pipelines from a handful of suppliers, whereas the US produced most of its own gas and relied more on Liquefied Natural Gas (LNG).
Taxes being lower on electricity and gas paid by UK consumers compared to their European neighbours meant when wholesale gas prices rise, UK energy bills "would be expected" to go up more than others.
On the upside, this means bills should fall more quickly when the wholesale prices come down, as they are expected to in the coming months.
Martin Beck, chief economic adviser to consultancy the EY Item Club, says February's rise is a "flash in the pan".
"Things will improve quickly - it's bad news today," he adds.
3. Worker shortages and wage rises
The energy price shock is a major driver of the prolonged high inflation in the UK, but it's not the only cause with the UK also having a major worker shortage.
During the pandemic, all major countries saw their workforce shrink.
Image source, Getty Images
Other reasons include young people opting to study rather than work, older people retiring early, and more people being off work due to long-term sickness.
The shortage of workers has helped drive up pay packets with employers shelling out more to attract and retain staff.
Experts are still predicting price rises to slow in the coming months, but if the UK gets more surprises like February's and high inflation persists, more questions will emerge of why the UK is an outlier.