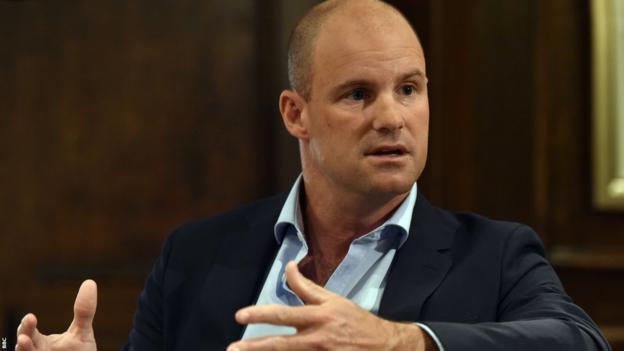 Sir Andrew Strauss captained England in 50 of his 100 Tests
Former England captain Sir Andrew Strauss says "dressing-room banter" in cricket needs to be "softened".
Disciplinary hearings relating to allegations of racism at Yorkshire are scheduled to take place in March.
Former Yorkshire player Azeem Rafiq was found to have been the victim of racial harassment and bullying at the club.
Strauss said the sport's dressing-room culture should be more "tolerant, understanding, welcoming and embracing of difference".
"As we move forward together as a game with players of different genders, races, creeds and beliefs coming together, so the traditional macho, hierarchical, perhaps at times verging on 'bullying' dressing-room banter will need to be softened," he said.
"The events over the last 18 months, whether they come from Yorkshire or elsewhere, have shown we have a lot of work to do in this area. But the spirit of cricket demands this."
Speaking in 2021, Rafiq described English cricket as "institutionally racist" and alleged a derogatory term to refer to players of colour was once used in an England dressing room.
His testimony led to changes in Yorkshire's leadership, Headingley being temporarily stripped of hosting international matches, and reprimands for several current and former players and coaches.
Clare Connor, the England and Wales Cricket Board's managing director of women's cricket, is also leading a review into dressing-room culture in the professional game.