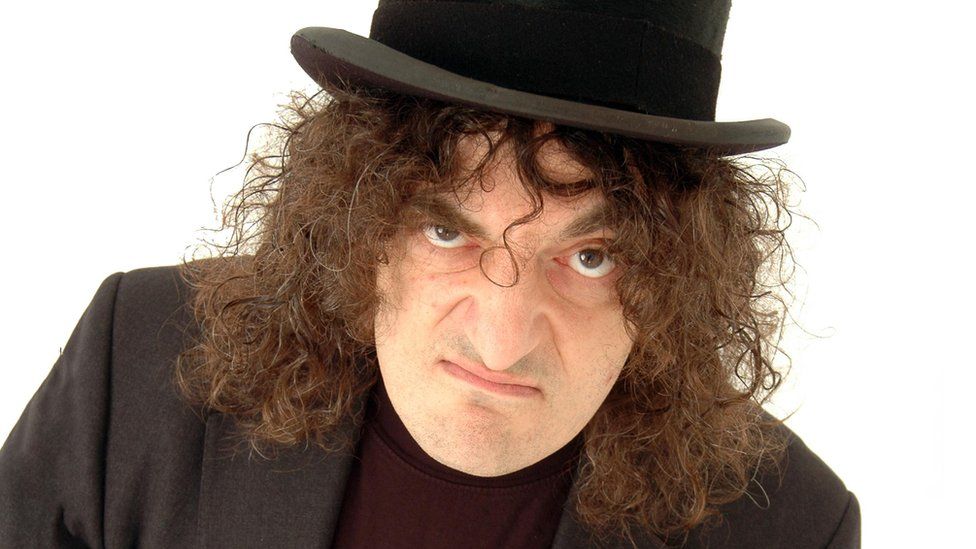 Image source, JERRY SADOWITZ
Image caption,
Jerry Sadowitz, 61, is know for his controversial stand-up material
An Edinburgh Festival show by controversial comedian Jerry Sadowitz was cancelled for "extreme racism and misogyny", venue bosses have said.
Sadowitz, 61, an American-born Scot, is a veteran of the Fringe and known for his provocative stand-up shows.
The venue said it received an "unprecedented" number of complaints from audience members and staff.
Sadowitz performed at the 1,300-seat Lennox room at the Edinburgh International Conference Centre on Friday. It is understood less than half the tickets were sold.
The Pleasance said a "large number" of people walked out as they "felt uncomfortable and unsafe to remain in the venue".
It declined to give any detail about what material by Sadowitz prompted the complaints.
However, in a further statement on Sunday, it said: "We became immediately aware of content that was considered, among other things, extreme in its racism, sexism, homophobia and misogyny.
"We will not associate with content which attacks people's dignity and the language used on stage was, in our view, completely unacceptable.
"We received an unprecedented number of complaints that could not be ignored and we had a duty to respond."
Did a show last night, 75 mins, thought it went well. Didn't see any walkouts. Today I'm told my show's been cancelled. Great stuff. I'm truly sorry for everyone who travelled to see the show tonight.
— Jerry Sadowitz (@RealJSadowitz)
August 13, 2022
The Pleasance also said that "unacceptable abuse" was directed towards some staff on Saturday from people phoning to criticise the cancellation.
On Saturday, Sadowitz posted on Twitter that he thought his show "went well" and he did not see any walkouts the night before.
He wrote: "I'm truly sorry for everyone who travelled to see the show tonight."
The Pleasance said refunds were issued to those who bought tickets to the Saturday performance.
It declined to cover costs for those who had booked travel or accommodation.
Image source, Getty Images
Image caption,
Sadowitz was booked by The Pleasance for the Edinburgh International Conference Centre
Sadowitz, a stand-up and magician, made his name on the UK comedy circuit in the 1980s and 90s with deliberately offensive and aggressive stage routines.
He has performed at The Pleasance numerous times at the Edinburgh Festival.
The venue's original listing carried the warning: "This show contains strong language and themes some may find distressing."
However, The Pleasance said it did not vet Sadowitz's material in advance and it "could not have known the specifics" of his act when he was booked for 2022.
The Pleasance added: "In a changing world, stories and language that were once accepted on stage, whether performed in character or not, need to be challenged.
"There is a line that we will not cross at the Pleasance, and it was our view that this line was crossed on this occasion."
The BBC has approached Mr Sadowitz for comment.