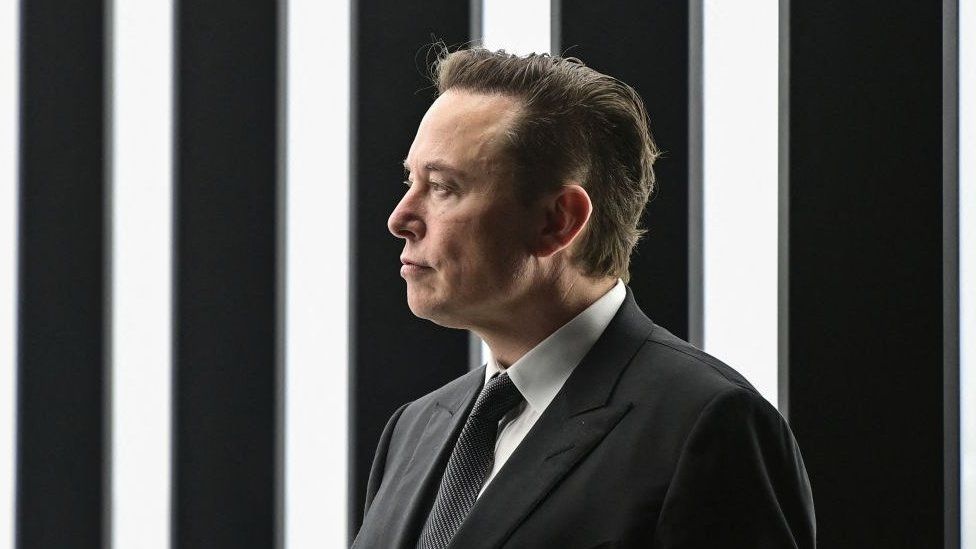 Image source, Getty Images
Image caption,
If a jury rules in favour of Tesla's shareholders, Mr Musk may be ordered to pay billions of dollars in damages
Prospective jurors in a civil lawsuit against Elon Musk have expressed mixed views of the Tesla boss, with some calling him smart and others saying he is "off his rocker".
Mr Musk, who is being sued by Tesla shareholders arguing he manipulated the Tesla share price, has said he cannot get a fair trial in San Francisco.
The case centres on his 2018 tweet that he would take Tesla private.
US regulators removed Mr Musk as Tesla chairman because of the post.
On 7 August 2018, he tweeted that he had "funding secured" to take the carmaker private in what would be a $72bn (£58.7bn) buyout.
Shareholders argued that the tweet caused stockholders to lose billions of dollars after the share price plummeted.
The Tesla CEO, however, argued that he believed he had secured funding from Saudi Arabia's Investment Fund, and did not commit securities fraud.
"I think he's a little off his rocker, on a personal level," one possible juror wrote on a questionnaire asking whether they could be impartial.
"I truly believe you can't judge a person until you walk in their shoes," said another possible juror, who added that Mr Musk seemed "narcissistic".
Another person said Mr Musk had a "mercenary" personality because he's "willing to take risks… that's my image of him", reported.
Another called him a "fast-rising business man", while yet another said he was a "smart, successful pioneer".
"I think he is not a very likable person," said one person, according to Yahoo.
When asked by the judge whether that meant she would not be impartial towards him, the woman responded: "A lot of people are not necessarily likable people…. sometimes I don't like my husband."
Ultimately a jury of nine people was chosen, and opening arguments are set to begin on Wednesday.
Mr Musk had wanted the trial to be moved to Texas, arguing a fair jury would not be possible in San Francisco.
He argued that mass sackings at Twitter, a company he bought last year, affected many employees in the California city.
Mr Musk's team had argued that a significant majority of potential jurors said they viewed the billionaire negatively.
However, on Friday the judge said the trial would go ahead in California.
If a San Francisco jury rules in the shareholders' favour, Mr Musk could be ordered to pay billions of dollars in damages.
He has already paid $20m to the Securities and Exchange Commission (SEC) for the tweet, while Tesla had to pay another $20m.
His tweet has become legendary in Silicon Valley, as it showed the sheer power that 140 characters on Twitter can have.
Legal experts said they believe it will be a difficult case for Mr Musk to win, and that the fine he paid to the SEC will be used against him in the case. However, jury trials in cases of fraud are notoriously difficult to predict.
The trial may see Mr Musk give evidence under oath. The witness list includes Oracle's CEO Larry Ellison and media tycoon James Murdoch.
It is expected to last around three weeks.