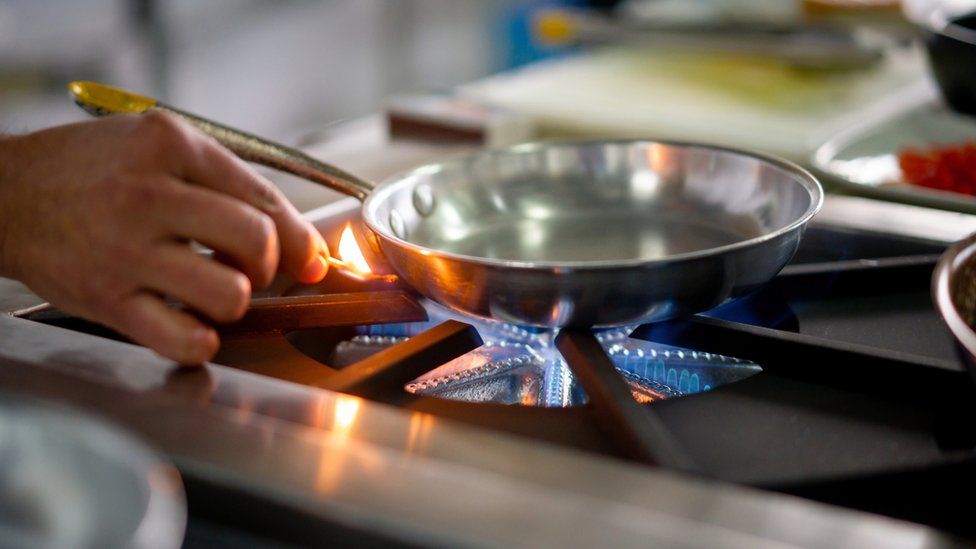 Image source, Getty Images
The government will have to pay billions of pounds more to support households with their energy bills from January, after the regulator increased its energy price cap.
But it will not affect households as the government is limiting their bills.
Under the Energy Price Guarantee (EPG), the typical household is currently paying £2,500 a year for energy.
But Ofgem said that without government support households would have paid £4,279 from January.
Craig Lowrey, a principal consultant at research firm Cornwall Insight said the rise would be "concerning to the government, who will be shouldering the billions of pounds needed to compensate suppliers the difference".
In normal times, the energy price cap would set the maximum amount suppliers can charge households per unit of energy.
But since October it has been superseded by the government's EPG, which is protecting people as energy prices soar in the wake of Russia's invasion of Ukraine.
Under the EPG, suppliers can charge a maximum of 34p per unit for electricity and 10.3p for gas until the end of March.
This rate will go up slightly in April after the new chancellor scaled back the support, and remain in place until the end of March 2024, leaving the typical household paying around £3,000 a year.
Ofgem's announcement, however, shows that without the government's intervention, consumers would have had to pay 67p per unit for electricity and 17p for gas from January.
As such, the government's help will save typical households around £1,779 a year compared with what they would have had to pay under the regulator's cap.
However, the total cost of someone's bill will vary depend based on how much energy they use.
Mounting cost
There is concern about the cost of the EPG at a time when the government's debts are rising.
Speaking earlier this month, Chancellor Jeremy Hunt said the scheme was costing government the same "an entire second NHS" and added: "It's not possible to subsidise people's energy bills indefinitely."
Cornwall Insight estimates the full cost of 18 months of the EPG will be £42bn - although this is up from £38bn only a week ago due to the volatility of wholesale energy prices.
"This highlights the nature of the wholesale market risk that the government is taking on by deciding to extend the EPG... with the consequence that the full costs may be potentially higher than currently budgeted for," Mr Lowrey said.
He added that the government was "exposed to variables and factors over which they crucially have no control".