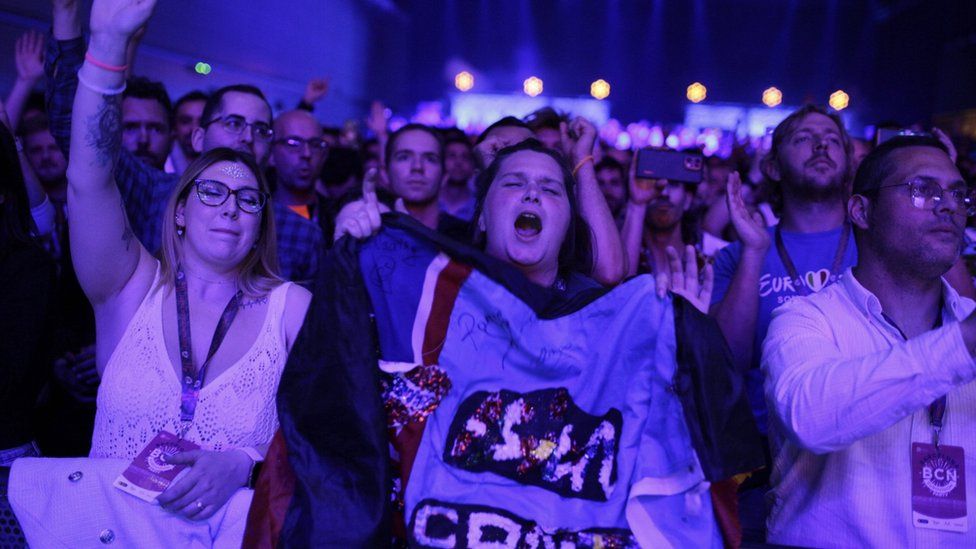 Image source, Barcelona Eurovision Party
Image caption,
Thousands of Eurovision fans attended events across Barcelona over the weekend
By Daniel Rosney
Eurovision reporter
Every true Eurovision fan knows the song contest is much more than one Saturday night in May.
There's the anticipation of a host city announcement, the national final season when acts are chosen, and the bit we're at now - the pre-party stage.
Across Europe, over the next month, participants will perform at fan-organised events in preparation for the competition in Liverpool.
This weekend, thousands attended the first pre-party of 2023 in Barcelona.
"This is the best thing ever," this year's UK entrant Mae Muller explains as she meets some of her fellow competitors for the first time. "I get to go and see all these amazing places and people."
Media caption,
Watch: Mae Muller's song entry for Eurovision 2023 and fan reaction
For Muller, it's not just an opportunity to take selfies and join WhatsApp group chats. It's also the first live performance of her entry I Wrote A Song, which she admits beforehand she's nervous about, but says "the excitement outweighs the nerves".
The bookies' odds can change during this build-up period as fans react to live vocals and choreography, and the artists see who their biggest competition is - but not every act takes part in these side events.
"I think for the fans it's so important the participants do this to show they actually care and they love the contest," 2015 winner Måns Zelmerlöw explained on the BBC's Eurovisioncast.
As well as live performances, over three days of events in the Spanish city, seminar talks on the song contest were held, a walking tour of the city was organised and, of course, fans could dance until the early hours to music from 67 years of Eurovision in clubs.
I began covering Eurovision for the BBC in 2019 and I've seen the pre-parties get bigger each year. I was stunned on Saturday when I saw the queue to get into the venue - only to discover it was actually a line for a Robbie Williams gig at the same Palau Sant Jordi complex, which was used for the 1992 Olympics.
But the true scale (next door) of the pre-parties, and how many there are now, was still a surprise to the Lithuanian contestant Monika Linkytė, who previously took part in 2015.
Image source, Barcelona Eurovision Party
Image caption,
As well as this year's contestants, well-known acts from previous years also performed in Barcelona across three nights
This time around, she says, she can enjoy the experience more because she knows what's to come as the days to Liverpool are marked off on her calendar.
"These pre-parties are about fun," she tells me. "In the two weeks in Liverpool it's going to be stressful, but now you can just chill out."
Linkytė is one of the artists who have previously represented their country and are returning to the Eurovision stage this year, with a lot of discussion surrounding the bookies' current favourite - 2012's Swedish champion Loreen. After witnessing thousands in Barcelona singing back Linkytė's song Stay, she could easily place in the top 10 with her impressive live vocal.
Image source, Barcelona Eurovision Party
Image caption,
After performing, Joker Out stayed to cheer on the rest of the participants on stage
At the pre-parties, you get a sense of who is a seasoned performer and who needs to build confidence before singing on one of the most-watched TV events in the world.
Joker Out, who were last year's best-selling act in Slovenia - and one of this year's many groups competing - can command a stage and have no struggle getting the crowd going.
"We've proved in the past few years [in Slovenia] we were worthy to be picked.
"We were talking with San Marino that this year looks more like a high school battle of the bands than Eurovision," they joke.
With only her dancers for support, Muller was one of the most anticipated performers over the weekend.
Allow Twitter content?
This article contains content provided by Twitter. We ask for your permission before anything is loaded, as they may be using cookies and other technologies. You may want to read Twitter's cookie policy, external and privacy policy, external before accepting. To view this content choose 'accept and continue'.
The BBC is not responsible for the content of external sites.
Her catchy lyrics have resonated with Europe, and she performed despite posting on Instagram she wasn't feeling well.
But as soon as she got off stage, she beamed: "Oh my goodness, I feel alive! I was very very nervous but I'm really happy it went well and everyone seemed to be enjoying themselves."
There's room for improvement, and that's why Muller is doing "intense" rehearsals between now and May.
With her first ever performance of I Wrote A Song out of the way, it was time to relax, hanging out with Ukraine's act Tvorchi - who were chosen to fly their blue and yellow flag from a bomb shelter last December.
Image source, Barcelona Eurovision Party
Image caption,
Spain has not won Eurovision since 1969
Pre-parties to come include Warsaw, Tel Aviv, Madrid, Amsterdam and London. In Barcelona, unsurprisingly, the biggest crowd reaction by far went to Spain's Blanca Paloma.
Someone from Spanish broadcaster RTVE told me afterwards they feel a lot of pressure to repeat last year's success, when Chanel came third behind Ukraine's Kalush Orchestra and the UK's Sam Ryder.
It's a reminder of how many layers the competition has - it's a music contest, but can also impact the reputation of broadcasters if they don't get a result they want.
I travelled from the venue with the Spanish team, and although there was a slight language barrier between Blanca Paloma and myself, we found a way to communicate by singing previous Eurovision winning songs together on the streets of Barcelona.
We were exactly what this year's slogan says - united by music.
All the build-up, insights and analysis is explored each week on a BBC podcast called Eurovisioncast.