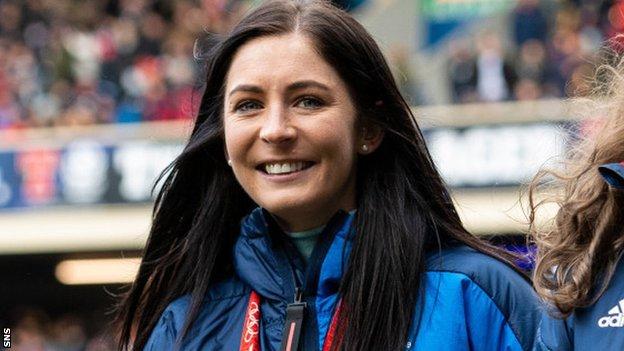 Muirhead won gold for Britain at the 2022 Winter Olympics in Beijing
Olympic champion Eve Muirhead has retired from curling, saying she hopes her career successes showed "girls that being sweaty is cool".
The 32-year-old Scot, who is also European and world mixed doubles champion, described it as "the hardest decision of my life".
She does not know "what's next for me" - but more media work is a possibility.
"I have had such a stellar season, it's always nice to go out on the top," Muirhead told BBC Scotland.
"I felt this was the time to hang up my curling shoes from elite level. I'm excited about the future, but I'm also scared - but it's a good scared."
Muirhead's journey from career-threatening surgery to Olympic gold
Perth-born Muirhead led the Great Britain women's team that won gold at the 2022 Winter Olympics in Beijing.
As skip, she claimed an elusive gold medal in China at the fourth time of asking, the pinnacle of a career during which she became Scotland's most decorated ever curler.
In 2014, she was the youngest skip to win an Olympic medal as her team claimed bronze.
For Scotland, Muirhead won the European Championships three times and claimed a sixth world mixed doubles title earlier this year alongside Bobby Lammie.
She was made an MBE in 2020 and gained further recognition for her services to curling in the most recent Queen's Birthday Honours this year when she was appointed an OBE.
Muirhead hopes she leaves British and Scottish curling "in a good place" and that she has helped show females that physical fitness is not only good for fitness "but your mental side as well".
"There were times when I was young when I didn't want to do PE," she said. "There were times when I lied that I didn't have my PE kit because it wasn't a cool thing to do."
Muirhead said it would be hard to give up training daily for sport but had taken "a lot of time to make sure I made the right decision".
"There's life on the other side of curling and that's what I want to explore," she said.
"The dream scenario would be I enjoy a lot of the media side of it and I've been lucky to be involved with 5 Live at the golf - and it's a sport I'm very interested in. There are a few options out there for me."
SportScotland chief executive Stewart Harris praised Muirhead's "unparalleled" impact on curling in her homeland, adding: "Eve's 11 gold medals in Olympic Games, World Championships and European Championships are a true testament to her dedication to curling over these years."


Is there really a pill that can help you burn fat?
Sliced Bread goes in search of answers...
How many friends do you need?
Evolutionary psychologist Robin Dunbar shares his views