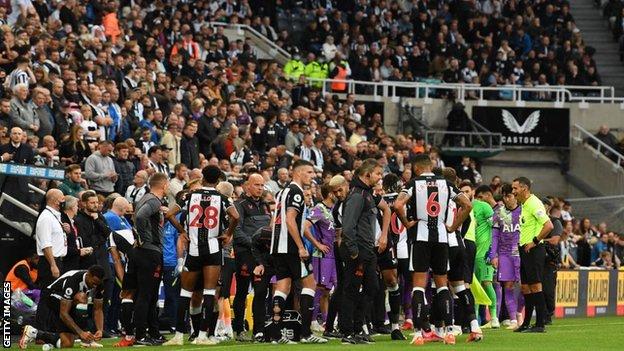 Tottenham defender Eric Dier called for a defibrillator just before play was suspended for the medical emergency
The supporter who collapsed, prompting Newcastle United's Premier League game against Tottenham Hotspur to be halted in the 40th minute, is "stable" in hospital.
Fans in the East Stand at St James' Park alerted players and officials to the incident before play was suspended.
Tottenham's Eric Dier raced to the touchline and urged medical staff to attend with a defibrillator.
Both teams were told to leave the pitch by the referee with Spurs leading 2-1.
Tottenham had been about to take a corner when Spurs' Sergio Reguilon alerted the referee to the fact a section of fans were calling for assistance.
Players from both teams then signalled the need for medical staff, including Tottenham defender Dier, before the sides left the pitch while the fan received help.
After a delay of more than 20 minutes the rest of the half was played - the five remaining minutes of normal time plus two of added time - with Tottenham scoring a third goal before the delayed interval through Son Heung-min.
Tottenham won the game 3-2.
Reguilon told BBC Sport: "I think three points is always a moment of happiness but for me more important is the guy - they are telling me he is OK and stable.
"I saw the fans waving and I saw a guy lying down. I saw something wrong had happened. I looked at the gaffer and he stopped the match. I think now everything is OK and 100% happiness.
"It was very strange. We went to the dressing room and I was looking at the man lying down. I was nervous because I don't like to watch that."
Newcastle forward Callum Wilson spoke of the importance of the crowd relaying the message that there was a problem.
"I think it was massive really - the crowd were fantastic and they alerted everyone," he told Sky Sports.
"You could hear fans whistling, shouting, then we saw the space clear where this guy was receiving CPR and then you know how serious it is.
"It was disturbing to see the guy like that. We wish him well and wish him a speedy recovery."
Spurs captain Harry Kane added: "Firstly, we want to say best wishes to the guy in the stands - it was not a good sight to see. We hear that he might be stable now, so we're thankful to the medical teams and the fans who were doing the CPR.
"Hopefully he's OK and we wish him all the best from all the players at Tottenham."


'You don't wanna be like me':
The brand new series of hit comedy Dave is streaming now
Every golden age has a dark side:
Paris is at breaking point in this tense crime drama