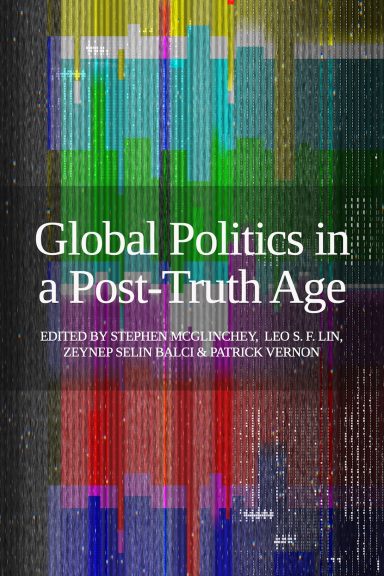 399 Downloads
This book brings together ten chapters that reflect upon the state of global, regional and national politics in the twenty-first century within the context of post-truth. The Oxford Dictionary's definition of post-truth describes it as circumstances in which facts are less influential in shaping public opinion and political action than emotion, belief and distortion. What unites the chapters in this book, other than their focus on the meaning and nature of post-truth, is that they also consider the (supposed) erosion of many of the norms and patterns of political and social behaviour established in the second half of the twentieth century. This is especially pertinent given the rise in social media and the internet, political polarisation, and new patterns of state rivalries that harness post-truth politics. Each chapter is styled to engage with academic themes and leading-edge research, yet also to present complex ideas accessibly where possible.
Find out more about E-IR's range of open access books
Table of contents
The book can be downloaded in full via the PDF icon (see above). You can also read each chapter's web version as they become available online (see below).
Truth and Politics in the Age of Post-Truth – Theresa Man Ling Lee
Platforms of Post-Truth: Outlines of a Structural Transformation of the Public Sphere – Ari-Elmeri Hyvönen
Τrolling IR About Trolling in International Affairs – Kyriakos Mikelis
US Foreign Wars, Mass Marketing, and the Development of Post-Truth Politics – Ido Oren
Beyond Post-Truth: I-War and the Desire to be an Ethical All-American – Hasmet M. Uluorta
European Crises and Right-Wing Populism: The Case of Lega Nord – Irene Viparelli and Evanthia Balla
Postcolonial Gaslighting and Greenland: When Post-Truth Gets in the Way of Independence – Emil Sondaj Hansen
Digital Virulence and Post-Truth in Light of Baudrillard's Science-Fiction Theory of Pataphysics – Spiros Makris
The Challenges of Epistemic Communities in Shaping Policy in the Age of Post-Truth – Atal Ahmadzai
Post-Truth and Post-Democracy: The Dark Side of the Democratic Planet – Silvério da Rocha-Cunha and Rafael Franco Vasques
---
About the editors
Stephen McGlinchey is a Senior Lecturer of International Relations at UWE Bristol, and Editor-in-Chief and Publisher of E-International Relations. His books include Foundations of International Relations (Bloomsbury 2022), International Relations Theory (E-International Relations 2017) and US Arms Policies Towards the Shah's Iran (Routledge 2014).
Leo S.F. Lin is a Visiting Lecturer at the Department of International and Strategic Studies, University of Malaya, Malaysia, and a Senior Commissioning Editor at E-International Relations. He has published numerous journal articles, policy papers, and an edited book Asia-Pacific Security: Managing Black Swans and Persistent Threats (Springer 2018).
Zeynep Selin Balcı is a PhD candidate and research assistant in International Relations at Ege University, and an Associate Articles Editor at E-International Relations. She has co-authored (with Altuğ Günal) chapters titled 'the Orthodox Church of Greece' in Orthodox Churches and Politics in Southeastern Europe (Palgrave Macmillan 2019) and 'Flemish Separatist Movement in Belgium' (in Turkish), in Separatist Movements in EU (Nobel 2020). She has also authored a chapter 'Contribution of Non-State Actors to International Environmental Law and the Relational Responsibility' (in Turkish), in International Environmental Law and Policies (Yetkin 2021).
Patrick Vernon is a doctoral researcher in the Department of Political Science and International Studies at the University of Birmingham, and is a Senior Commissioning Editor for E-International Relations. They are currently exploring the heteronormative dimensions of mass violence and humanitarian intervention. More broadly, they are interested in queer and feminist theory, the gendered/racialised/sexualised dimensions of global governance, and cultural figures of selfhood and/or otherness in relation to the West. They have published an article on queering genocide with Millennium and are a research assistant for the Jean-Monnet Network project 'Queering Post-Truth Politics: Silencing, Violence and Resistance in Online Debates about EU Integration'.
Before you download your free e-book, please consider donating to support open access publishing.
E-IR is an independent non-profit publisher run by an all volunteer team. Your donations allow us to invest in new open access titles and pay our bandwidth bills to ensure we keep our existing titles free to view. Any amount, in any currency, is appreciated. Many thanks!
Donations are voluntary and not required to download the e-book - your link to download is below.