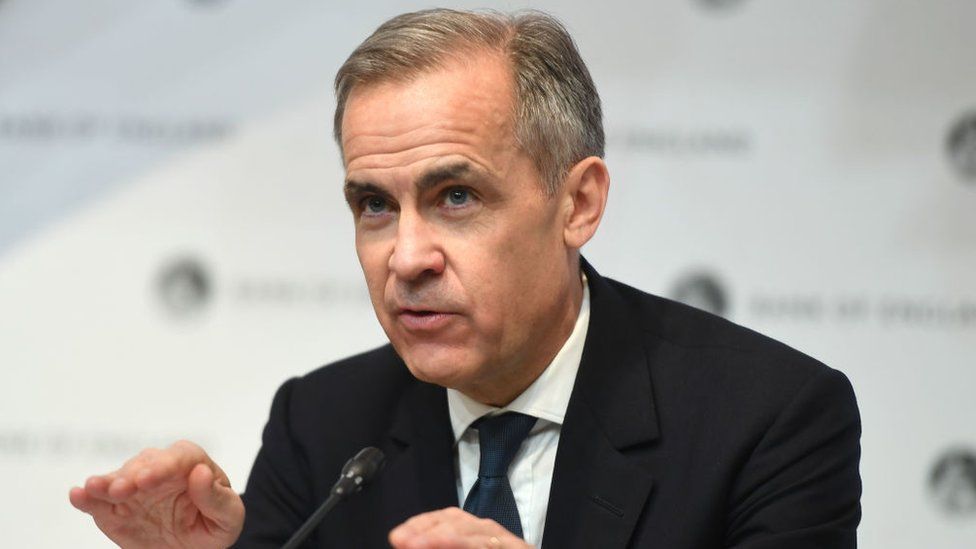 Image source, Getty Images
Former Bank of England Governor Sir Mark Carney has accused the government of "undercutting" the UK's economic institutions.
Sir Mark told the BBC that the government's £45bn tax-cutting measures were "working at some cross-purposes" with the Bank.
His comments come after Friday's 'mini-budget' sparked turmoil on financial markets and sent the pound sliding.
Sterling hit a record low against the US dollar of around $1.03 on Monday.
Investors had also demanded a much higher return for holding UK government bonds, causing some to halve in value.
"Unfortunately having a partial budget, in these circumstances - tough global economy, tough financial market position, working at cross-purposes with the Bank - has led to quite dramatic moves in financial markets," Sir Mark added.
On Wednesday, the Bank said it would buy £65bn of UK government bonds as it tried to calm market volatility. By Thursday morning, the pound was trading at $1.08 against the dollar.
Chancellor Kwasi Kwarteng unveiled the country's biggest tax package in 50 years on Friday. But the £45bn cut has sparked concerns that government borrowing could surge along with rising interest rates.
The government borrows money to fund its spending plans by selling bonds, or "gilts", on the global financial markets to investors such as pension funds and big banks.
But a collapse in the price of those bonds was forcing some pension funds to sell gilts and other assets, further forcing down the price.
Sir Mark was the governor of the Bank of England for almost seven years, from July 2013 to March 2020.
Before that he led Canada's central bank for five years, where he is seen as having played a major role in helping the country avoid the worst effects of the 2008 global financial crisis.