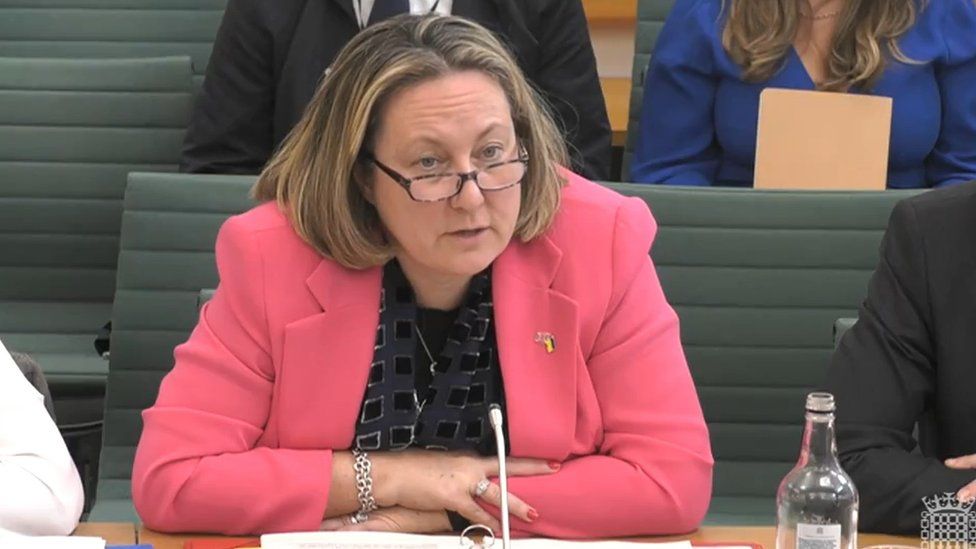 Image source, PA Media
By Katy Austin & Joshua Nevett
BBC News
The establishment of a new public body to operate Britain's railways is set to be delayed, after Transport Secretary Anne-Marie Trevelyan said a draft law was being delayed.
The Transport Bill was to have included the creation of Great British Railways.
Ms Trevelyan said her department had "lost the opportunity" to bring forward the bill in this session of Parliament.
She admitted this meant GBR was unlikely to be fully in place by early 2024, as had been hoped.
But she said she expected "the hiatus will be short", adding that the legislation should follow in the next session of parliament, from next May.
Ms Trevelyan told MPs on the Transport Select Committee the decision was nothing to do with the government U-turning on its mini-budget.
"The challenges of things like the energy legislation we've got to bring in and various others has meant that we have lost the opportunity to have that [the Bill] in this third session," she said.
Announced by former Transport Secretary Grant Shapps in May 2021, plans for Great British Railways were billed as the biggest shake-up in decades.
Mr Shapps said the new agency would replace the "fragmented" railway system.
It would be state-owned, and would set timetables and prices, sell tickets in England, and manage rail infrastructure.
It would also issue contracts to private operators to run trains.
Smaller bill promised
The government wanted to base the body responsible for governing Britain's railways outside London. Six cities and towns have bid to host its headquarters: Birmingham, Crewe, Derby, Doncaster, Newcastle-upon-Tyne and York.
Labour MP for York Central Rachael Maskell warned the delay could put thousands of jobs at risk. She told the Commons "huge amounts" had been spent during the bidding process.
A GBR transition team is in place, but legislation is necessary for the organisation to come into being.
Ms Trevelyan said work was being done on which changes could be achieved without legislation.
Asked if it was her intention to fully implement the plan set out last year, she said: "Because we can't bring in this big, all-encompassing piece of legislation immediately, we're going to take the opportunity to break it down into its constituent parts and work out how we can drive forward some of that modernisation."
Ms Trevelyan added that although a "big" Transport Bill would not happen in this session of Parliament, her department was pushing for "a narrow bill" around technologies like e-scooters.
Railway Industry Association chief executive Darren Caplan said there was "a real concern that this delay will lead to a hiatus in work, hitting confidence and certainty in what are already difficult economic circumstances".
He said it added to a "lack of clarity" rail suppliers were already feeling "given there is also uncertainty over long-term funding, enhancement schemes and major rail projects too".