Oonagh Cousins: Former GB rower on long Covid and how it ruined her Olympic dream
Oonagh Cousins is accepting of the cards life dealt her but the emotions around what might have been remain raw.
Pre-selected for the Tokyo Olympics, her biggest ambition was on the verge of being ticked off when in March 2020, she contracted Covid.
Three years on, such have been the lasting effects of her diagnosis of long Covid, she has been forced to retire from rowing.
Yes, there is grief for the sporting life and experiences she could have had. But there's peace too.
She feels "lucky" she had the opportunity to give everything to her chance of a comeback. She's thankful British Rowing supported her - medically and financially - throughout her illness. She is also grateful she had the welcome support of a friend going through the same thing.
Yet, understandably, there will always be that question of 'what if?'.
"If there hadn't been a global pandemic, I probably would have gone to the Olympics," Cousins tells BBC Sport. "I probably would still be a full-time athlete.
"That's something that I have to handle for the rest of my life."
BBC Sport first spoke to Cousins in November 2020, when the conversation around long Covid was still in its infancy. Today, the 28-year-old is one of an estimated 1.9m people in the UK living with the condition.
She took a year and a half off training, a period of time in which her symptoms - mainly fatigue, though it's a word she feels underplays its severity - meant she could do little more than four hours of "basic tasks" a day like cooking or showering, a short walk at an absolute push.
But come September 2021, she felt she had "turned a corner" and started a slow, steady return, able to increase her load to the point at which her doctors gave her the all-clear and she was training 10-11 times a week.
"For most people with long Covid, that's like a million miles away," she notes. In late summer 2022, she felt it was time to return to the British Rowing programme.
"It was massive," she says. "It was such a victory but at that time, I think it was actually also my emotional blind spot, I was actually getting more ill at that point and I was ignoring the warning signals.
"I thought I was coming to the end of my long Covid journey and I'd made it back. I was just so desperate for normality.
"I missed being a rower so much, and actually what was happening was my rowing career was coming to an end."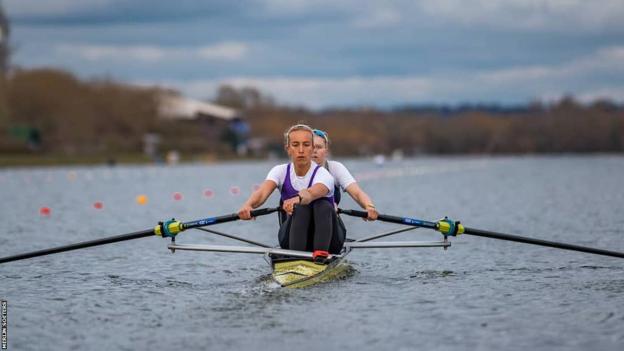 Cousins (front) returned to club rowing during her recovery before re-joining the British Rowing programme in late summer 2022
Two months after her return, Cousins suffered a big relapse, and she made the decision to retire over Christmas.
She feels she has "paid the price" in pushing herself for too long. Her symptoms of dysautonomia - a disorder of the autonomic nervous system - worsened significantly, while she has also been diagnosed with reactive hypoglycaemia (poor blood sugar regulation), histamine intolerance (an impaired ability to metabolize ingested histamine) and oestrogen dominance, which causes problems with her hormones.
These conditions all fall under the umbrella of long Covid, and while each phase of Cousins' illness has differed, all have turned her life "upside down".
Missing out on Tokyo was "devastating" and Cousins acknowledges that next summer will be difficult, when she could have been on the start line at the Paris 2024 Olympics.
"There's a lot of grief," she adds. "I was new to the team, I felt like I was just starting my international career.
"I really did think I was planning my life to go towards Paris and Los Angeles [in 2028]. I do think that's where my life would have gone. And so there's this big loss of the life that you envisioned not being there anymore.
"But there's also a lot of peace. I think long ago I did accept that I contracted this virus and it developed into a really severe disease. I fully gave myself to the process of trying to return, I did everything I could.
"However, that means that now I can walk away and know I tried my best and there was nothing else I could have done."
'We need to talk about long Covid'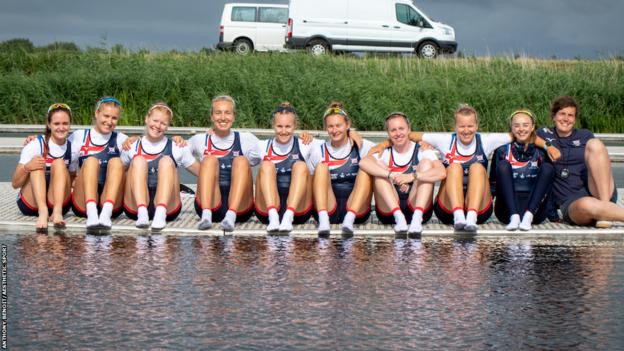 Cousins (fourth from left) with her GB team-mates
According to the World Health Organisation (WHO), studies have shown that between 10-20% of people infected with Covid will go on to develop symptoms that can be diagnosed as long Covid.
It is estimated that more than 17m people across the WHO's European region experienced long Covid during the first two years of the pandemic - and yet there is still so much unknown about the condition.
Collective forgetting may have set in for those who want to move on from Covid, but Cousins - on behalf of all those still struggling - is keen to keep the conversation going.
"I, as much as anyone, would love to not be talking about Covid anymore, I'm sick of it," she says.
"But it [long Covid] is a massive issue and it's affecting so many people, and it's an extremely debilitating illness. So as much as I understand that people don't want to talk anymore, we need to talk about it and we need to address it."
She adds: "Massive investment went into the vaccines and how to manage the acute phase of Covid, but that kind of attention has just not been given to long Covid and we need that, we need the research.
"We need to find out what's going on because although I was well supported and well understood, there's nothing anybody can really do to help me."
So what comes next for Cousins? Recovery, more than anything, is the priority, and she is confident she will one day return to a "very good level" of health.
"I try not to live life too much with a plan because long Covid has taught me that there are things out of your control, and if you become too invested in one plan, it can make it very difficult when something happens to switch on to something else," she says.
"It was out of my control. I can choose to let that go or I can choose to carry that around. And I'm choosing to let it go."
Long Covid - BBC News
Long Covid: Three years and no magic bullet

Can The Night Manager outmanoeuvre the criminal world?
Tom Hiddleston, Hugh Laurie and Olivia Colman star in a tense spy thriller
Can you crack the code to open the safe?
Put your code-breaking skills to the test in this brainteaser