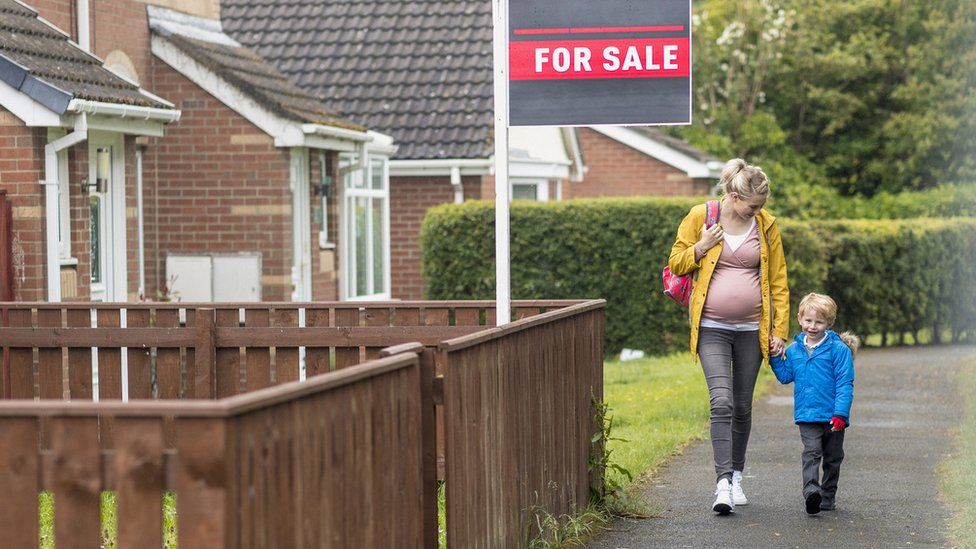 Image source, Getty Images
House prices in the UK fell for the fifth month in a row in January, according to Nationwide Building Society.
The price of the average property last month was £258,297, down by 0.6% on December.
Annual house price growth slowed to 1.1%, down from 2.8% in December.
The country's biggest building society said it would be "hard for the market to regain much momentum in the near term."
Chief economist Robert Gardner said "economic headwinds are set to remain strong, with real earnings likely to fall further and the labour market widely projected to weaken as the economy shrinks".
On Tuesday, the Bank of England reported lenders had approved fewer mortgages than expected in December, about 35,000 compared with more than 46,000 in November.
That is the lowest number since January 2009, excluding the pandemic lockdowns.
Andrew Harvey, senior economist at Nationwide, told BBC Radio 4's Today programme: "The decline [in approvals] wasn't unexpected, given we have seen a big slowdown in mortgage applications following the mini-budget."
However, he said there were "some encouraging signs at the moment that mortgage rates are starting to improve".
"Longer-term interest rates have started to edge down and should we see that continue, that should feed into lower mortgage prices and provide some easing in the affordability pressures."