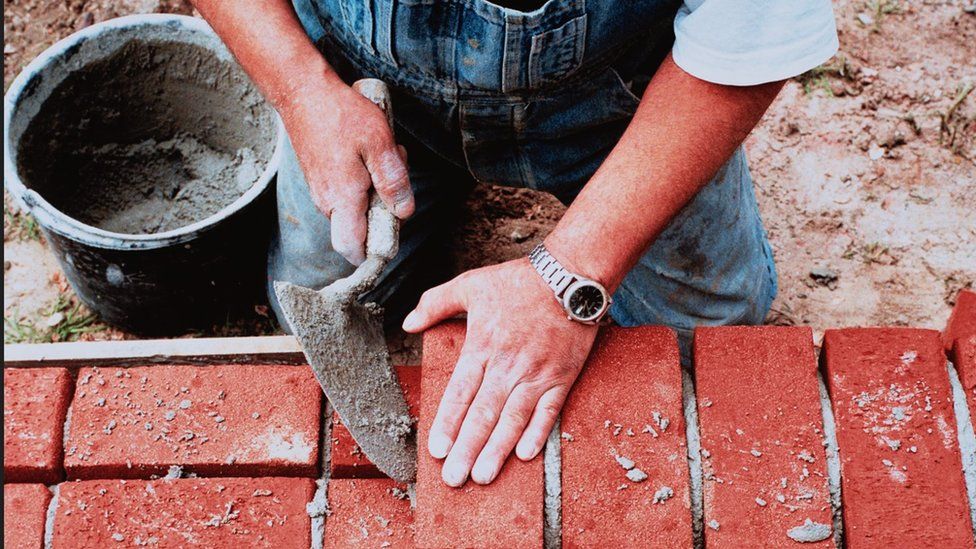 Image source, Getty Images
Overseas bricklayers and carpenters could be able to get work visas more easily in the UK after the government updated its shortage occupation list.
The list, which now also includes roofers and plasterers, highlights occupations that employers are struggling to fill.
However, hospitality, which has had problems recruiting, was not included.
The change on construction workers is not expected to make a major difference to overall migration figures.
Government advisors in the Migration Advisory Committee (MAC) looked at 26 occupations in construction and hospitality, and recommended five for inclusion on the shortage occupations list.
The committee did not recommend any hospitality occupations be included, although it said Brexit and the pandemic had "significant effects" on both sectors.
The five occupations approved by the committee are:
People on the shortage occupation list are able to apply for a skilled worker visa to come and work in the UK.
From November 2022 to January 2023, compared with the period before the pandemic from January to March 2020, vacancies are 72% higher in hospitality and 65% higher in construction.
This compares to an increase of 42% in the overall economy.
The committee said its review was based on whether an occupation made up more than 0.5% of the sector workforce and earned below the current general threshold for migrants which stands at £26,200.
It said it also considered the "strategic importance of construction for the UK economy" and how its workforce was likely to change in the next decade, with "demand likely to increase markedly".
It said overall employment in hospitality had recovered since a large fall during the pandemic and "now comfortably" exceeded pre-pandemic levels.
The committee said it did not recommend any of the hospitality occupations for the shortlist - including chefs, restaurant or bar managers - because "the government was clear that such a recommendation should be exceptional and based on particularly strong evidence".
"Perhaps inevitably, given the shortened time frame that stakeholders had to respond to us, we do not consider any of the evidence submitted sufficiently strong to justify a recommendation", it said.
Last October, Home Secretary Suella Braverman said she wanted to get net migration down into the tens of thousands.