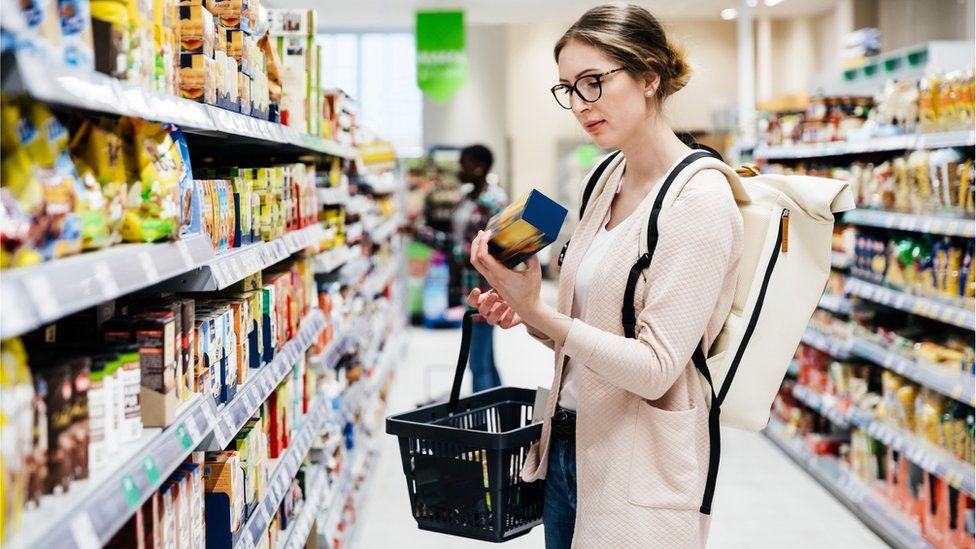 Image source, Getty Images
By Lora Jones
Business reporter, BBC News
Soaring food prices have pushed the increase in the cost of living back up to the 40-year high seen in July.
Inflation - a measure of prices - accelerated to 10.1% in September as rising living costs continued to hit household budgets.
Official figures show the biggest jump in food prices since 1980, with bread, cereals, meal and dairy prices all climbing.
The Bank of England has said inflation could peak at 11% this year.
The Office for National Statistics (ONS) said Consumer Prices Index inflation had hit 10.1% in the 12 months to September, after seeing a slight dip to 9.9% in August.
That was above the expectations of economists, who had predicted a figure of 10%.
The rise was driven largely by higher energy bills, food prices and transport costs.
Food and non-alcoholic drink prices rose sharply, climbing by 14.5%, along with the cost of furniture and hotel stays - although these were partially offset by falling petrol prices.
ONS director of economic statistics Darren Morgan said: "After last month's small fall, headline inflation returned to its high seen earlier in the summer.
"These rises were partially offset by continuing falls in the costs of petrol, with airline prices falling by more than usual for this time of year and second-hand car prices also rising less steeply than the large increases seen last year."
The latest official figures come as new Chancellor Jeremy Hunt attempts to tackle the rising cost of living, as well as the recent turmoil on financial markets sparked by his predecessor's mini-budget.
Over the last few weeks, mortgage prices have hit a 14-year high, driving up costs for millions at a time when energy and food bills are also rising.
Mr Hunt said the government would "prioritise help for the most vulnerable while delivering wider economic stability".
Btu Shadow chancellor Rachel Reeves said: "Inflation figures this morning will bring more anxiety to families worried about the Tories' lack of grip on an economic crisis of their own making."
Image caption,
Jen Welch, who runs an artisan bakery, said costs for all key ingredients have gone up.
Jen Welch, who runs artisan bakery Bread&, says the situation is "scary" with costs rising rapidly.
She set up the bakery in Sunderland during the pandemic and thought that would be the toughest experience they would face.
But the cost of their key ingredients such as flour, butter and oils have now "spiralled out of control". They also face energy bills of more than £1,000 a month.
"You think to yourself, if we can [get through the pandemic], we can weather most storms," she told the BBC. "But maybe that's not the case."
The bakery is trying not to put prices up at a time when shoppers are cutting back on "niceties", but Ms Welch says it may have to.
'No let-up for families'
Experts said the latest inflation figures would put extra pressure on the Bank of England to hike interest rates at its next meeting in November.
By raising rates the Bank aims to encourage people to save more and spend less, in the hope this will stop prices rising as fast. It has increased rates seven times in a row since December as it tries to bring inflation back down to its 2% target.
But higher rates also drive up borrowing costs for mortgage holders and businesses, with experts warning this could put a brake on economic growth.
Victoria Scholar, head of investment at Interactive Investor, said the Bank was "between a rock and a hard place" as price pressures continued to hit UK families.
"Inflation [is] still the most pressing economic problem facing the Bank of England as well as the government," she said.
"Without price stability, the cost-of-living crisis will continue to weigh on the economy by squeezing household budgets and dampening business margins," she said.
Image source, Getty Images
The rise in the cost of living is expected to peak this October, when government support to freeze energy bills at £2,500 for an average household comes into play.
If the government puts up pensions in line with wages instead, retirees could miss out on £8.50 per week or £442 per year in income.
Helen Morrissey, senior pensions and retirement analyst at Hargreaves Lansdown, said to be denied the increase "would come as a bitter blow to the many pensioners who rely on state pension as the foundation of their retirement income".
Former pensions minister Sir Steve Webb said older people could face a "double whammy" as their pensions were cut and energy bills soared.