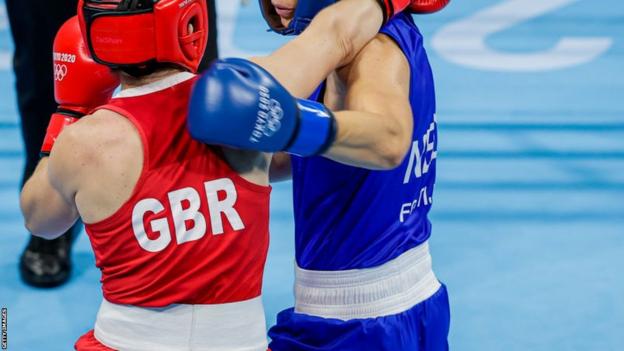 Boxing was left off the initial programme for the 2028 Olympics in Los Angeles
The International Olympic Committee executive board has recommended withdrawing recognition of the International Boxing Association.
The IOC ran boxing at Tokyo 2020 after banning the IBA in 2019 over governance issues and alleged corruption.
A report by the IOC has now found that the IBA has failed to meet a set of reforms set out in 2021.
The matter will be discussed and a final decision on whether to strip the IBA of recognition will be made at an extraordinary IOC session on 22 June.
The IOC had agreed to lift the suspension of the IBA's recognition had the organisation fulfilled the 2021 reform conditions, which were not challenged by the IBA.
However, the IBA responded to Wednesday's recommendation with a statement threatening "retaliatory measures" and decrying the move as "truly abhorrent and purely political".
"We accepted the process and the rules, but in the end, we were not assessed fairly. Now, we are left with no chance but to demand a fair assessment from a competent court," said IBA president Umar Kremlev.
In the meantime, World Boxing has been established as a breakaway international governing body, in response to the issues surrounding the IBA.
GB Boxing has said it is set to apply for associate membership of World Boxing, following on from recent announcements by USA Boxing and the Swiss Boxing Federation.
The Dutch Boxing Federation has said "a farewell to IBA seems inevitable", while Boxing New Zealand claimed it sees "little future in continuing the association with IBA".
World Boxing said it welcomed the clarity provided by the IOC statement and hailed a "very significant moment" and an opportunity for the sport to move on.
Boxing is part of the Paris 2024 Olympics but, as with the Tokyo Games, the qualifications and the competition are being run by the IOC, not the IBA, whose head since 2020 has been Russian businessman Kremlev.
World Boxing is currently led by an interim executive board made up of representatives from boxing organisations in Germany, Great Britain, the Netherlands, New Zealand, the Philippines, Sweden and the USA.
The board includes GB Boxing's chief executive Matt Holt and 2020 Olympic gold medallist Lauren Price, who is an athlete representative.
"It is vitally important to the future of the sport in the UK and across the globe that boxing remains part of the Olympic programme," said Jason Glover, chair of the GB Boxing board.
The Olympic Federation of Ireland "welcomed" the IOC's recommendation, saying it "could ultimately safeguard the future for boxing as an Olympic sport".

Can The Night Manager outmanoeuvre the criminal world?
Tom Hiddleston, Hugh Laurie and Olivia Colman star in a tense spy thriller
Can you crack the code to open the safe?
Put your code-breaking skills to the test in this brainteaser