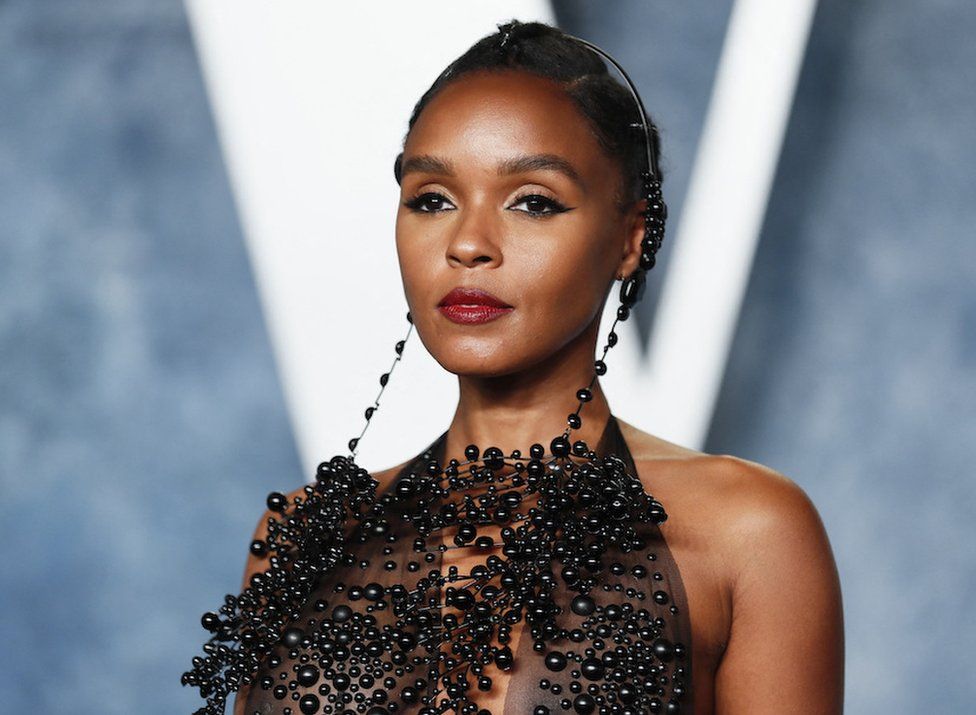 Image source, Reuters
Image caption,
The singer says she feels more "free" to express herself since coming out in 2018
By Mark Savage
BBC Music Correspondent
Janelle Monaé says her sensuous, hedonistic new album is a riposte to conservatives who want to suppress expressions of black, queer pleasure.
The record arrives amidst a spate of US bills targeting LGBTQ rights, and others that outlaw the teaching of African American history.
"They want us to not enjoy life, they want us to be miserable, to feel like we don't belong," Monaé, who identifies as non-binary, told BBC 6 Music.
"We have to fight this every way."
The 37-year-old says her latest album, The Age Of Pleasure, is just one way to resist the tide of anti-LGBTQ sentiment.
"With this project I am making it very known that, even in the midst of these heavy times, we're going to celebrate ourselves, we're going to create a safe space for ourselves and we're going to enjoy this life."
The star is also taking practical action with her Fem The Future charity, which provides grants to under-resourced girls and non-binary youth in music, the arts, and education.
Monaé started releasing music in 2003, carving out a niche as one of America's most forward-thinking, genre-bending soul and pop artists.
With hits like Make Me Feel, Tightrope and Q.U.E.E.N, she's earned eight Grammy nominations, while building a parallel career on the big screen, with roles in award-winning dramas Hidden Figures and Moonlight, and last year's murder-mystery Glass Onion, in which she co-starred with Daniel Craig.
Image source, Netflix
Image caption,
The star worked on her album while filming the Knives Out sequel Glass Onion
The Age Of Pleasure is her first album since 2018's Dirty Computer, a project that saw her acknowledge and embrace her sexuality in public for the first time.
"That was super nerve wracking," she told Matt Everitt. "To have to deal with [everything] that comes with that. The pressures of constantly talking about it."
But "understanding that I'm now non-binary freed me up," she continued.
"It makes the music better, it makes the art better, it makes you feel more fluid, more free."
As a consequence, her new album focuses almost entirely on the pleasures of the flesh.
Naked skin is a big theme - and Monaé even appears bare-chested in the video for Lipstick Lover, a song inspired by a real-life liaison.
"I ended up with lipstick on my neck, red lip gloss on my neck. I went to the bathroom and saw it and just thought it was sexy, you know?"
"And I was like, 'Yep, this deserves a song'. As simple as that."
Image source, Mason Rose
Image caption,
Monaé was named "trailblazer of the year" at the 2018 Billboard Women In Music Awards
The album took shape over the last few years, at events she hosted in her "Wondaland West" campus in Los Angeles.
The property is a hub of creativity and community, with a party-ready courtyard that Rolling Stone magazine described as "magnificent, with its tranquil pool in the centre and troves of nooks, crannies, outdoor baths, and citrus trees".
During the pandemic, Monaé opened up her property to the organisers of Everyday People - a globe-trotting event that celebrates Black and African culture - allowing them to host gatherings, under strict Covid-testing regulations.
Her new music reflects those bacchanalian nights, where people found freedom to be themselves "free from police, free from judgement", said Monaé.
"I tried my best to capture the beauty I saw and that's what we ended up with - The Age Of Pleasure," she said.
After lockdown restrictions eased, the parties continued, acting as a testing ground for Monaé's material.
"If I knew we had a party on a Friday or Saturday, we would write the songs on a Monday or Tuesday," she explained.
"I told my DJ, 'Play the songs. Don't say it's me, and let's see how people move to them.'
"And when I saw people Shazam-ing them from the dancefloor, I was like, 'This is done. That's going on the album.'"
Image source, Heyda McGarrell
Image caption,
The record recalls the free-wheeling parties the star holds on her Los Angeles estate
The musician has described the record as a love letter to the African diaspora, with grooves that move smoothly between R&B, hip-hop, Afrobeat, Amapiano, funk and reggae.
Released this week, it has already received positive reviews.
"Janelle Monáe sounds more self-possessed and confident than ever," wrote Slate magazine's Charles Lyons-Burt. "There's no question that her unapologetic embrace of queer pleasure is sincere, bold, and subversive."
"It really is non-stop sauce," added Joe Muggs on The Arts Desk. "Even a list of swimming strokes is so charged it'll make steam come out of your ears.
"It may well make you blush, but it is her best album, and is an extraordinary transformation."
The Line Of Best Fit's Sam Franzini was less enthusiastic, saying the record was "slim on ideas" and a poor reflection of Monaé's "genius". Not true, said David Smith in the Evening Standard, The Age Of Pleasure's "sweltering style" is destined to become "the sound of the summer".
For Monaé, whose previous records have deeply conceptual, multi-layered artistic statements, The Art Of Pleasure was simply about the chance to "have fun".
"I feel like I'm owning all of me, not explaining everything, and just enjoying it.
"I'm feeling much lighter now. I float."