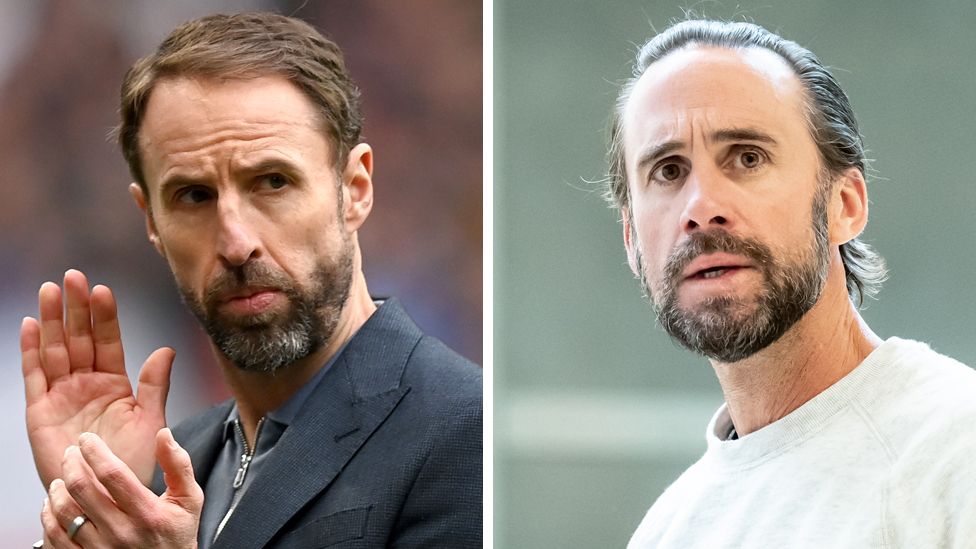 Image source, Getty Images/Marc Brenner
Image caption,
Joseph Fiennes (right) says he wants to show Gareth Southgate's "moral integrity and compass"
"Dear England, It has been an extremely difficult year…"
His 1,700 heartfelt words marked the culmination of an extraordinary transformation, both of the England men's football team and the unassuming man who runs it.
In just a couple of years, they went from a dysfunctional and dejected institution to a source of national pride. At the heart of it, one man.
"He's got a sort of moral integrity and compass," says actor Joseph Fiennes, who is now playing Southgate at the National Theatre.
"He's been brought up as a young player in a very toxic male environment and you can imagine that he wants to unshackle himself, giving players their voice."
Image source, Marc Brenner
Image caption,
Fiennes (front right) with the cast in rehearsals for Dear England at the National Theatre
It's a change of identity for the actor as well, who when we meet is sporting the same trimmed beard as the England boss.
Fiennes is best known to some for his period roles, notably in 1998's Shakespeare in Love, and to others as the evil Fred Waterford in The Handmaid's Tale. Is it a relief to be playing someone the audience will sympathise with?
"A huge relief," the actor laughs. "A big part of the gravitational pull was the idea that I could play someone that's decent for once."
But that decency shouldn't be mistaken for weakness, he insists.
"You can't possibly run the England team without having some kind of backbone. He's someone who has a temperate way of dealing with emotions, unlike probably what he saw in the changing room [as a young player]. But don't be misled by that. He has a steel spine."
Image source, PA Media
Image caption,
As a player, Southgate missed the decisive penalty in the Euro 96 semi-final shootout
In his early days as manager, it is clear that Southgate is "up against an infrastructure that has the ghosts of all the toxic environments that he grew up in as a young player", Fiennes adds.
The former England defender seemed destined to be forever dogged by his infamous penalty miss in the Euro 96 semi-final. But since being appointed manager in 2016, he has transformed the mood around the national team.
So remarkable has the Southgate revolution been that one of Britain's most celebrated playwrights decided it was a drama worthy of one of London's biggest stages.
"I think it is Shakespearean because it's epic," James Graham tells me.
Best known as the writer of award-winning play This House and TV hit Sherwood, Graham has clearly relished the challenge of taking on a national institution.
Image source, Marc Brenner
Image caption,
Kel Matsena (left) plays Raheem Sterling, Darragh Hand (centre) is Marcus Rashford and Will Close is Harry Kane
"You have these very personal stories, these characters in the foreground, against the backdrop of these huge nation-changing events," he says. "And that is what it is to be the England manager."
Dear England, which starts a two month run at the National Theatre on Saturday, begins as Southgate becomes caretaker manager following the humiliating Euro 2016 exit and Sam Allardyce's short-lived tenure.
"It was pretty much the lowest ebb of England national life in terms of football," says Graham. "We just lost to Iceland. We were doing so badly in tournaments - and then this transformation happened.
"People's feelings about the sport were completely changed from anger to joy. And I guess our play asks how Gareth did that."
Image source, Marc Brenner
Image caption,
Gunnar Cauthery plays Match of the Day host Gary Lineker
The answer, of course, is not just about sport. Dear England also explores issues around mental health, racism and the extraordinary pressure put on the young men who take to the pitch.
"You have the philosophy that Gareth wants to instil in the team that would mean that you can get rid of the fear," Graham says. "[It's] a different kind of masculinity that meant players were allowed to be more vulnerable.
"They were allowed to express doubts and anxieties. I think that spread across the entire team from chefs to psychologists."
The play also tackles an issue that became totemic for the struggles of the England team - one that sends shivers down the spines of its fans.
Image source, Marc Brenner
Image caption,
Gina McKee stars as Pippa Grange, the psychologist recruited to work with the England team
"There was something about walking towards the penalty spot that feels different for an England player and no-one understood why," says Graham. "That's why Gareth got in psychologists.
"We have Pippa Grange, played by Gina McKee, to understand the psychology of both sport [and] Englishness as well. And that's why I hope, as a playwright, we get to talk about more than just football."
But it is the reaction to the abuse, rather than the abuse itself, that the play gives voice to, as well as discussions about the role of footballers in the 21st Century.
Image source, Marc Brenner
Image caption,
Darragh Hand as Marcus Rashford, who has been known for his charity work and campaigning as well as his football
"They have a social conscience, which is beautiful, which we haven't seen before," Fiennes says.
Graham adds: "In the play, we do represent the point of view of people who say they should 'stick to football'. But I personally don't believe that and I don't think Gareth believes that."
And in a way, that sums up what the writer and his team are trying to achieve. Dear England is a play not just about football, but what the experience of the national team tells us about ourselves.
"We're talking about national identity and the burden of history during a particular time in our national history," he says.
"We want to try and make sense of that through the England football team rather than politicians or anyone else.
"I hope it gives the play real significance and helps an audience make sense of the past few years on the pitch and off the pitch."
Dear England runs at the National Theatre in London from 10 June to 11 August.