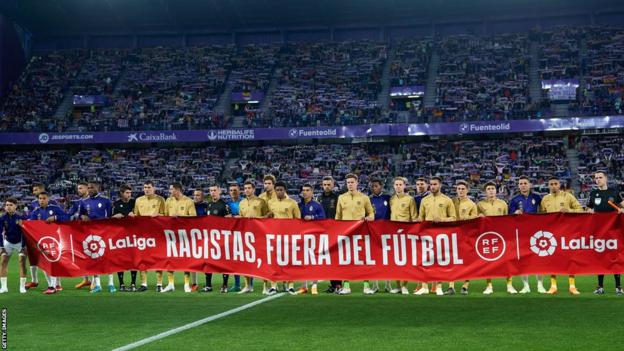 Real Valladolid and Barcelona players hold up an anti-racism banner which translates into English as 'Racists, out of football'
La Liga could reduce the amount of racist incidents in Spain's top flight in six or seven months if it had the "necessary powers", the league's president Javier Tebas says.
The Spanish league has requested more power to punish incidents of racism.
That came after Real Madrid forward Vinicius Jr was the target of racist abuse at Valencia on Sunday.
"We are convinced that if we had those powers, within months we would get rid of this problem," Tebas told the BBC.
"At least we would improve it considerably in general and specifically in the case of Vinicius. But if we don't have the powers, all we can do is file complaints," he added.
The Sports Desk podcast: Can Vinicius episode be a turning point in football's racism battle?
Vinicius has been the target of racist abuse a number of times this season and the latest incident has seen him receive support from the footballing world, with players and fans showing support for the Brazilian during the match between Real and Rayo Vallecano on Wednesday.
Tebas said the league has registered nine complaints about racist abuse directed specifically towards Vinicius.
Under Spanish law, La Liga can identify and report cases, but not impose sanctions.
"We want powers, we don't want to hide on the issue of racist insults," Tebas said.
"It's not enough for us only to be able to file complaints, we want to be able to punish anyone who shouts racist insults.
"We will keep trying to make sure nobody in any stadium shouts racist insults.
"Eliminating this problem 100% will never be possible. The same way that totally eliminating robberies and other crimes is impossible but we would reduce it a great deal and, if we were given the necessary powers, in six or seven months we could say that we don't have racism."
What is La Liga doing about racism?
La Liga made a formal request to the Spanish government that two laws are amended to give it authority to impose sanctions such as the total or partial closure of stadiums, bans for supporters and financial penalties.
Currently, La Liga submits a weekly letter to the RFEF's (Spanish football's federation) competition committee and the State Commission against Violence, Racism, Xenophobia and Intolerance in Sport detailing any chants at matches that incite violence or include insulting content.
For insults that could be classified as hate crimes, La Liga also reports them to the Hate Prosecutor's Office, as was the case on Sunday.
On Sunday, Real's match at Valencia was paused in the second half after an incensed Vinicius reported opposition fans to the referee.
After the match, Vinicius and Tebas were involved in a row on Twitter, after the Brazilian said La Liga "belongs to racists" and "in Brazil, Spain is known as a country of racists".
Tebas responded by saying Vinicius twice did not turn up for a meeting to discuss what it "can do in cases of racism", adding: "Before you criticise and slander La Liga, you need to inform yourself properly."
Tebas has since apologised for how his tweets were received, and when asked about the matter on Thursday said:
"I didn't want to attack Vinicius. The form and the moment weren't ideal. I don't think the message was well crafted."
Many have accused Spain of being a racist country following Sunday's scenes but Tebas said that is not the case.
"I think that neither Spain nor the Spanish league are racist," he said. "I'm not saying there are not episodes of racism. But in general, neither the Spanish league, nor its players or its fans, are racist."
Timeline of events since racist incident
21 May 2023 - Vinicius suffers racist abuse at Valencia but is sent off for violent conduct in the 97th minute after an altercation with Hugo Duro. Earlier in the game, an incensed Vinicius attempts to bring Valencia fans to the referee's attention.
After the match, Vinicius and Tebas are involved in a row on Twitter, after the Brazilian says La Liga "belongs to racists" and Tebas responds by saying that Vinicius twice did not turn up for a meeting to discuss what it "can do in cases of racism".
22 May - Real Madrid file the incident to the Spanish prosecutor's office as a hate crime.
23 May - La Liga requests more sanctioning powers so it can punish incidents of racism in Spanish football rather than just reporting them. Valencia are also fined and given a partial stadium closure.
24 May - Tebas apologises for comments made towards Vinicius after the match. Real Madrid show support for Vinicius at match against Rayo Vallecano.