By Joshua Nevett
Political reporter in Liverpool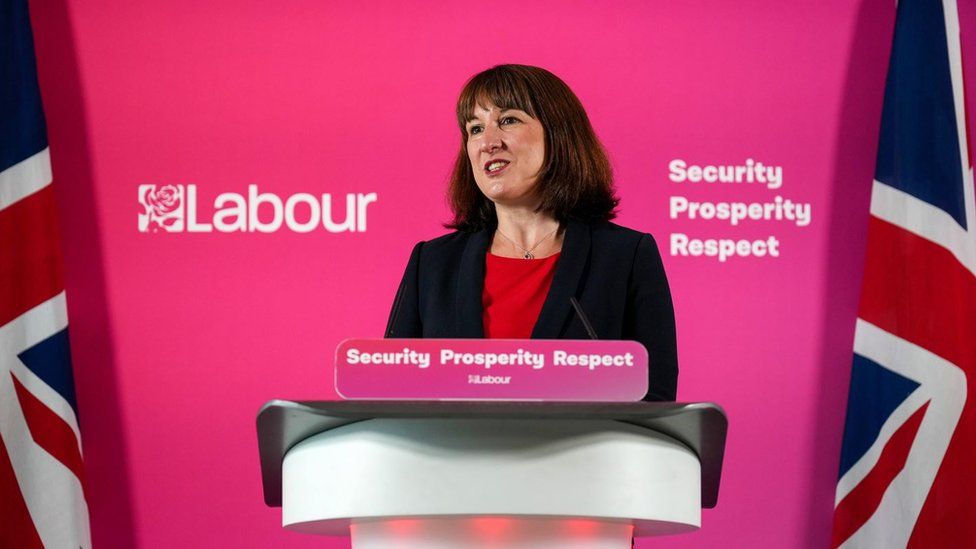 Image source, Getty Images
Labour will vow to grow the economy by investing in green energy - and offer that as a contrast with Tory tax cuts.
Shadow chancellor Rachel Reeves will unveil the plan in a speech on the second full day of Labour's annual conference in Liverpool.
She will say that if Labour gets into power it would commit £8bn to green projects around the UK, such as battery factories and cleaner steel plants
Ms Reeves will offer the plan as an alternative to the government's agenda.
Last week, Chancellor Kwasi Kwarteng announced the biggest package of tax cuts in 50 years, funded by a rise in government borrowing amounting to tens of billions.
In contrast, Ms Reeves will argue that Labour's policy is a "real plan for growth".
The plan involves funding projects through what Labour is calling a national wealth fund if the party enters government after the next general election, expected in 2024.
Labour says the national wealth fund would ensure that British taxpayers benefit from businesses built with public money in the UK.
Ms Reeves will say that, when public money is spent on projects, the taxpayer would own a share of them, with wealth flowing back into people's communities and high streets.
The party says the investment would also provide secure, skilled jobs for workers such as plumbers, electricians, scientists and engineers.
Ms Reeves will tell Labour's conference that "when I say I want to buy, make and sell more in Britain, I mean it".
"What you will see in your town, in your city, under Labour is a sight we have not seen often enough in our country.
"Cranes going up, shovels in the ground. The sounds and sights of the future arriving."
The plan is part of Labour's vision for "a fairer, greener future", its slogan and a major theme of its conference in Liverpool.
Labour has also set out plans to make the UK the first major economy in the world to generate all of its electricity without using fossil fuels.
Labour has already unveiled plans to spend £28bn a year on making the UK economy more green.
The party believes it can win votes by promoting green energy as a way to generate economic growth.
Labour's leaders have been contrasting their agenda with the Conservative government's programme under Prime Minister Liz Truss, who took office this month.
On Sunday, Mr Kwarteng said the tax cuts outlined in his so-called mini-budget "favour people right across the income scale", and hinted that more were on the way.
The move drew criticism from some Tory MPs and Labour, which said the tax cuts would benefit the richest.
Ahead of his speech at Labour's conference on Tuesday, Sir Keir told the BBC he would reverse the government's cut to the top rate of income tax.
He said Mr Kwarteng's move was "the wrong choice" during a cost-of-living crisis and said a Labour government would "reduce the tax burden on working people".
On the opening day of Labour's conference: