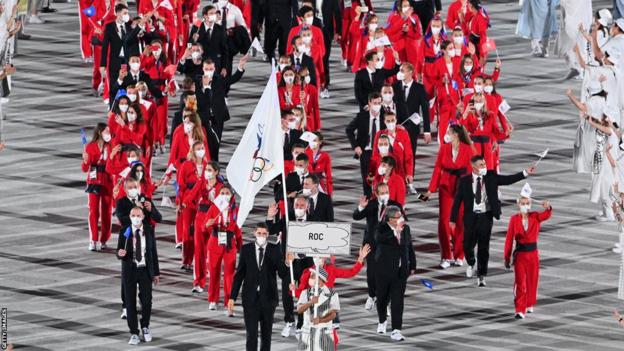 The IOC is working on plans to allow Russian and Belarussian athletes to compete at the 2024 Games under a neutral flag
Latvia could join Ukraine in boycotting the 2024 Paris Olympics if Russian and Belarusian athletes are allowed to compete.
Ukraine's sports minister said last week they would boycott the competition "as long as there is a war in Ukraine".
Latvian Foreign Minister Edgars Rinkevics agreed on Tuesday that Russia and Belarus' participation in the Olympics would be "unacceptable".
Latvia, which borders Russia, has been a strong supporter of Ukraine.
Ukraine could boycott Olympic Games
Russia cannot be allowed at Olympics - Zelensky
The International Olympic Committee said last Wednesday it would "explore a pathway" for athletes from the two countries to take part as neutrals.
But the UK Government has condemned the plan as a "world away from the reality of war" while Latvia's National Olympic Committee said the presence of the athletes would be an "encouragement for further escalation of warfare, and normalisation of war crimes and brutal violence".
The NOC added: "For as long as there is an ongoing war in Ukraine, participation of the Russian and Belarusian athletes in the Olympic Games under any flag is unacceptable."
The Baltic ministers of sport - from Estonia and Lithuania, as well as Latvia - will meet on Thursday to discuss a joint appeal to the IOC to ban Russian and Belarusian sportsmen from all international competition.
Ukraine's president Volodymyr Zelensky has said Russian athletes should have "no place" at the Paris Games.
The IOC previously asked sporting federations to exclude athletes from the countries following Russia's invasion of Ukraine last year.
However, the IOC's statement last week said "no athlete should be prevented from competing just because of their passport".
Last month, president of the IOC Thomas Bach spoke of not wishing to punish individual athletes for the actions of their governments and Russia has said a campaign to exclude it from international sport will fail.