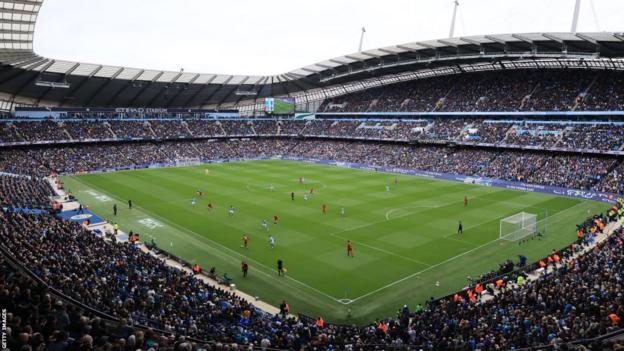 Manchester City maintained pressure on leaders Arsenal with their win
Manchester City have "strongly condemned" the actions of those responsible for damage to the Liverpool team coach on its journey back from the Etihad Stadium on Saturday.
City and Liverpool will support Greater Manchester Police's investigation.
"Incidents of this kind are totally unacceptable," the Premier League champions said in a statement.
"We strongly condemn the actions of the individual(s) responsible."
The club also said they were "disappointed" by "inappropriate chants" by their fans during the game.
The chants taunting Liverpool fans were heard during the first half of the match.
Their statement added: "We regret any offence these chants may have caused and will continue to work with supporter groups and officials from both clubs to eradicate hateful chanting from this fixture."
October's reverse fixture between the two clubs at Anfield was also overshadowed by similar 'tragedy chanting'.
What is 'tragedy chanting'?
An image also showed after their 1-0 defeat.
In 2018, City's bus was before a Champions League quarter-final, when bottles, cans and flares were thrown.
City manager Pep Guardiola said members of the Anfield crowd threw coins at him during October's league meeting, following which he apologised for supporter chants which referenced the Hillsborough and Heysel tragedies.
Last month, Liverpool and Manchester United managers Jurgen Klopp and Erik ten Hag called for an end to "tragedy chanting" in a joint statement before the two sides met.
In November, the Football Association had expressed concerns over the rise of "abhorrent chants" related to stadium tragedies - including by fans of City and United on visits to Anfield.
In February, Manchester United and Leeds United "strongly condemned" chants about historic tragedies when they met at Elland Road.
At the time, the Premier League said it was "treating the issue of tragedy chanting as a priority and as a matter of urgency".
Ninety-seven Liverpool fans lost their lives as a result of a crush at an FA Cup semi-final against Nottingham Forest, at Sheffield Wednesday's Hillsborough stadium, on 15 April 1989.
It remains the UK's worst sporting disaster, with a jury at an inquest later ruling that the fans were unlawfully killed.
Latest Manchester City news, analysis and fan views
Get Man City news notifications


Our coverage of Manchester City is bigger and better than ever before - here's
everything you need to know
to make sure you never miss a moment
Everything City - go straight to all the best content