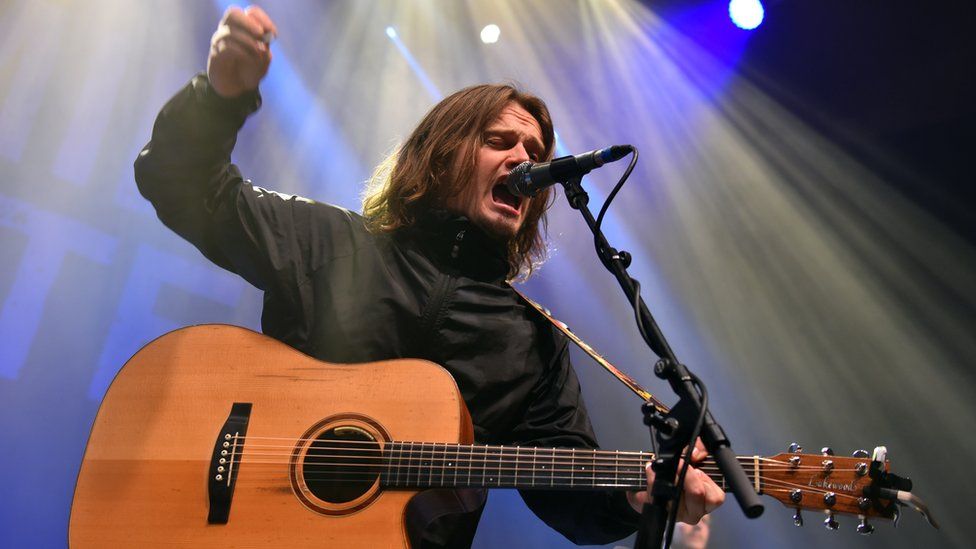 Image source, Getty Images
Image caption,
Jamie Webster was playing his biggest home town show
By Ian Youngs
Entertainment & arts reporter
The Liverpool arena where the Eurovision Song Contest will be held next year has apologised and pledged to investigate after fans complained about safety concerns at a sold-out concert.
Some fans at the M&S Bank Arena to see Jamie Webster on Saturday reported overcrowding and poor ticket checks.
Paul Lang, from Birkenhead, said: "It didn't feel like a safe environment."
The venue said there were reports of overcrowding but it was resolved, and appropriate ticket checks were done.
Police said they "did attend the venue briefly". Indie singer-songwriter Webster, who was playing his biggest home town gig, had to cut the encore from his set.
Image caption,
Liverpool's M&S Bank Arena said a "detailed investigation" has begun
Mr Lang told BBC Radio Merseyside his tickets weren't checked, and the entrance tunnel was "completely full".
"The group around us when we were getting let in, I would say at least 15-20 people walked away and were just not dealing with it, and more people were coming out, getting a bit worked up, panicked about it, and just said, 'It's just not worth it for our own safety.'"
Staff were "just standing around" and "didn't seem to really show any interest", he said.
"It felt like if we did become in a situation that we really didn't want to be in, and we were in that tunnel, I don't feel like the staff would have done anything at all really."
Another fan, Liam Kelly, also from the Wirral, said there were long queues outside the venue.
"By the time we got close to the door, the head steward told us that we weren't going to get in because it was overcrowded," he told Radio Merseyside. "They were her words.
"There were people who were coming out of the gig in tears, a lot of people looking very stressed, and shouting for people to not go in. Quite a few people in the queue at that point turned around and left."
'Absolute chaos'
After the head steward got into an argument, "she kind of left and then there was this chaos at the door where everyone just started to walk in", Mr Kelly added.
"I presented my phone to be scanned and I had all the tickets for my group on there. So the first ticket they came to was one that had already been used by somebody else. It scanned red, and the person who's got my ticket [to check it] did not care. He's just waved me in, and that was the moment that I looked around, and nobody was having their tickets checked."
The experience of getting in was "really horrible", he said. "It was the entrance way and the bar area that were absolute chaos. You couldn't move. It took ages to get through."
Once fully inside, it was the busiest he had ever seen the arena, "but the venue itself inside didn't feel unsafe", he added.
Show 'deemed safe to continue'
In a statement, Faye Dyer, managing director of ACC Liverpool Group, which runs the arena, said: "There were reports of overcrowding at one of the floor bars, however the crowd congestion was resolved and people were dispersed.
"Merseyside Police received a report of concern for safety at the venue just before 9.30pm and attended the venue for a short period whilst our events security dealt with the incident. The event was deemed safe to continue.
"The process for checking tickets is a rigorous one and we understand all appropriate checks were made on the night. The safety of our customers is of the upmost importance; we take any incident seriously and a detailed investigation has already begun.
"We sincerely apologise to both the artist Jamie, who was playing the biggest show of his life, and to his fans for any aspects of their experience which fell short of their expectations. We wish to thank Jamie and his promoter for their support in removing the encore to ensure the remainder of the show continued to operate safely."
A spokesperson added: "As safety is our number one priority and as operators of the venue, we agreed with the artist's promoter that Jamie would not perform an encore. This was not a police request."
The 11,000-capacity arena was named the Eurovision host venue last month, and can expect sold-out crowds when it hosts the grand final plus two semi-finals next May.