Key events
Show key events only
Please turn on JavaScript to use this feature
85 min A quiet period, with Liverpool struggling to generate any attacking momentum. Yet.
83 min Diaz's goal gets better every time you see it.
"That is absolutely SENSATIONAL from Diaz!" 🔥
10-man Liverpool are level and what a stunning goal that is from the Colombian! 😮 pic.twitter.com/PtOz7v6tdO
— Sky Sports Premier League (@SkySportsPL)
August 15, 2022
And Nunez's headbutt gets funnier/weirder with each viewing.
82 min "Although Liverpool have been dominant for most of this match, I still think they are playing even better now that they are a man down," writes Shoaib. "Instead of Palace making their advantage count and pressing Liverpool, it is the latter who have been outstanding both with and without the ball. Palace need to be reminded that it's them who have the extra man on field."
Palace look pretty tired, though they are still creating opportunities on the break.
81 min Schlupp curls an excellent pass out to Edouard on the right. He slides a low cross into the area for Zaha, whose heavy first touch allows van Dijk to clear. That was another decent chance for Palace.
79 min Three changes for Palace: Chris Richards, Luka Milivojevic and Will Hughes replace Mitchell, the superb Eze and Doucoure. Liverpool bring on Fabio Carvalho for Elliott.
78 min: Great chance for Zaha! Edouard, on the right edge of the area, curled over a superb cross that was volleyed wide on the stretch by Zaha at the far post. He was only a few yards out, but he went with his right foot when the left would have been more natural.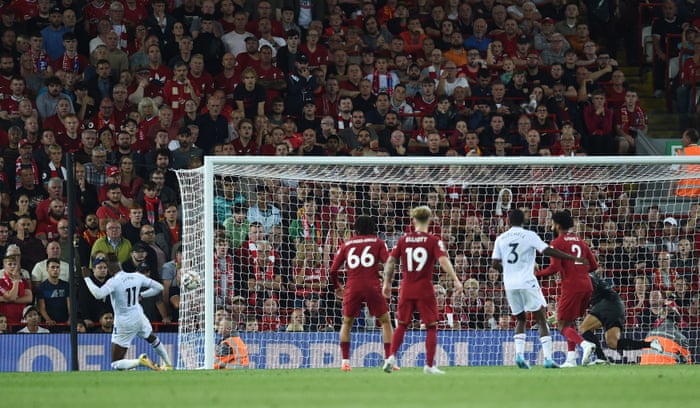 Crystal Palace's Wilfried Zaha misses a great chance to score.
Photograph: Peter Powell/Reuters
75 min Tsimikas's corner is headed away and Palace break three on three. Diaz charges after the man in possession, Zaha, and makes a vital tackle in the centre circle. Diaz has been on one in the second half.
75 min Liverpool continue to dominate possession, as they have all night really. Salah wriggles away from Mitchell, who recovers well to concede a corner…
73 min "You hope for Liverpool's sake that the red card doesn't hurt Nunez's career too much but he has seemed very off the pace today," says Dechlan Brennan. "His headbutt was the cleanest contact he made all night."
I think there will always be games when Andy Carroll is trending; Nunez is that sort of player. But if he learns to stop putting the head on people I'd still fancy him to score 30 goals this season. His movement and aggression mean he'll always get plenty of chances, certainly in this team.
72 min "Everyone remembers Ibrahimovic's taekwondo goals," says Phil Podolsky, "but there was one taekwondo pass at Barca that makes me snigger every time."
71 min Alexander-Arnold misses a decent chance, splashing wide from a tight angle after a clever flick from Salah. Actually, I don't think it would have counted – replays suggests he was fractionally offside.
69 min Nunez had actually thrown his head backwards towards Andersen's face a few moments earlier, which is why Andersen pushed him in the back. All very strange.
68 min Ward is booked for a foul on the increasingly influential Diaz, who has come alive since we criticised him at half-time.
67 min "I know Andersen went down like a felled tree but what was Nunez thinking?" says Rachel Clifton. "Let alone arguing the score with the referee. Total red mist."
I've definitely seen more proportionate reactions to a push in the back. That said, while GNM does not condone etc, I quite enjoyed how emphatic it was. He didn't bother trying to disguise it, just sent Andersen straight to the canvas. In that respect it was like Zidane on Materazzi.
65 min Liverpool are now playing a 4-3-2, with Salah and Diaz up front. At the moment they look the likelier winners, even with 10 men.
64 min "Rob," writes Vincent, "I don't think that was what Klopp had in mind when he told Nunez at half-time to use his head!"
63 min Palace bring on Odsonne Edouard for Jordan Ayew.
63 min A triple change for Liverpool: Jordan Henderson, Joe Gomez and Kostas Tsimikas replace Nat Phillips, Andy Robertson and James Milner.
This is a glorious equaliser! Diaz cut inside from the left, beating five players with a combination of dummies and quick feet, before flashing a curler past Guaita from the edge of the D.
GOAL! Liverpool 1-1 Crystal Palace (Diaz 61)
What a goal from Luis Diaz!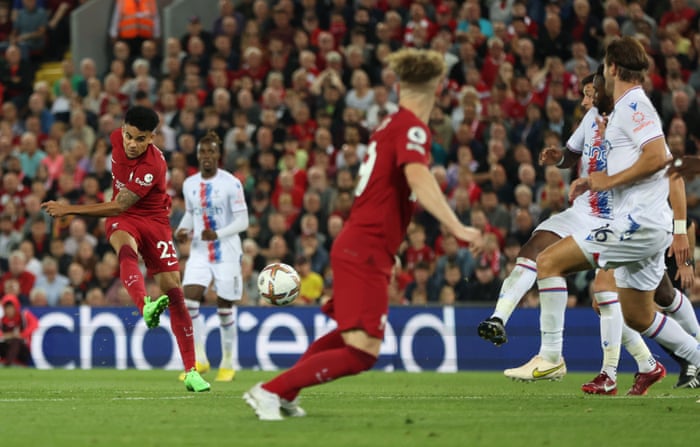 Luis Diaz of Liverpool scores after beating five players.
Photograph: Clive Brunskill/Getty Images
61 min Nunez will also be banned for the next three games. Anfield has gone very quiet, and Liverpool are just getting their bearings. It looks like substitutions are imminent as well.
59 min Andersen was booked for the push on Nunez as well. That was such a peculiar overreaction from Nunez. I'm sure he was frustrated after missing three good-to-excellent chances earlier in the game, but that's no reason to start handing out the Glasgow kisses.
58 min Nunez is arguing his case but it was a clear headbutt. Andersen pushed him in the back, complaining about something, at which point Nunez spun round and stuck the head on him!
NUNEZ SENT OFF!
57 min Oh my goodness! Darwin Nunez has been given a straight red card for headbutting Joachim Andersen!
Crystal Palace's Joachim Andersen lies on the floor after being butted by Liverpool's Darwin Nunez, who is sent off.
Photograph: Peter Powell/Reuters
57 min Liverpool's injuries mean they don't have their usual attacking options on the bench, though they can still call on Jordan Henderson, Fabio Carvalho and Naby Keita.
56 min Van Dijk makes an important interception to stop Zaha playing a return pass to Eze in the Liverpool area.
53 min There's a spring in Palace's step when they break, which wasn't there before Zaha's goal. It has developed into a fascinating game.
51 min "Zlatan also has the ability to do things on the football pitch where I don't really understand what I've seen, where my only reaction is just to laugh with joy," says Kári Tulinius. "There are precious few footballers like that, who seem like they can move themselves and the ball through unknown dimensions of space and time."
I'm still trying to make sense of that ankle-busting flick against Italy at Euro 2004, never mind everything he's done since. For years I thought (wrongly) that it was a backheel.
49 min The chance came after an excellent through pass from Salah. Nunez's left-footed shot seemed to be going off target but then it hit the sliding Ward. Replays show it hit hum under the armpit, and he was only a couple of yards away from Nunez.
48 min Liverpool have a big appeal for a penalty when Nunez's errant shot hits a Palace defender. Nothing given on the field but it'll be checked by VAR.
46 min Peep peep! Liverpool begin the second half, and there are no changes to either side.
"Did someone told Díaz not to dribble?" asks Alexander Quintero. "I bet someone did. He's not taking opponents just giving the ball backwards. No risk no win. Kudos to Crystal Palace. Excellent execution of their plan so far. I say this as a Liverpool fan."
I have a vague and barely half-arsed theory about Diaz that he is much better in big games than smaller ones.
Here's that chance for Nunez (and van Dijk)
"Nunez is going to be an outstanding PL striker," says Mary Waltz. "But Zlatan, from age 19, had the look of someone who thought they were simply the greatest ever and had no problem telling you the facts of life."
Half time: Liverpool 0-1 Crystal Palace
This is an absurd thing to say in mid-August, arguably a sackable offence, but Liverpool have a big 45 minutes coming up. If they lose they will already be five points behind Manchester City, and that's never a good place for anyone to be.
Liverpool started well, with their usual intensity, but missed a few decent chances and were punished by Wilfred Zaha's excellent counter-attacking goal. The place went a bit flat after that, though Darwin Nunez hit the post with the last attack of the half.
45+3 min: Nunez hits the post! The corner was half-cleared to Elliott, who clipped a fine pass over the defence to find Nunez. He took it down on the chest but then mishit a shot that looped over Guaita and hit the inside of the far post!
The loose ball eventually ran to van Dijk, who slipped in the act of shooting and kicked it against his standing leg.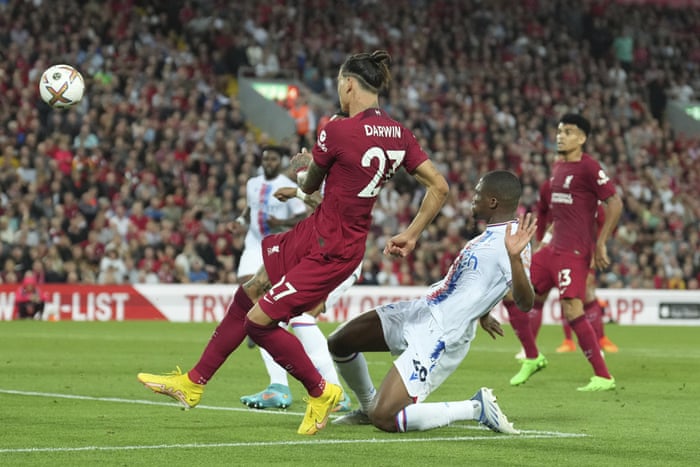 Liverpool's Darwin Nunez clips the far post with a shanked effort.
Photograph: Jon Super/AP
45+3 min Alexander-Arnold sweeps a beautiful through pass inside Mitchell towards Salah, forcing Guehi to come across and concede the corner. Excellent defending.
45 min Three minutes of added time.
44 min "Saying that the goal was not only against the run of play but was in fact a complete affront to the run of play kinda ignores the fact that this is exactly what Palace set out to do: absorb all the pressure and then hit Liverpool on the counter," says Shoaib. "And it's been working for them so far."
That's true, but it was still totally one-sided for the first half hour. The goal was the first time Palace put a decent counter-attack together.
43 min Salah clips a cross back towards Elliott, whose flying header from 15 yards is straight at Guaita. He pats it down – he could probably have held it – and Andersen puts it out of play.
42 min The first half has been a triumph for Patrick Vieira. Palace's back five withstood a whole load of pressure in the first half hour, and then they started to find their counter-attacking range.
40 min: Alisson saves from Zaha! Palace are opening Liverpool up with increasing ease. Doucoure slides a pass down the inside-right channel towards Zaha, who times his run superbly again. This time his touch is slightly heavy, and that allows Alisson to charge out and block the eventual shot.
40 min Diaz is booked for a foul on Ayew.
39 min Here's that Zaha goal, which really was a beauty.
38 min Doucoure wafts high and wide from 25 yards after a decent Palace break. Moments later, Zaha shoots straight at Alisson from 20 yards. The mood has changed.
36 min Alexander-Arnold has two long-range shots in the space of a few seconds, both blocked. Palace defenders must have blocked seven or eight shots already.
36 min "Is it me," says Gary Naylor, "or does Nunez look like the young Zlatan?"
I'm not seeing it yet.
35 min Nunez shoots wide from 25 yards. Apparently Liverpool have now conceded the first goal in their last six Premier League games. They've still won most of them, mind.
34 min That goal wasn't just against the run of play; it was a complete affront to the run of play. But it was such a good finish, not least because Alisson is arguably the best in the world at one-on-ones.
It was made brilliantly on the break by Ebere Eze. He killed a Palace defensive clearance, swerved elegantly away from Fabinho and sliced Liverpool open with a straight pass in behind Phillips. Zaha timed his run perfectly, moved into the area and placed an emphatic low shot across Alisson. What a superb goal.
GOAL! Liverpool 0-1 Crystal Palace (Zaha 32)
Wilfred Zaha gives Palace the lead with a superb goal!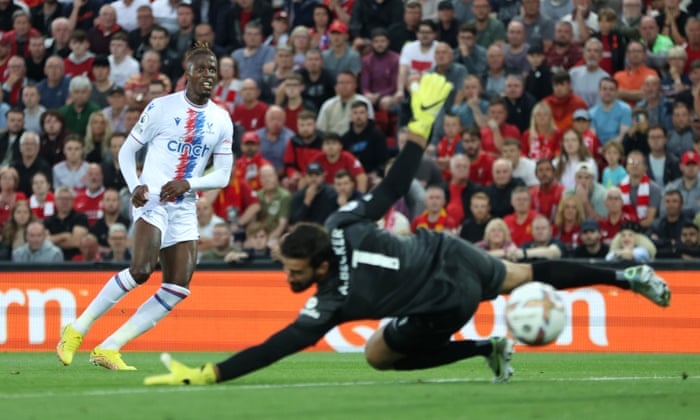 Wilfried Zaha of Crystal Palace scores their first goal past Alisson Becker of Liverpool.
Photograph: Clive Brunskill/Getty Images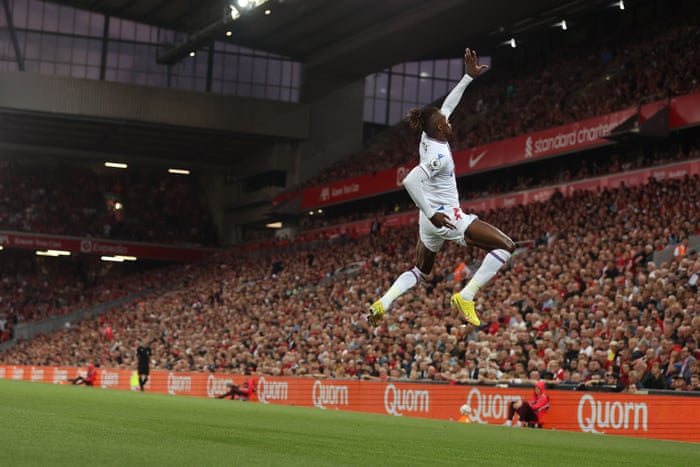 Zaha leaps into the air in celebration.
Photograph: Paul Greenwood/REX/Shutterstock
31 min I know he's not the world's best defender, I know that, but Alexander-Arnold's passing range is unreal.
30 min: Chance for Salah! Alexander-Arnold finds himself in the middle of the pitch, where he turns away from Schlupp and angles a delicious pass over the Palace defence. Salah meets it on the run, 10 yards from goal, but heads straight at Guaita. It was another good chance, and a ridiculous ball from Alexander-Arnold. He and Elliott have looked very bright for Liverpool.
28 min "Liverpool have had nine attempts in 24 minutes," says Richard Hirst. "Does the Knowledge know the record?"
Is that my new nickname? I suppose I've had worse.