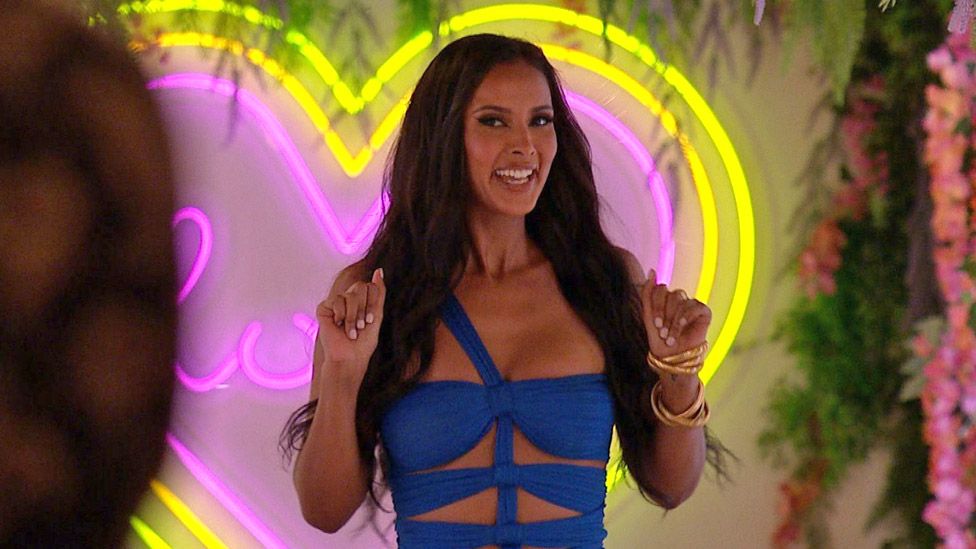 Image source, ITV/Shutterstock
Image caption,
Maya Jama is hosting her first summer series of Love Island
The return of Love Island was watched live on ITV2 by 1.3 million viewers on Monday, overnight ratings show - a million down on this time last year.
The 2022 summer series opener had an average TV audience of 2.4 million, while four years ago the launch episode attracted 3.3 million.
The decline comes amid suggestions that the dating show has lost some appeal.
ITV said Monday's ratings rose to 1.7 million when streaming figures from ITVX were included.
Love Island was the second most-watched programme in its time slot and attracted the biggest audience of the day among 16 to 34-year-old viewers, the broadcaster noted.
Fans saw a number of changes to years gone by, with the new islanders surprised as the boys and girls arrived at the same time.
Furthermore, the public had already voted for the initial pairings as series 10 got under way in Mallorca, overseen by presenter Maya Jama.
The girls were dared to reveal if they were unhappy with their partners, and producers also kept the new contestants on their toes by revealing the first bombshell.
Love Island faces competition from a newer crop of rivals like BBC Three's I Kissed a Boy, the UK's first gay dating show.
'All very copy and paste'
Referring to the diversity of Love Island contestants, Verdier wrote: "Anyone who didn't fit the gym-honed body type seemed to have missed the plane, along with a single contestant who'd strayed from the super straight road.
"Perhaps they'd all run to the loving arms of Dannii Minogue for the warmth and charm of I Kissed A Boy (soon to be followed by I Kissed A Girl)."
She added that there were funny "unscripted moments that can't really be forced, and we can only hope that there will be more gems heading our way over the next - potentially very long - eight weeks".