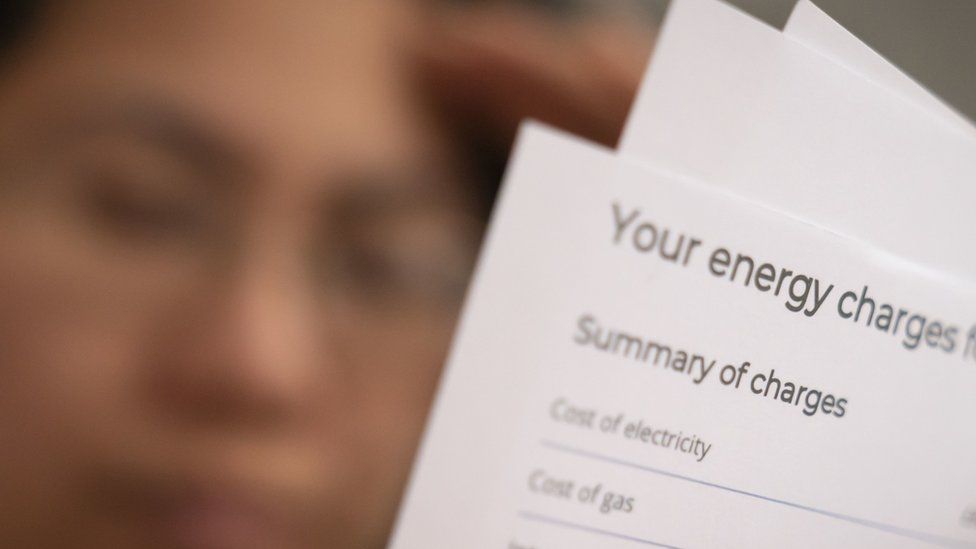 Image source, PA Media
The Tory leadership hopefuls have attacked each other's plans to help people with energy bills, amid warnings they will rise further this year.
Rishi Sunak said the Tories would be "hammered" at the next election without offering further direct support to households.
But rival Liz Truss said her preference was to cut taxes instead, branding cash handouts "Gordon Brown economics".
It comes amid a prediction annual bills could hit £4,266 next year.
The higher estimate, from consultancy Cornwall Insight, comes after regulator Ofgem's decision to change the price cap every three months instead of six.
The government has already announced a £15bn package of autumn support, but is under pressure from opposition parties to do more to help with bills.
Boris Johnson has ruled out making big spending decisions before he steps down in September, and what his successor would do has become a key issue in the battle to replace him in Downing Street.
Mr Sunak has pledged to provide more direct support to households this autumn if he wins.
This would come on top of payments of £400 for every household this autumn that he announced as chancellor in May, along with extra payments for disabled people and those on low incomes.
Speaking at a leadership hustings in Darlington, he confirmed any extra payments would be targeted at the most vulnerable.
"I want to go further than I did previously because the situation is worse," he told the audience of Tory members.
He said direct payments were "the only way" to help those most in need, adding that tax cuts would not provide much help to those on low incomes - or any help at all to pensioners.
"If we don't do that, not only will millions of people suffer, we will get absolutely hammered when it comes to an election. The British people will not forgive us for not doing that."
Image source, Reuters
Image caption,
Rishi Sunak says further cash handouts will be needed to help with energy bills
Speaking later, his leadership rival Ms Truss did not rule out making further payments in a future Budget if she becomes prime minister.
However, she said her priority would be to "help people have more of their own money", highlighting her own plans to reverse April's National Insurance rise and ditch green levies on energy bills.
"What I don't support is taking money off people in tax and then giving it back to them in handouts. That to me is Gordon Brown economics," she added.
The price cap is the maximum amount suppliers can charge customers for average energy usage in England, Scotland and Wales. The latest one - for October - is due to be announced at the end of this month.
'Kangaroo committee'
Mr Sunak has not set out in detail what further payments he would make to households, saying further details are needed about the exact scale of the rise.
Image source, Reuters
Image caption,
Liz Truss said her priority would be to "help people have more of their own money"
However, he has said the cost of his further support would be "much smaller" than the existing £15bn price tag for the payments this autumn.
He has suggested borrowing to fund the plan could be kept to a minimum by making "efficiencies" in government spending.
At the Darlington hustings, he suggested he would be prepared to meet Ms Truss and Mr Johnson for emergency talks on energy over the summer, after the idea was suggested by business lobby group the CBI.
But Ms Truss dismissed the idea, saying the "kangaroo committee" would be "bizarre" and the prime minister was in post until September and was "capable of making decisions".