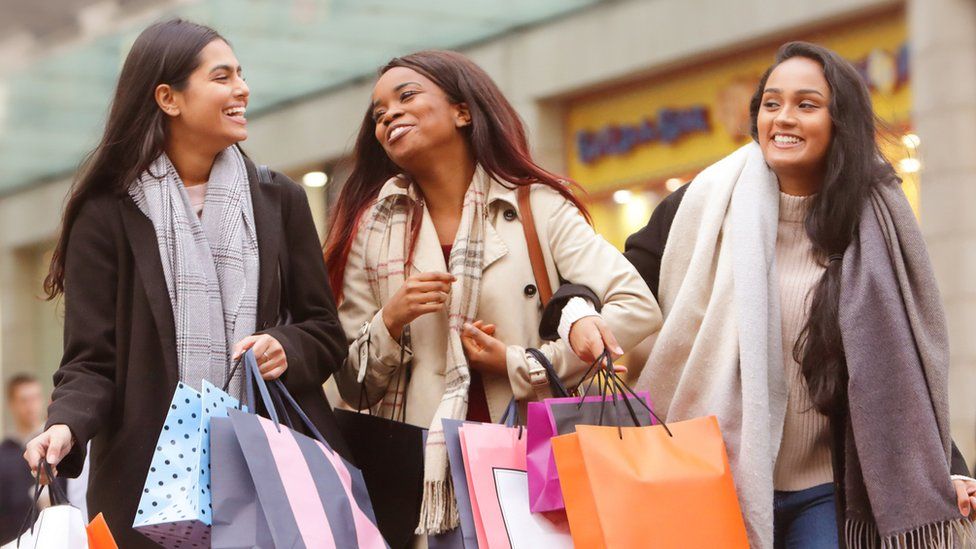 Image source, Getty Images
Next has warned that the weaker pound seen in the wake of the mini-budget could prolong cost of living pressures.
The retailer said that most clothing and homeware factories price their goods in dollars, meaning costs were likely to continue rising next year.
It also cut its profit and sales targets for 2022 after customers spent less at its shops in August.
The High Street giant now expects profits of about £840m this year, versus a previous forecast of £860m.
It said in a statement on Thursday that August was "below our expectations" and that the pressure on shoppers at the tills was likely to "rise" in the coming months, ahead of the key Christmas period.
Next said that prices for its autumn and winter ranges are already up an average of 8% this year compared with 2021, as it has had to pass on extra costs to customers.
It also expects to see similar rates of inflation - the rate at which prices rise or fall - for its spring and summer ranges next year. UK prices in August were 9.9% higher than they were 12 months ago.
The group said, however, it has seen some costs, such as freight and logistics, ease in recent months.
Next, which is widely seen as one of the most steady High Street performers, said that it had enjoyed a stronger than expected first half of the year with full price sales up 12.4% in comparison with last year.
Its profit before tax climbed 16% to £401m.
Next, a chain of about 500 stores in the UK, suggested that the weaker sales during August could have been down to the heatwave following its summer sale, more customers taking holidays abroad after travel restrictions had eased, and concerns around higher prices starting to build.
Lord Wolfson, Tory peer and boss of Next, said that the retailer was hoping to "see benefits from recent government measures" like the energy price guarantee, although it was "too early to tell" if they might boost consumer spending.
"There are so many variables at play - energy, freight, employment, tax, economic migration, exchange rates... Today, more than ever, it is not possible to predict the future on the basis of the past," he said.
In its statement, Next also said that weakness in the pound - which touched an all-time low against the dollar earlier this week - could persist into 2023 and would "serve to inflate selling prices, particularly in the second half of the year".
Next warned that it could even see prices get worse in the second half of next year.