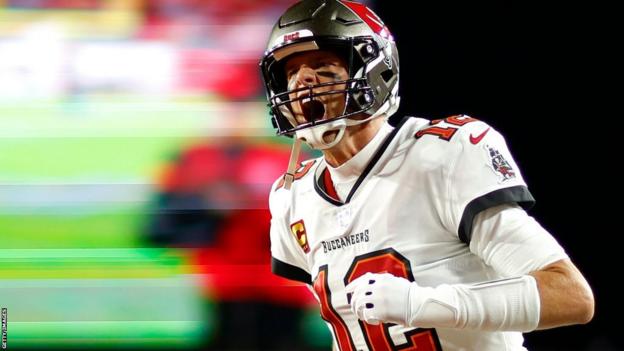 Tom Brady is a five-time Super Bowl MVP
Legendary quarterback and seven-time Super Bowl winner Tom Brady says he is retiring "for good" after 23 seasons in the NFL.
Brady, 45, first announced his retirement on this day last year but reversed his decision six weeks later, claiming he had "unfinished business".
He won six Super Bowls with the New England Patriots and one with the Tampa Bay Buccaneers in 2021.
Brady's final season ended in the Bucs' 31-14 play-off defeat last month.
"I'm retiring - for good," he said in a video posted on social media. "I know the process was a pretty big deal last time, so when I woke up this morning I figured I'd just press record and let you guys know first.
"It won't be long-winded. You only get one super emotional retirement essay and I used mine up last year.
"Thank you to every single one of you for supporting me - my family, my friends, my team-mates, my competitors. I could go on forever - there's too many.
"Thank you for allowing me to live my absolute dream, I wouldn't change a thing. Love you all."
After being selected by the Patriots with the 199th pick of the 2000 draft, Brady led the franchise to six Super Bowl titles.
He left for the Bucs in 2020 and helped them win the title in his first season, being named the game's Most Valuable Player (MVP) for a fifth time.
After returning to the game last March, Brady - a three-time NFL season MVP - posted the first losing record of his career in a difficult year on and off the field.
Get American Football alerts in the BBC Sport app
NFL fixtures and results
More to follow.

The one and only Dr. Dre:
Celebrate him with a mix of his greatest tunes and chats
'I hated his comedy':
Steve Coogan chats to Nihal Arthanayake about British humour and cancel culture