By Simon Read & Noor Nanji
Business reporters, BBC News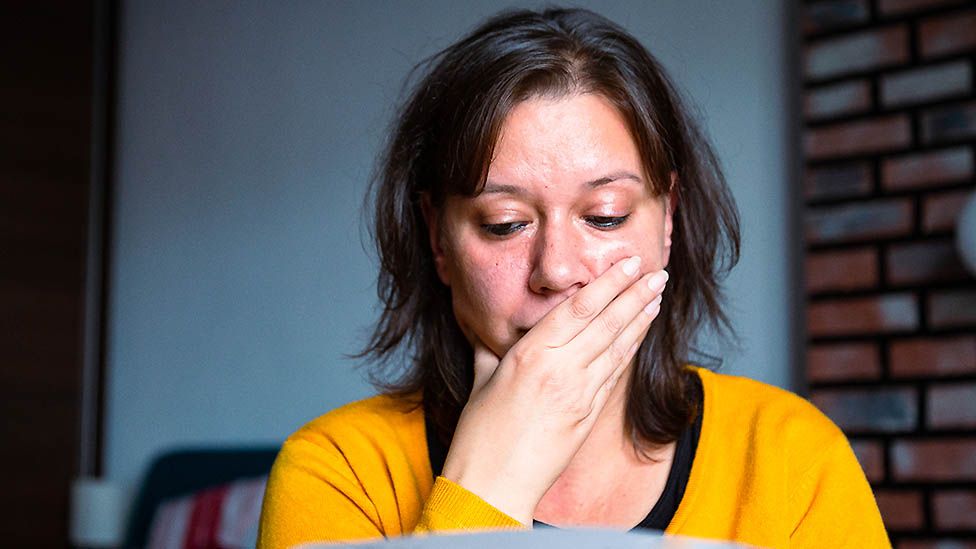 Image source, Getty Images
Many households are falling behind on energy payments with total debt owed three times higher than in September last year, a survey has suggested.
Almost a quarter of households owe £206 on average, according to comparison site Uswitch, which surveyed 2,000.
Uswitch advised people falling into debt to speak to their provider to work out a more affordable payment plan.
The consultancy also expects bills to increase much more sharply in January, with the average household paying £355 a month, instead of £164 a month currently.
Citizens Advice said it has helped more than 47,000 people with energy debts so far this year. The average debt amount was more than £650, the charity said.
"Every day we hear from people who can't afford to turn the lights on or cook their kids a hot meal," said Morgan Wild, head of policy for Citizens Advice.
"The government did the right thing by bringing in targeted support, but it won't be enough for people to manage these previously unthinkable price hikes."
Meanwhile, Chancellor Nadhim Zahawi and Business Secretary Kwasi Kwarteng are set to hold talks with energy giants on Thursday to discuss measures to ease the cost of living.
It comes as the boss of Octopus Energy said he thought the government needed to improve its offer of £400 for each household in England, Scotland and Wales to help with rising energy bills.
Greg Jackson told the BBC's Today Programme that while the package of support, unveiled in May, may have been "right" at the time, "clearly it's not sufficient now and we need to look at a similarly significant assistance from the government for this winter".
He added: "This needs to be the absolute top item in the in-tray of the incoming prime minister. Tackling energy bills is critical to ensure people can get through this winter."
Separately on Wednesday, E.On reported first-half profits of just under €4.1bn (£3.5bn), which was about €700m below the previous year.
The company, which is one of the UK's biggest energy suppliers, described the energy crisis as "extraordinary", and said it highlighted the need for Europe "to transform its energy system. To be independent of Russian gas. To ensure supply security".
There are two main reasons households end up in debt with their supplier: the first reason, their direct debit payments may be set too low to cover the amount of energy being used.
Anyone who finds themselves in that position should contact their supplier as quickly as possible to avoid a sudden bill shock, and update them with the correct meter readings.
The second reason is because people are just not keeping up with their payments.
The latest price cap - the maximum amount suppliers can charge customers for average energy usage in England, Scotland and Wales for October - is due to be announced at the end of this month by the energy regulator Ofgem.
The Uswitch survey revealed that in addition to the group in debt, eight million households have no credit balances, meaning they have no cushion against the bill rises this winter.
"This is an alarming situation, as summer is traditionally a time when households are using less power for heating, which helps bill payers to build up energy credit ahead of the winter," said Justina Miltienyte, head of policy at Uswitch.com.
"It suggests the cost-of-living crisis is already squeezing budgets dramatically, even during the summer months, as families struggle with rising bills in all areas," she said.
An Ofgem spokesperson said its "priority" is to "protect consumers" and make sure suppliers treat their customers in a "fair and reasonable manner".
This included "proactively" making contact to identify if a customer is in payment difficulty, assessing repayments on a customer's ability to pay and ensuring debt management activities are done in a "fair and reasonable way", the spokesperson added. .
"We closely monitor compliance of this and take action when needed".
"Anyone struggling to pay their bills should speak to their supplier who is obliged to offer payment plans and direct customers to available support. Ofgem will ensure they provide this," the spokesperson said.
It is worth saying again that the old advice to shop around to find a better energy deal just does not apply anymore. The default price cap, although super high, is the best rate available at the moment, so signing-up for a fixed deal isn't a good idea.
If you are falling behind on your energy payments, or are unable to keep-up with the increases in direct debits being suggested by your supplier, then the first thing to do is let them know you're struggling.
Making that call might be tough, as it's never easy to admit you're finding things difficult, however it's likely to be the best protection for your household this winter.
Taking action is important because there is an extra layer of legal help available for people who are unable to pay, which forces suppliers to work through lots of different options with their customers. That includes agreeing a payment plan, giving temporary credit for prepayment customers, and arranging for payment directly through benefits.
Crucially, making that call to explain that you're struggling means they can't just cut you off.