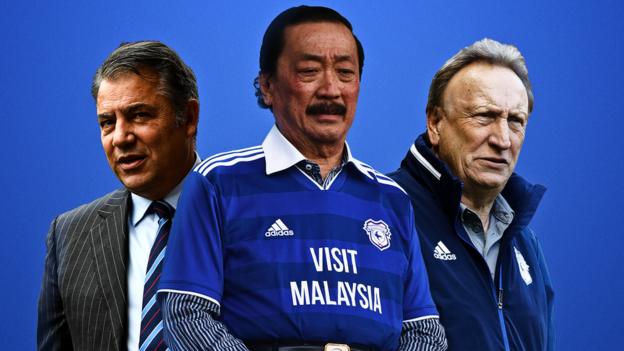 Chairman Mehmet Dalman (left), owner Vincent Tan (centre) and ex-manager Neil Warnock (right) have played prominent roles in a turbulent decade for Cardiff
Permacrisis may have been the Collins Dictionary word of the year for 2022, but Cardiff City are a club who are keeping the spirit of the term alive in 2023.
The Bluebirds' recent history has been dominated by upheaval on and off the field, extreme highs and lows set to a near-constant backdrop of chaos.
Now after 20 years in the top two tiers, they are hovering dangerously close to the Championship relegation places and have just appointed a third manager of this season alone.
The division's lowest scorers are 21st in the table, three points above the bottom three - having played more games than their rivals at the bottom - and winless in 12 games in all competitions.
Now patience is beginning to wear thin, as fans demonstrated with a protest outside the Cardiff City Stadium last weekend in which they called on owner Vincent Tan to leave.
As history shows, it is nothing new for Cardiff to be in a state of crisis, but this current situation might be Tan's most difficult yet.
BBC Sport Wales looks back on the Malaysian's tumultuous time at the helm and how Cardiff got to this point.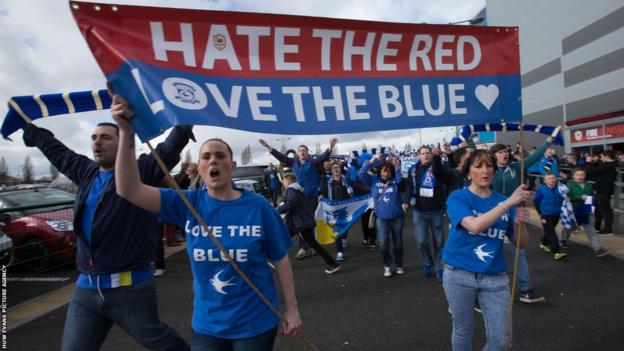 Cardiff fans protested against the club's red rebrand under Vincent Tan - and eventually forced the owner into a u-turn
Tan's takeover and the red rebrand
In May 2010, Cardiff shareholders took just 15 minutes to rubber-stamp a £6m investment from a Malaysian consortium to help stabilise the debt-ridden Championship club.
Consortium leader Dato Chan Tien Ghee replaced the controversial Peter Ridsdale as chairman, but the group's financial power was provided by the billionaire businessman Tan, who would eventually become the club's owner and the face of this new era.
Cardiff made an encouraging start to life under Tan, reaching the League Cup final at Wembley and twice falling short of Premier League promotion after losing in the play-offs.
But two years into Tan's reign he made the hugely divisive decision of rebranding the club from blue to red, dispensing with more than a century of club tradition in the process.
Despite the furious backlash from some fans, others went along with the change and Cardiff finally achieved their dream of top-flight promotion in 2013, their first in the Premier League era.
Promotion, suspension and acrimony
Cardiff's first season in the Premier League was a disaster - on and off the field.
The problems started before the first game, with Tan unhappy about manager Malky Mackay's summer signings.
Tan believed Cardiff had overspent by around £15m and suspended head of recruitment Iain Moody, before replacing him with a 23-year-old friend of Tan's son who had been painting the walls of the Cardiff City Stadium on work experience.
Tan and Mackay then became embroiled in a public row and, after the owner told his manager to resign or be sacked, he took the latter course of action in late December 2013.
That shambolic episode would later be cast in a more sinister light the following year, when Mackay and Moody were alleged to have shared racist, sexist and homophobic texts.
In the meantime, former Manchester United striker Ole Gunnar Solkjaer succeeded Mackay as manager and results were dismal as Cardiff were relegated after finishing their solitary Premier League season at the bottom of the table.
Back in the Championship, Solskjaer lasted barely a month of the 2014-15 season before he was sacked and replaced by Russell Slade, whose teams trundled about in the top half without ever really competing for promotion.
But relations off the field improved as - after consulting with supporters in January 2015 - Tan gave the go-ahead to a return to playing in blue.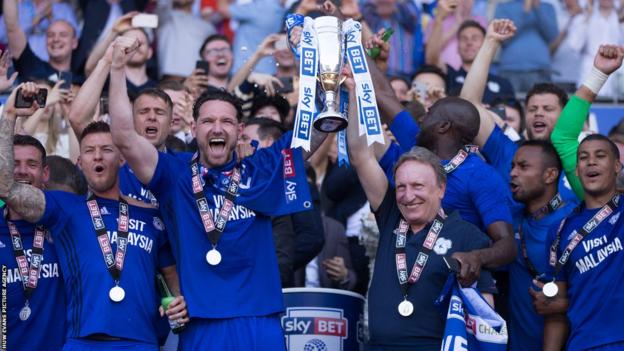 Neil Warnock's long and successful managerial career included stints at Sheffield United and QPR before Cardiff
Warnock unites the club
With Cardiff languishing second from bottom in the Championship in October 2016, they turned to the experience of Neil Warnock, who steered the Bluebirds to a comfortable 12th-placed finish.
Cardiff were on the up again.
Momentum was building under Warnock and his record eighth promotion as a manager saw Cardiff - in blue - return to the Premier League in the 2017-18 campaign.
Finally, Cardiff seemed to be a club united, with supporters enjoying the success under Warnock, a manager who built an instant rapport with them.
The Bluebirds, however, could not remain in the Premier League, bowing out in their first season after a disappointing second half to their campaign.
But by the time they signed off from the Premier League with a win at Old Trafford, Cardiff City were headline news because of a tragedy that still affects the club to this day.
The death of Emiliano Sala
In an effort to find the goals to keep them in the Premier League, Cardiff City agreed a fee of around £15m to sign Argentine striker Emiliano Sala from Nantes.
Sala was due in Cardiff on Tuesday, 22 January 2019, but never arrived as the light-aircraft transporting him from France crashed into the Channel, killing Sala and pilot David Ibbotson.
Four years on from the tragedy, the fall-out continues with a bitter legal dispute between Nantes and Cardiff, who refused to pay the transfer fee for Sala who they claimed was not registered as their player at the time of his death.
Nantes referred the issue to football's world governing body Fifa, who imposed a three-window transfer embargo on Cardiff because of their refusal to pay the first tranche of the £15m transfer fee they had agreed with Nantes.
Cardiff lost their appeal against that ruling by Fifa at a Court of Arbitration for Sport (CAS) hearing in Lausanne in 2022. Cardiff then appealed against the CAS hearing verdict to a Swiss Federal Court and are also taking legal action against the firm they insured Sala with.
Only when the transfer ban on them was imposed for this month's window did Cardiff make the first payment due to Nantes, which included interest accrued on the debt.
Cardiff are now able to sign loan players and free agents, but continue with their legal action.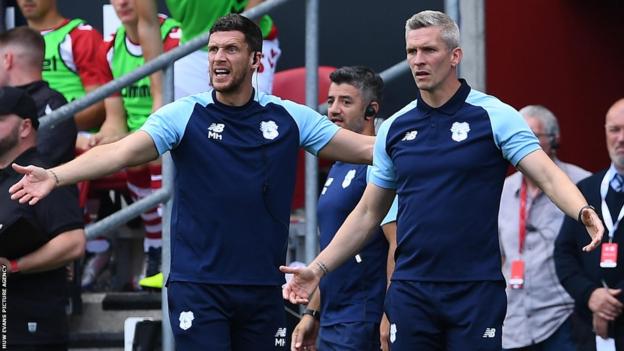 Mark Hudson (left) assisted Steve Morison (right) before suffering the same fate of getting sacked as Cardiff manager
A battle to avoid League One
On the pitch, Cardiff are now a long way away from the Premier League club under Warnock despite the millions of pounds Tan has spent on transfers.
Although the Bluebirds remain overly reliant on the Malaysian's support, they are not the financially ruinous club they were when he took over in 2010.
At the time of the club's last published accounts - covering the 2020-21 season - Tan provided new loans to soften the blow of losses and converted some of his then £60m debt to equity.
"As a board and a club, we are extremely grateful to the continued support of our owner and without this the future of the club would look much more precarious," non-executive chairman Mehmet Dalman said at the time.
But can the same be said on the pitch?
During this same period, Neil Harris and Mick McCarthy both came and went after Warnock for failing to deliver top-flight football - though Harris reached a play-off semi-final - before Cardiff handed the job of rebuilding their squad to under-23s manager Steve Morison.
Morison signed 17 players in the summer but was then sacked in September before several of his new arrivals had even kicked a ball for the club.
Morison was replaced by the man he signed to be his assistant, Mark Hudson, but Hudson was sacked after just 118 days in charge.
Cardiff have now turned to Sabri Lamouchi and yet another new chapter.
What fans really want is stability, but history suggests that is unlikely for a club which continues to lurch from one crisis to the next.