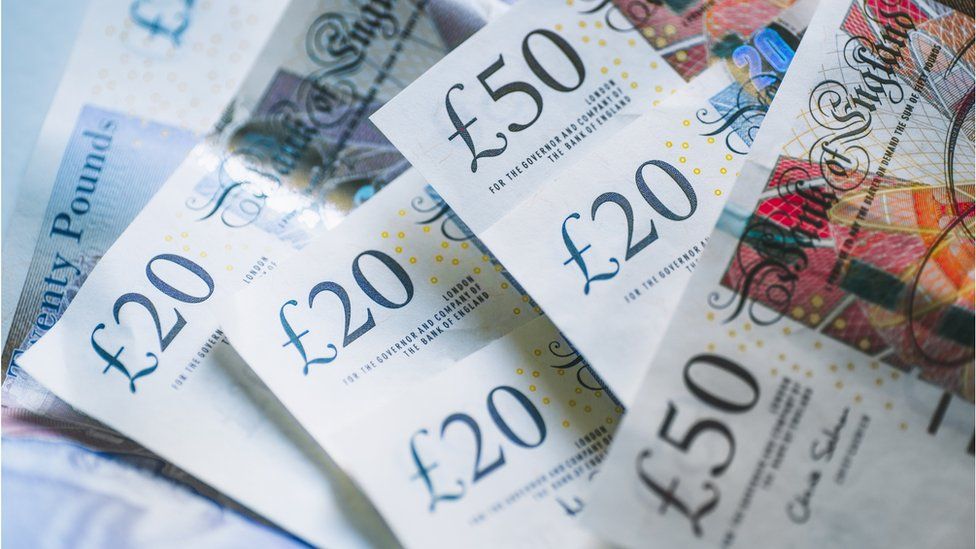 Image source, Getty Images
The pound has reached its highest level against the US dollar since former Prime Minister Liz Truss entered office at the end of August.
The move is partly due to fears for the US economy, prompting a fall in the dollar against most major currencies.
But on Wednesday, the pound was also higher against the euro, reaching €1.1616 and $1.2081.
It followed the release of new economic activity data, which was slightly stronger than expected.
The purchasing managers index, which reflects the level of economic activity, fell in November at nearly its fastest pace in nearly two years. But the index was not as weak as economists had predicted, which helped to reassure investors.
UK shares rose another 12 points to close at 7,465, after hitting a two-month high on Tuesday.
The pound was last over $1.20 in mid-August, before Ms Truss became prime minister.
Media caption,
WATCH: Liz Truss's 45 days in office
She resigned after just seven weeks, in the wake of a mini-Budget which spooked investors and prompted a spike in borrowing costs.
The pound hit a low of $1.035 in its aftermath, although its value had been falling prior to the economic statement in parliament - and it began to recover shortly afterwards.
It is still 12% lower against the dollar, however, than it was at the start of 2022.
Markets are waiting to see central banks' next moves on interest rates - bigger moves can dampen economic activity as borrowing costs go up and consumers pull back on spending, as well as boosting the value of the currency.
"We have got that feeling of 'pause' to see what's going to happen next... in terms of central banks," said Daniela Hathorn, senior market analyst at Capital.com.
The strength of the dollar earlier this year reflected a more positive outlook for the US economy and higher US interest rates.
However, figures from the US on Wednesday showed weaker business activity in November for the fifth month in a row, taking the wind from the dollar's value against a range of currencies.