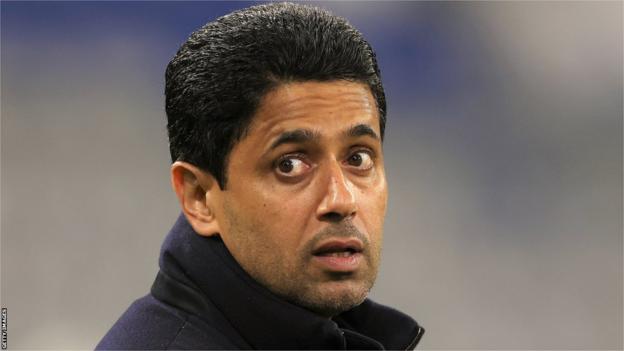 Paris St-Germain president Nasser Al Khelaifi is the chairman of beIN Sport, a state-owned broadcaster based in Doha as well as the boss of Qatari Sports Investments
Paris St-Germain president Nasser Al-Khelaifi says he has had nothing to do with the takeover of Manchester United.
BBC Sport understands Al-Khelaifi was contacted by the Glazer family a month ago as United's owners tried to get Qatari banker Sheikh Jassim bin Hamad Al Thani to raise his offer.
Al-Khelaifi's involvement has led to suggestions of a wider Qatari involvement around Sheikh Jassim's bid.
Sheikh Jassim has repeatedly said his offer was made in a personal capacity.
Man Utd owners spoke to PSG chairman about Sheikh Jassim bid
Speaking in Istanbul before the Champions League final after a meeting of the influential European Clubs' Association he chairs, Al-Khelaifi said he has done nothing unusual and his involvement is solely with PSG.
"Paris St-Germain is my club, in my heart, and I have nothing to do with Manchester United," he said.
"It makes me laugh. I am Qatari, right? If people ask me my opinion, I will answer them for sure - and that's what they do.
"I am talking about anyone, not just Manchester United. I will give them the experience that I have. That's it."
Last week, Sheikh Jassim lodged his fifth bid for United, which remains on the table despite suggestions he would not engage with the process beyond last Friday.
He wants to buy 100% of United, while rival bidder Sir Jim Ratcliffe and his Ineos Group are willing to secure a majority stake, which would allow the Glazer family to retain representation in some capacity.
Al-Khelaifi demonstrated he is willing to give advice by revealing last month he spoke to a wealthy group who wanted advice around potential investment in two English clubs.
"I'm not going to mention them but one was small, the other big," he said. "I don't know who the guy was. But I told him my opinion."
Al-Khelaifi, who denies he met the Raine Group who are handling the United sales process, says he welcomes new investment into the game, from Qatar and elsewhere.
"I want the best for European competitions," he said.
"If it's within the regulation, why not? Not only Qatari, everyone."
Latest Manchester United news, analysis and fan views
Get Man Utd news notifications
Listen to the latest How To Buy A Football Club podcast
Juventus welcome in ECA after Super League 'mistake'
Al Khelaifi also addressed the latest development around the remaining three members of the European Super League and Juventus' demand for talks with Real Madrid and Barcelona, which they hope will lead to them quitting the project.
The Serie A giants have been mired in financial controversy in recent months as a result of accounting methods that eventually led to a 10-point deduction, which cost them a place in the Champions League.
Juventus had previously remained loyal to the Super League project as they wait for a ruling from the European Courts' of Justice around whether European football's governing body Uefa is entitled to hold a monopoly position.
However, Juventus have now stepped away from that position and Al-Khelaifi believes it is the right thing to do.
"It is a smart decision for them to leave," he said. "There is no future there. They are wasting time, energy and money.
"It makes sense to go back to the family. Everyone makes mistakes. But the smart people realise their mistakes and correct them. We welcome anyone back if they realise their mistakes. That is what they should do."


Our coverage of Manchester United is bigger and better than ever before - here's
everything you need to know
to make sure you never miss a moment
Everything United - go straight to all the best content